The headline might be a bit misleading, but today's subject
is based around protagonists in horror games. The concept for Arcas is my no
means finished, but one thing we really need to improve in his design is
something that almost all great horror story's have in common: powerless
protagonists.
If you read a Lovecraft novel you will often come upon
characters who have stumbled upon things that they cannot even begin to fathom.
Their curiosity has led them someplace rural and just like the dwarves of
Moria, that person has dug to greedily and to deep into something mysterious
that now threatens to swallow him. The terror that Lovecraft inspires in people
has made him a legend, and even though some of it is dated by now that feeling
of pending doom is rarely seen in games.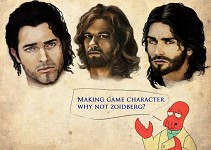 Previous concepts for Arcas, our main character.
Amnesia does very well, and it has a very Lovevcraft-inspired story throughout. But what about other horror games? Not that common. And even Amnesia imparts most of the powerlessness on the player, not the character. The story in Amnesia certainly is not bad, it's actually very powerful, but it's minimalist and we never get to know that much about
Daniel.
Our ambition is to transform our currently over competent and good looking young
nobleman into something a lot less sane and powerful, and a lot more disturbed
and delusional.
/Daniel
Executive Guru at Guru Games.