This is the final update… before the game comes out. I can't believe that the day is almost here. I know that it's not over once the game is out since it will be in Early Access and I've got plans. But it's a big milestone, let's not forget that!
I'll just jump right into what I've done lately, a lot of fine tuning so I'm sticking to the bigger updates.
NPC + Quest System
I wanted to make an attempt to make a fetch quest, usually they aren't that fun but when you're dragging physics objects they become more fun! To top this off I slapped a label on the object that says "fragile" which made me laugh out loud the first time I tried it.
Workshop + Level Editor Updates
Something I look forward to is highlighting community created levels so I've added a simple way to press a button in the menu to go straight to the featured community level. This level can easily be swapped out through a link on my website so I don't have to update the game to change these.
And I hope to encourage people to play a lot of custom levels in one session so I've got a queue system there as well. The dream is for content creators to say things like "I will play your levels" and queue them up.
For the editor it's now easier to see what the static camera will see, a small and simple fix but it sure does a lot while you're working on your level.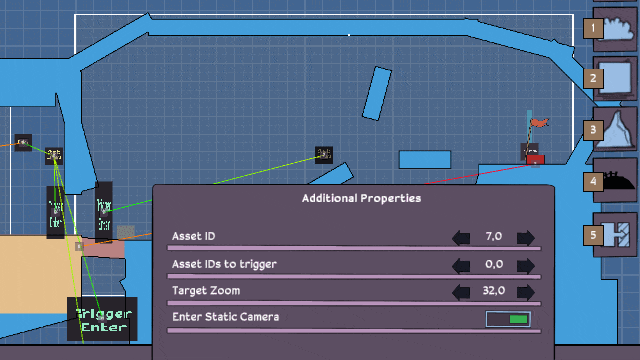 Customization
I'm a big fan of customization and collecting full sets so I had to add that as well.
So there's a full chicken outfit that you can unlock. I also made sure that with every face there's a different voice.
The chicken does sound like a chicken and the robot's got some effect on it!
environment
I'm always a bit scared to try and make brand new areas but I wanted to have something in the story that breaks off to switch it up. So the background is a gradient from orange to purple and all trees are very tall. I do believe that I achieved that after watching some people play through the game.
Thank you all for supporting me this far, the next step is releasing in Early Access. During Early Access I'll release Co-Op and Versus mode!
Don't forget to wishlist the game as well!
On Tuesday the 13th I will livestream myself playing Hoplegs with a dance mat… You don't want to miss that. 6pm CEST if you're interested over at my Twitch channel