There's been a lot of leve leditor improvements of the past weeks that I wanted to show as well!
Editor: Copy, Paste, Undo/Redo, Selection Box & Sorting Order
Not going to lie, this was a pain. I got help from my friends Raze and Ebbe because there were some new approaches that I wouldn't be able to understand on my own. But it's working well, right now I haven't found any issues with it but we'll see once I add more testers to the level editor. There's also a selection box which makes everything easier to handle, speeding up the workflow. Upon request from testers I've added full support on the sorting order for the decoration objects and background objects. They will start with a suggested sorting order but you could easily adjust it to what you want.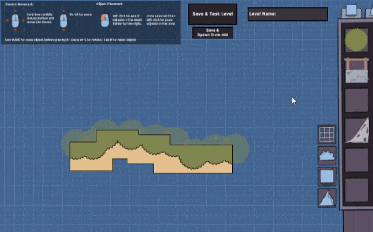 Screenshot Mode
So before uploading your custom level to Steam Workshop you need to have a thumbnail and I thought that instead of generating some image based on your level I figured that the player might want to hide some things depending on what type of level they make. So I've created a screenshot mode where you can fly around and change different levels of zoom to get the picture that you want. Although, I think you can change the screenshot in the folder before you upload if you'd want to make something more custom, just as long as you don't change the name.

Item Unlocks
I made sure that this menu looked more like how I envisioned the final version to look like. There's also some new fun support such as hidden items until they're unlocked and rarity on certain objects. Items can now also be found in levels that you need to pick up and bring to the goal. So for the items that are hidden until unlocked will come in handy if I do seasonal events such as a winter update with timed challenges and unlocks. I've always had support for hats but never added any of them to the game but as it turns out… it's a bit fun to wear them. I'm also planning on having redeem codes like I had in my previous game TaniNani to share on various occasions as a gift.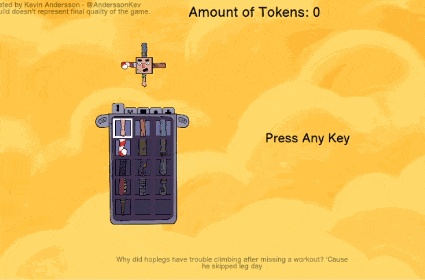 Workshop visual update
Quick update here where it at least looks like the rest of the game, I'll have to come back here at some point to add more filters etc. In the worst case there are a lot of filters if you browse outside of the game, which means that this is not my highest priority right now.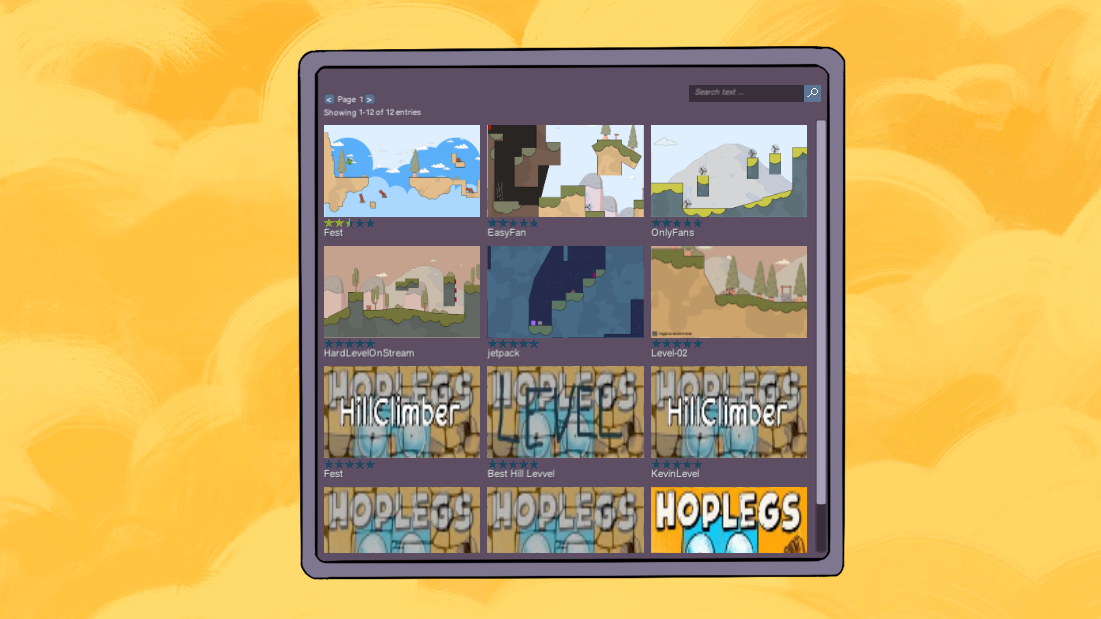 Coop
Playing with a friend was something I added very early in the game but as I added more structure around the menus and general complexity it quickly stopped working through the main menu. So I sat down to make sure that it got back to a state where it was working again. I still haven't made any levels for this mode but at least I've got support for remapping the controls for individual players so depending on what you remapped and what controller you're using it should show correct buttons.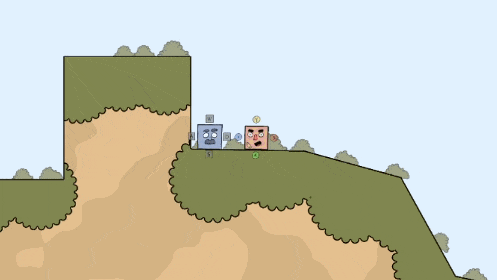 Minor Fixes
To wrap this update up I thought that I'd add the rest of the fixes here.
-Wobble legs as you jump, this is to add more "juice" to the game and make it less static. Game feels as some might describe it.
-Good jump particle, when you jump from a wall while having upward momentum you jump higher and longer. This should hopefully show the player when they did a jump like that.
-Touching the goal camera, I think this is a small thing but adds some dynamic feel to the game when you reach the goal, it could be fun if the goal is being touched while the player moves very fast and keeps flying out of the camera.
-Voice over example, the faces should make some grunting sounds so better start somewhere.
-Long and difficult level saves position, the level which is catered toward fans of Getting Over It and Jump King would be pleased to know that this level will save your progress as you climb higher.
-Waterfall, looks pretty and adds a more living feel to the background.
-More trees, I like trees.
-Cave parallax, did a test to get more depth to the cave. While I think the idea is good, it probably needs more work.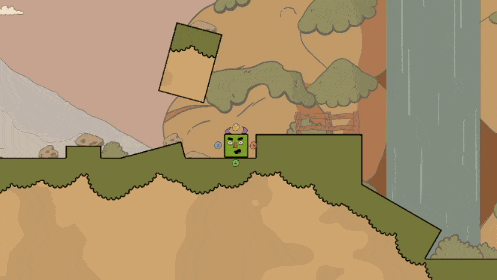 Also... please wishlist Hoplegs because it helps a lot!
Stay safe,
Kevin