THE TIME HAS COME FOR THE RETURN OF THE ONE-OFF HOLIDAY SPECIAL

In Ho-Ho-Home Invasion (very nearly titled Santa Game Solid), play as Santa preparing his stealth skills ahead of the big night (Christmas Eve), delivering presents under trees, filling stockings, and making a swift exit - without getting caught! Whitepot Studios is excited to announce this free festive stealth micro-game, created especially for the festive season.
ELF-MADE WAREHOUSE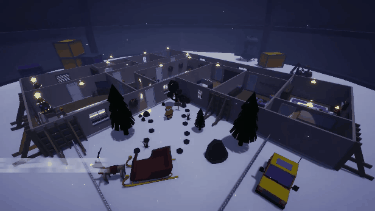 This year, due to social distancing requirements, Santa can't undertake his normal training. Thankfully, his elves have crafted a fully automated Santa training area in a disused warehouse - with five bespoke "houses" for Santa to sneak his way through.
YOU BETTER WATCH OUT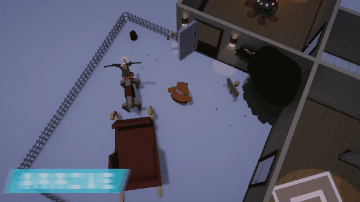 Make your way through fake houses, past fake robot residents, and place some fake presents, all in record time. Be sure to:
Peek around corners

Tiptoe to be quiet

Avoid training robots

Place presents

Safely escape the house
TRAINING ROBOTS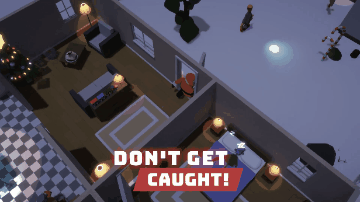 Make sure you avoid:
Watchers - tiptoe past them when their head is buried in a book

Sleepers - quietly place presents in the stockings at the foot of their bed

And Patrollers - wait until their back is turned before making a run for it!
LAUNCH & PRICE
Ho-Ho-Home Invasion will launch on Steam and Itch.io on December 15th for FREE. Whitepot Studios is using a bespoke "pay-what-you-liked" model on Steam, offering non-content DLC representing 'tip tiers' that fans can choose to purchase to support the developers.
INSPIRATION
In this non-canon year of 2020, never has it felt more appropriate to send a Christmas game rather than a Christmas card.
When we asked Twitter what everyone's favourite festive video game is, the conclusion was that there's just not that many anymore - sure, there's board games, and party games, but how many actually festively themed video games exist?
Some had fond memories of a time when festive titles on floppy discs adorned the covers of magazines at Christmas - Commodore Amiga games, with Bullfrog's Psycho Santa or Christmas Lemmings being the favourites. Honorable mentions also go to Bad Mr. Frosty (the Snowman from ClayFighters who appeared on the SNES game's cover), and Jazz Jackrabbit's Christmas Chronicles.
"Why oh why, are there not more oddly niche one-off titles that can only be played at a specific time of year?" absolutely no-one asked. Well, wonder no more - the time has come for the return of the one-off Holiday Special.
REVIEWING
Windows/PC keys available for Steam ahead of full release - please contact Vicky at vicky@whitepotstudios.com.
ABOUT WHITEPOT STUDIOS
Whitepot Studios is an indie game development studio launched in 2016. Whitepot offers work-for-hire development services, as well as creating its own IP across PC, mobile, and console.
Whitepot Studios won the 2019 UK Games Fund for their upcoming multiplayer murder mystery Murder At Malone Manor, as well as being Big Indie Pitch (Cologne) finalists and winning Northern Ireland Game Of The Year for their mobile title, Tubocity.
LINKS