Crossposted from the Sharkbomb Studios blog.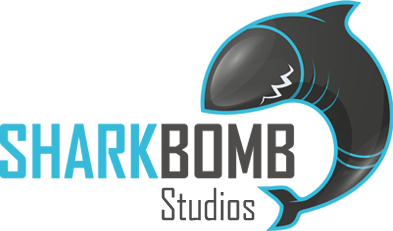 We started Hipster Zombies in Late August 2012. We had plans for a bigger game but decided to start with something small first. We hoped that the funny idea of hipster zombies would provide some viral fuel for the game. We also wanted to have one complete, simple game first. That way we could get acquainted with the technology and get into the flow of things. We set ourselves the goal to be ready by Christmas. That didn't really happen.
Here's why.
What Went Wrong
1. Going new ways... into dead ends
Sometimes trying to do something different is a bad idea. For some reason we wanted to make a game without touchscreen buttons.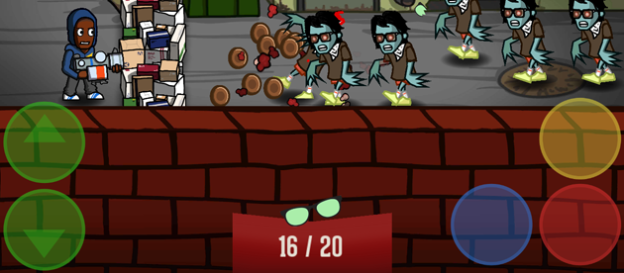 Hipster Zombies touchscreen buttons
We spent a lot of time experimenting with various control schemes, yet nothing seemed to work. We took way too long on this. And that even though the game still had other, much more important flaws at that time. Eventually we just gave in and implemented on-screen buttons. And that just worked. Obviously. I guess sometime it's just better to go with tried and true instead of trying to reinvent the wheel.
2. Leaving Pre-Production too early
Since we wanted this to be a quick project and we already spent a lot of time without any progress we were in a rush to make progress. We left pre-production before we were truly set on that game itself. Everyone tells you it's a bad idea, and we knew it ourselves, but with our noses to the grindstone we just didn't see it.
We should have spent more time iterating over the core gameplay. We should have only proceeded into production once we had a core that was truly fun. We didn't and so we had to change a lot of things in the middle of production. We still made a fun game but we were just too far along to fix some of the flaws. So instead we did our best to smooth them over.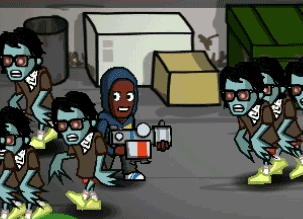 Hipster Zombies Damage Feedback
One example flaw is the indirect damage system. The player takes damage when zombies leave the screen on the left hand side. The issue is that the causality between the zombie leaving and the player taking damage is not at all intuitive. We tried a lot of other options but in the end we stuck with the simple system and just improved the feedback as much as we could.
3. Badly designed Menu
We had a bunch of issues with our menu. We really like the look and style but the structure wasn't optimal. Even though we did a complete redesign in the middle of the project we still had some shortcomings. Primarily that the menu is not intuitive and not easily extensible.
The fact that we had players complete the game without ever switching weapons was a pretty damning verdict. The weapon selection in particular is another one of these "let's do it differently" thoughts. It's not clear that the player has to scroll and how. We should have definitely gone with something much more traditional.
The other issue, extensibility comes because we had the interface in place even though the game wasn't done. We had to change a bunch of things around, add new options and the screen just got more and more crowded. Add to this platform changes for OUYA and it just get's chaotic. The next time I'm doing a UI design I'll make sure it's a lot more flexible, even if it ends up being generic.
4. Too few tests and testers
And our last mistake was that we tested too little. We tested way too little. We were busy with the many different issues of the game and we were in a rush. We just didn't take the time to play regularly or to let other people test.
Especially the latter is so invaluable. Getting someone who never played your game to try it is really essential. We got a lot of good and helpful feedback that way. Unfortunately it came at a point when we were unable to change things so deeply. We've vowed to never do this again. And to help us I've made a little poster that's now gracing our office walls.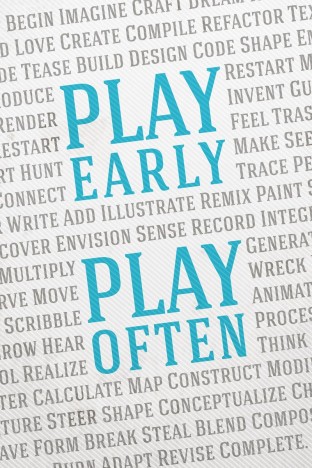 Play Early, Play Often - available as poster
So in spite of all these mistakes we still managed to release a fun game. Hipster Zombies hit the App stores on the 15th of March. Instead of the planned three months it took us a full six. That doesn't speak to our ability to plan. Still we had a good time making the game and we're happy with the results.
But not all was bad. Here's a few things that went well during the production:
What Went Well
1. Fitting Art Style
The only artist we have is me, and I'm only alright. So to go into production we needed to find an art style that I could reliably produce at a consistent and satisfying quality. To that end I spent a good chunk of time researching and experimenting, and the time was certainly worth it. Admittedly the production of all the artwork took longer than expected but we're quite happy with the quality.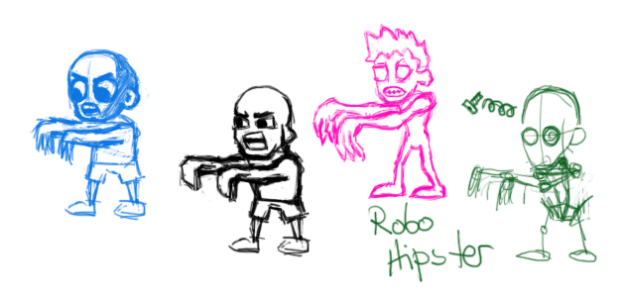 Various Hipster Zombie scribbles
2. Time-saving Unity Plugins
Since we're a small team, working on everything part-time we need to save as much time as we can. To that end we did some research and found a lot of useful Unity Plugins that took some of the weight of Jos shoulders.

The Unity Asset Store
We were especially happy with the Prime31 suite of plugins, which are well worth their money. They have specialized in providing unity plugins for mobile apps. They provide relatively quick access to things like in-app-purchases, game center and many other platform specific features.
3. Audio Outsourcing
Neither of us is an audio whiz. And neither of us had time to spare to become one. So we looked to outside for some help in the audio department.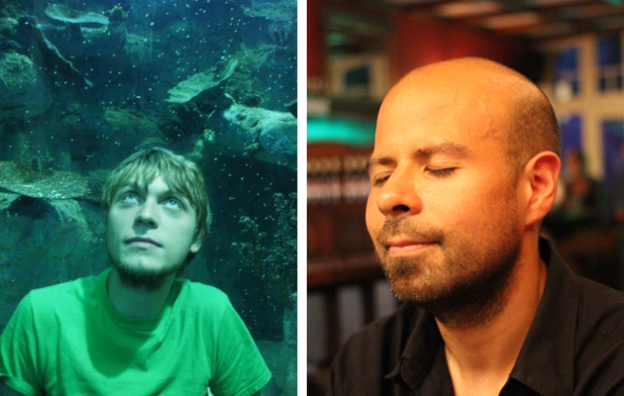 Lawrence and Sebastian, the Hipster Zombies Audio Team
Luckily a good friend of ours, Sebastian, was happy to help us with the music. You might remember him as the monk in the Touch of Death trailer. Even though he was only composing in his spare time the tracks were great and frequently mentioned in positive reviews. Yet we still needed someone for the sound effects. So I spent many hours searching for and getting in touch with audio artists. This took a lot longer than expected. Especially writing the audio brief was a solid load of work.
In the end we went with Lawrence from Satsuma Audio. We found him via Gamedev.net. His sample audio was convincing because it had both breadth and fidelity. And not only that, he also seemed excited by the project.
Collaborating with Lawrence was a joy. He was able to deliver everything on time, even though we got in touch with him way too late. Thanks to his skill and the detailed briefing there were only very few revisions to make on the sounds, and those were quickly resolved. All in all we'd absolutely recommend him.
Also as a little bonus, Lawrence made the audio source files he used for the Hipster Zombies SFX freely available as a FreeSound Pack. Check them out.
4. OUYA Release
We both backed the OUYA Kickstarter back in the day so when we got our hardware we had to try and port Hipster Zombies to the console. Just for the fun of it.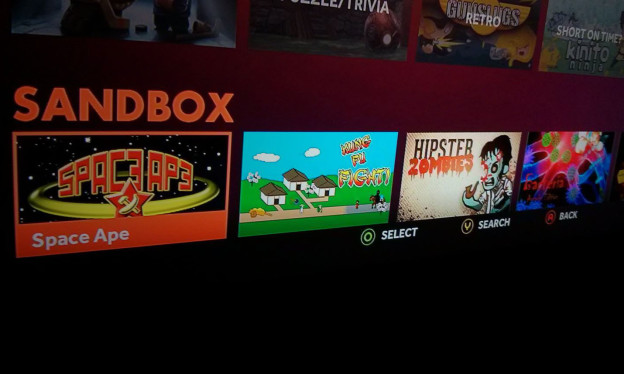 Hipster Zombies in the Ouya Store
We spent about two weeks on this. In the process we decided to simplify monetization. On iOS and Android the game features in-app-purchases. On OUYA instead the game is a simple full-game unlock. On the 2nd August 2013 we published the game to the OUYA store.
And the reception was far beyond what we expected. After having only very limited success on iOS and Android we'd set our hopes pretty low for an OUYA release. However we were positively surprised by the gamers' reception. Looking at all our platforms up to date we probably made most of our money on OUYA. And that considering we released on OUYA about 5 months after the smartphone release.
Granted even with the OUYA sales we're still pretty deep in the red with Hipster Zombies, but that's a story for another time.
tl;dr - Our Takeaways
So to condense this postmortem down into a few handy lessons:
Don't start production unless you're damn sure where you're heading.
Don't rush your project just because you want to be finished.
Look up more often. Time spent on prep & research is always well worth it.
Granted none of these are terribly new or groundbreaking but it's good to be reminded of them. So we hope you learned a bit from our mistakes and successes. We certainly did.
- Martin

---
Visit Sharkbomb Studios at

Facebook
or

Google+