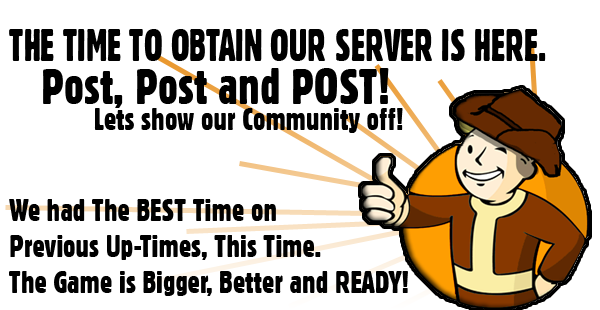 Hello my Friends, I have good news! We have been referred to a Gaming Community that can Potentially host our Server, Free of Charge!
I believe it would greatly help our cause if you signed up to their Forum and made a supporting post here.. Just say.
"I'm a Fan of this game, and I want to see it Online!" Maybe add your own personal comment but lets try and get some hype around this.
For those who have not played this multiplayer yet, Just leave this thought in your mind.
You will be able to craft, fight, and thrive with your fellow players. Build Factions capture towns, work together to hunt and kill zombies, Share caps, Slave together, Farm together.
Blow eachother to pieces with crafted explosives. :)
Opportunity is here, So..



Thanks for Reading Lads, Lets hope all goes well!