Hello,

We have been working very hard this past week as a team to get a lot of really cool features in the game and working. So what are the features that we have implemented this past week or so.
The Infected Herd System
So first of all we want to talk about our new and improved Infected herd system, and yes its like the walking dead. The infected all start out in the world on there own or in very small groups but can and will join on together which will lead to them forming herds.
Herds in the game are a real threat to everything and everyone. Just one of the smaller herds of around 10-20 infected can do some serious damage to your base or another A.I. faction base, but if you come across a more lager herd of around 30-60 infected, they will just tear though your base or any base. This is why if you see a herd its good to keep track of where its heading and where on the map you remember seeing it, We recommend that with these bigger herds you lead them away from your base then deal with them from there. In the game we also have many features to distract the infected suck as a boombox, flare guns and much more, this tactic can also be used to lead the infected away from your base.
The Electric System
We have been working hard on our electric system to make it work as nicely as possible, as of right now we only have some very basic mechanics in the game at the moment when it comes to the electric system. Right now you have to go and find a generator in the world then bring it back to your base, build a light then connect them up. you do need to find some gas/petrol to be able to run the generator but we do plan on expanding on this a little for the prototype demo.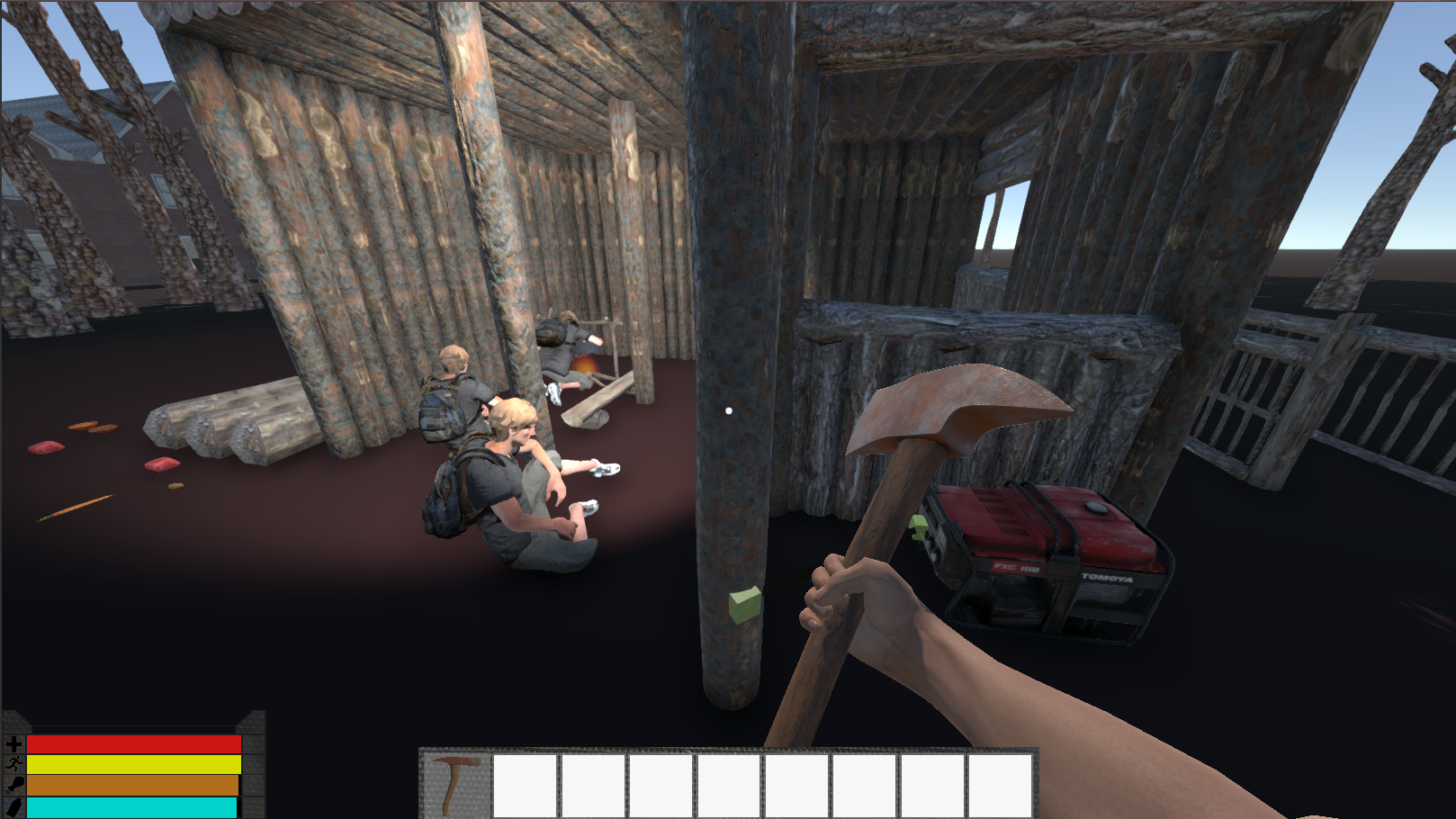 The Quest and Dialog Systems
We have been working on our Quest and Dialog system for a good few weeks now, We have hundreds of lines of dialog already in the prototype demo already and we plan to add a lot more. Below is one of our smaller dialog trees but please note that it is still a work in progress.
We plan to have some really cool quests in the demo but please remember this is only a prototype demo so we wont have all of the massive really cool quests that we will have in the full game.
A.i. Combat Improvements
We have made a lot of really cool improvements to our A.i. combat system such as:
A cover system
Melee combat system
Better aiming while shooting
And more
We have also made a lot of improvements to the A.I. in general for all things such as:
A.i. job assignments
A.i. animations and movement
A.i. interaction
And more
We have also been hard at work at making the demo map which is coming along great. Along side all of this we are doing constant bug fixes and testing to make sure that this demo is the best it can be in our set time frame. We hope you stick around to see the great game this will become, thanks for reading.
~~ The Outcast Games Team ~~