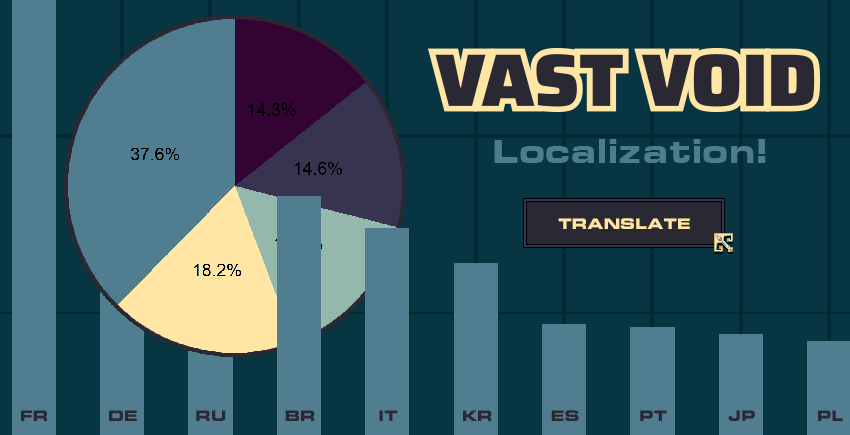 The result from the poll
Two weeks ago we announced that we're looking into translating our upcoming game Vast Void (read more about Vast Void here). RymdResa (which Vast Void is an HD remake of) was only released in English back in 2015, which wasn't ideal (Vast Void is also, written in English - as the story is the same). Because of this, we wanted to talk game localization with you. We asked you: "Should we localize Vast Void?" (where you could answer "yes" or "no"). Here's the result: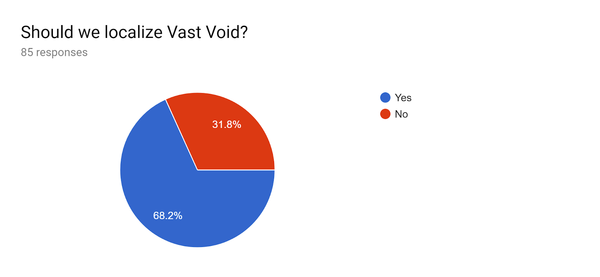 68.2% of you thought game localization would be necessary for Vast Void and 31.8% said that they didn't think so. We had a look at Steam's data, and according to them, 35.67% prefer English (in February 2019) - which is in line with our results (as the ones that told us that we shouldn't localize Vast Void probably prefer playing games in English). Our conclusion from this and from discussions we have had is that game localization is super essential - nearly 70% of you thought so too. =)
What languages should Vast Void be translated into?
We, of course, would love to translate Vast Void into every language existing but that would be hard. To decide which languages would be most important we asked for your help.
We asked you: "What languages do you think we should localize Vast Void into?" (where you could choose among several languages and also add own suggestions). Here's the result: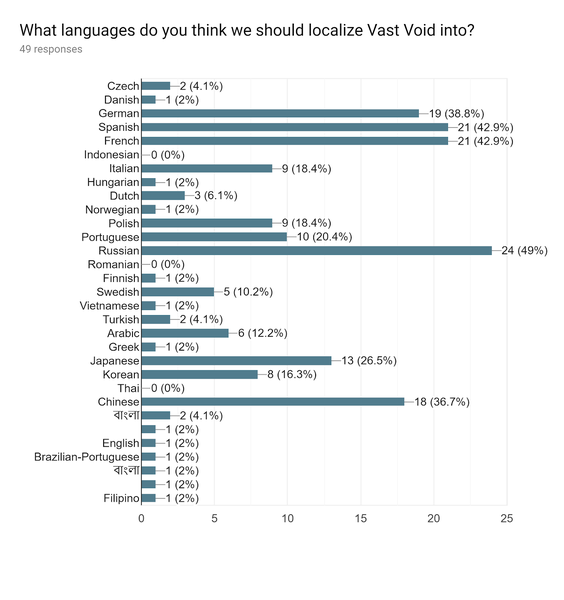 We also summarized some Steam data with R and looked at the 25 countries where RymdResa was played the most in 2016, 2017 and 2018. BUT we don't know what language our players prefer - however, it's possible to guess that the majority of our players in France probably prefer French, etc. - although we can't be sure - as many people in France probably prefer other languages as well. Have a look at the countries where RymdResa have been played the most below: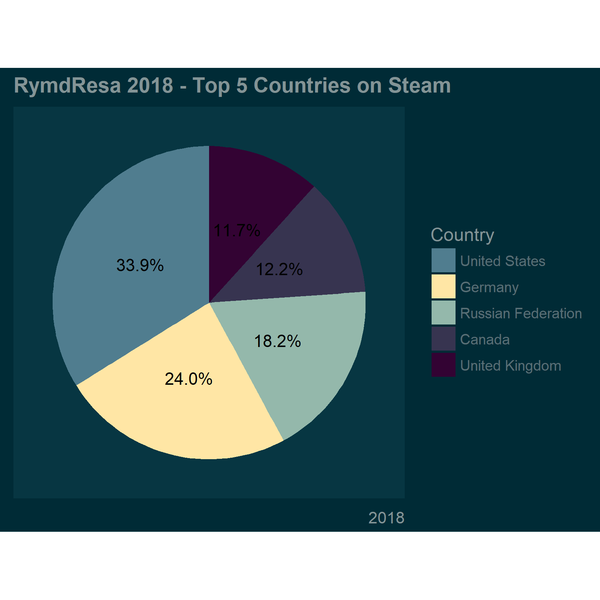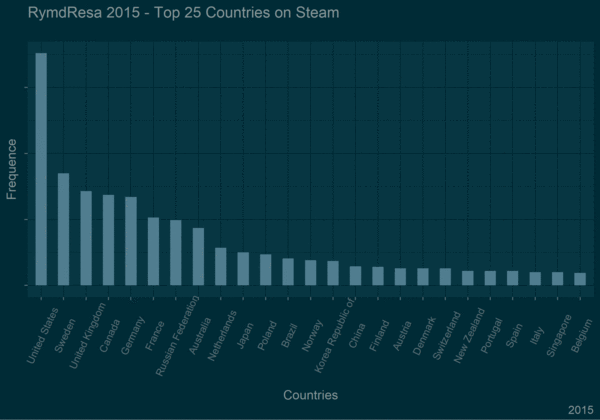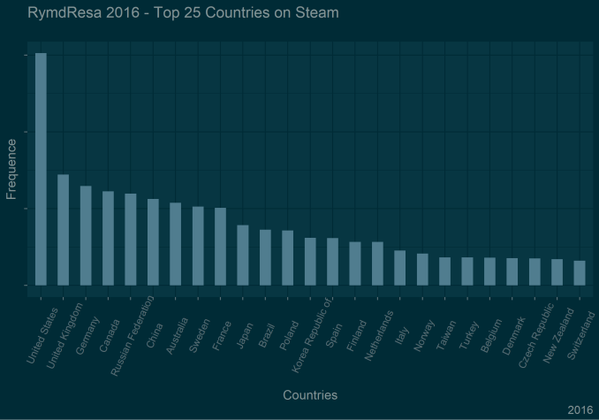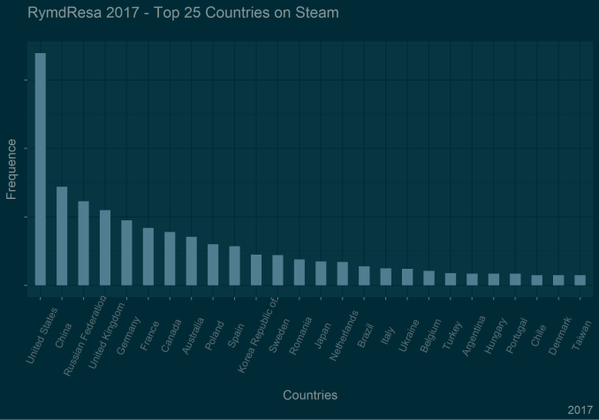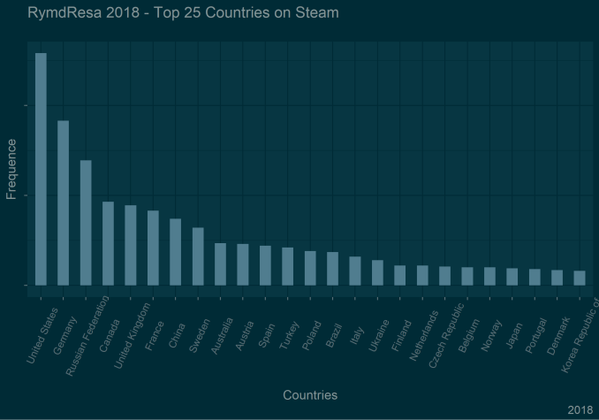 We also looked at Steam's data again to see which languages people on Steam prefer (this is from February 2019):
English, 35.67%
Simplified Chinese, 25.48%
Russian, 12.37%
Spanish - Spain, 4.18%
German, 3.64%
Portuguese-Brazil, 3.18%
French, 2.66%
Korean, 2.03%
Polish, 1.83%
Turkish, 1.66%
Traditional Chinese, 1.21%
Japanese, 1.11%
Thai, 0.79%
Italian, 0.70%
Czech, 0.55%
Portuguese, 0.49%
Swedish, 0.39%
Hungarian, 0.37%
Dutch, 0.31%
Danish, 0.29%
From all this data (which all have some similarities) we have concluded that the most important languages for Vast Void to be translated into are (in alphabetical order):
French
German
Japanese
Italian
Korean
Polish
Portuguese-Brazil
Russian
Simplified Chinese
Spanish - Spain
Swedish (mostly because it's our native language and because we have already begun with Swedish translations)
If you feel that we have missed a language, please let us know!
How should Vast Void be translated?
Localization is a costly project for a small game studio. However, we got a lot of comments two weeks ago with suggestions; and many of you wanted us to do community translations, which initially sounded a bit difficult to handle - but fun and exciting for sure. And it's probably doable. Therefore we have decided to give it a shot. We're really hyped about it!
We actually tried community translations with our game imprint-X which went really well. We wanted to make imprint-X accessible to everyone. We, therefore, reduced the number of words in the game significantly (we only had some in the options tab). But we did have a Store Page with words. Words that needed translations; which the community helped to provide. =) <3
RymdResa is however super complex compared to imprint-X and quite heavily text-based, but we hope community translations will work as well as it did with imprint-X.
Want to help us translate Vast Void?
Want to help us translate Vast Void and make it more accessible? Yay!! That would make us super happy! <3
We will start by translating the Diary Pods form RymdResa (which are the same in Vast Void) and take it from there. This is the first translation round. We will evaluate the first round in a couple of weeks to see how it went and decide if we can continue with community translations or if we must move on to professional translators. But hopefully, this will work out super well! A lot more texts to be translated (like quests, poems, item descriptions, and UI) will be available if all goes well, keep tuned by subscribing to our newsletter. =).
We have created a public google doc (including all the original diary pods from RymdResa) where people can fill in their translations and edit existing ones:

We have set up translation sheets for French, German, Japanese, Italian, Korean, Polish, Portuguese-Brazil, Russian, Simplified Chinese, Spanish - Spain, Swedish. If you want to add another language, please let us know! =)
As you'll see when entering the doc we'll try to keep the translation process as organized as possible, so please read the instruction sheet before getting started. <3
If contributing to the translations, we want to thank you in the game's credits. Therefore, don't forget to put your name or alias in the translated by row in the sheet.
We have also created a thread in our Discord channel where translations can be discussed: Discord.gg
Your help is much appreciated!! <3