Hi everyone! We are excited to be on indieDB with our, obviously indie, project: forma.8. The game is in development from a little over a year, first as a personal prototype and then as a full fledged project under the new founded indie label MixedBag and, since we already have quite a lot of material about the game, We thought a little recap post would've been the best for everyone, before posting here all the new stuff about the game.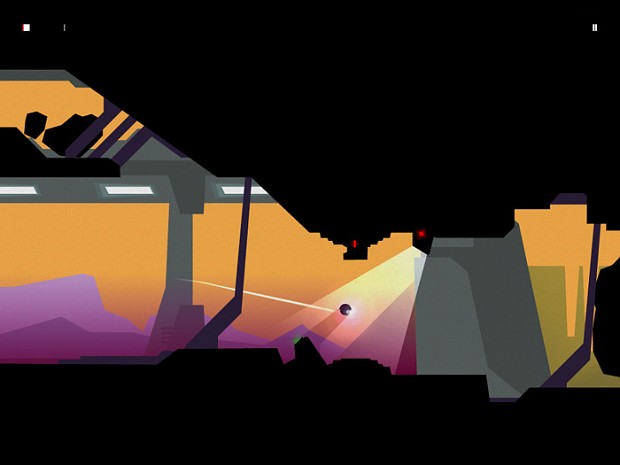 Who are you?
MixedBag is a little indie developer based in Turin, Italy, that was formed to develop the game forma.8. The team is composed by Skyrise (Mauro Fanelli) - game designer and programmer, dezuam (Andrea Gellato) -game designer and graphic designer/artist and Simone Fougnier - music and sound effects.
It's our first indie game project.
What's forma.8?
forma.8 is an action adventure game for iOS, directly aimed at the avid gamers crowd, with a nostalgic and essential graphic style and a unique control system. Our goal is to provide an 'hardcore game' on a mainly casual games platform, and to achieve this we know that we need to meet some requisite like:
a responsive, precise and lighting fast control system. And without your fingers all over the touchscreen.
60fps, constant.
an expansive world to explore
puzzles!
an intriguing and mysterious story
lots of enemies
lots of BIG nemies
some more B I G G E R enemies
...and all the incremental power-ups you need to take care of them and to avoid all the nasty stuff you'll face on the remote, alien planet
So, think about the classic Metroidvania game. But for mobile. Oh... and you fly. :)
What's the story about?
We don't want to spill too much detail about the story for now. Let's say that you are a little exploration probe, called forma.8, that is on a life-or-dead mission on a remote and foreign planet.
What engine are you using?
The game is developed using the Unity engine, with the help of some awesome extensions: RageSpline, RageTools, PoolManager 2.
When does the game come out?
Initially we aimed for a winter 2012 release but maybe we were a bit too optimistic. For now the relase date is TDB, but we hope the game will be ready for mid-2013.
Will it be an iOS only game?
We're focusing all our strenght on the iPad and iPhone release first. The game was developed for touch screen control in mind and we don't have the resources to focus on more platform for now. We'll consider other possible platform at a later date.
We tested the game also using a joypad and k+m control and it works pretty smooth…
Some press
We showed a very early and very alpha version at E3 2012 in june, receiving some good press. Since then we went into hiding mode, rethinking and polishing lots and lots of things.
Just to mention some, we were featured on:
TouchArcade
IGM Mobile
AppleNApps
And for now, a couple of movies from the (very early) E3 demo!

Thank you for your kind attention, and sorry for the bad english! :)