Hi all! We are Dyscordion Entertainment and we wanted to do a quick introduction and share a bit about us and our game, Second Star.

So, a little bit about us first - we're a group of 14 who got together in 2019 and decided to make the game we all wanted to play. We even have a cool mission statement: to bring immersive, story-driven games with memorable and diverse characters to players everywhere.
That part about diversity is a pretty big deal to us - we're a team of veteran artists, illustrators, game masters, writers, and programmers hailing from all over the world so we have our own unique backgrounds and experiences to influence our creative processes. We're also pretty silly and like to joke around a lot while we make the game. Which brings us to the next big thing we want to talk about: the game!
Second Star is what we call an adventure role-playing game. What does that mean exactly? If you're a fan of exploration and solving puzzles but also like getting to choose what kind of character you want your protagonist to be while driving the relationships you have with other characters during your journey—that's exactly what we're building. Also, it's in space.
A Second Star demo is coming
First, we want to announce that we are going to be releasing a playable demo of Second Star. This will be available for anyone who would like to give Second Star a try and will include a nice chunk of gameplay and some of the story (non-spoiler of course). We'll definitely want to hear what you think so if you're interested in trying out Second Star, head over to our home page and sign up for the demo. You'll get a welcome email (make sure you check your junkmail box, too!) and will be on the list to receive the download link when the demo releases for PC and Mac OS. We're still hard at work on it and we'll keep you updated on progress.
In Second Star, you play as Dr. Lee, the scientist of the Persistence more than 200 years in the future. You, along with a crew of 5 humans and 1 artificial intelligence, have been tasked with finding the Second Star, an exploration space vessel missing for 10 years. Your journey will take you to several locations far away from home, but you'll also be spending a lot of time in the Persistence's state-of-the art laboratory. We should note that this footage won't be exactly like the final game, and it's currently without audio. The demo will be fully voiced however, so there is that to look forward to.
It can't all be work for Lee, though. Sometimes it's nice to take a break and look out the window for a bit, even when you're rocketing through space.
Lee can observe objects in their proximity and comment on them.
Lee isn't alone in their lab, either. ANAVI, the ship's resident A.I., helps Lee with a variety of tasks, including but not limited to crunching data, analyzing samples, and making small talk.
ANAVI makes sure Lee doesn't get too lonely.
Lee can do more than just look at things, though. They can also pick stuff up and keep it in their inventory for later.
You never know when an air canister might come in handy.
Collection is a big part of Second Star. Everything you pick up has a use whether it's apparent at first or not. Using the ship's onboard Fabricator, Lee can craft a variety of items using blueprints learned from their excursions or other crew members.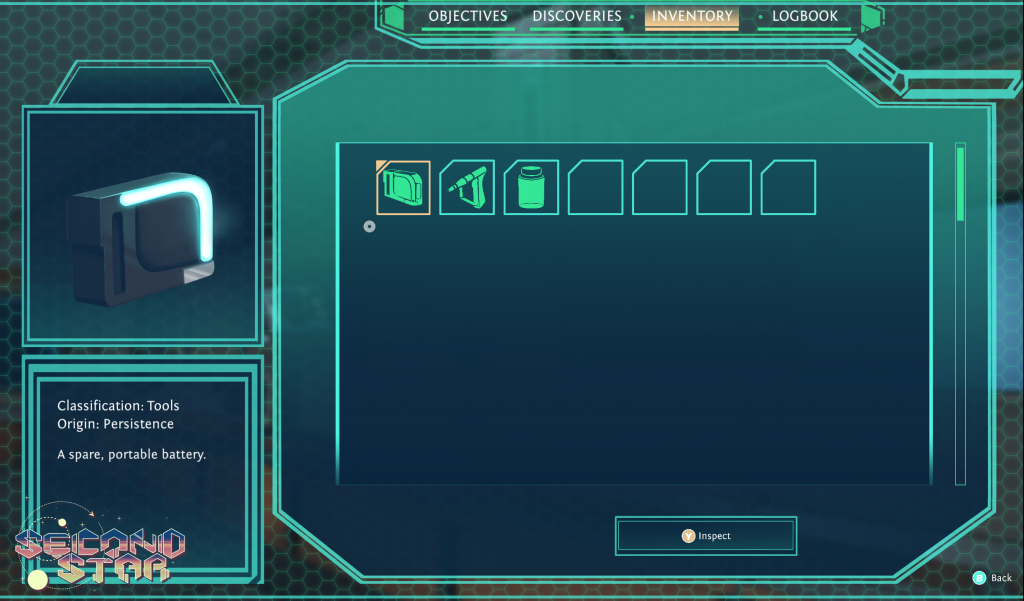 Lee's Inventory. Inspect any item up close for a 360 degree view.
Conversation also drives a lot of Second Star's content. Lee can use their personal communicator to chat with any member of the Persistence crew–both on and off the ship. The crew also monitors Lee during planetside excursions, making sure Lee's suit is functional and helping with any obstacles encountered during the trip.


Pay attention to what the crew says, however. Your decisions (and how you say them) can and will affect the story. Don't worry–you'll have some helpful dialogue icons to assist you along the way.
We really like hexagons.
Every character in the game has a story to tell and choosing to pursue a deeper relationship–professional, friendly, or more–with your crew mates will open up more dialogue options and content.
Joey, the Persistence engineer, often asks Lee to craft tools for her though she freely admits some of them aren't exactly "safe".
We hope this sneak peek gets you as excited about the game as we are. We want to hear from you, too! Just hit us up on Twitter or better yet, tell your friends about Second Star. Don't forget to sign up for the demo if you haven't!


For now we leave you with song from Second Star's OST: the theme of the Persistence. Enjoy!
Relevant Links: