Well, the earlier simple graphics style + realtime light + 256 palette didn't quite fit togther, result was jagged color bands everywhere. So kind of back to previous style, but with some normal maps. Have again updated the weapons a bit, took some of the old ones and did some new ones too. There's also a Scale4X shader, so the low res textures look a bit smoother, while also staying sharp looking.
The game now has options to choose from English or Finnish subtitles/messages, might add Swedish later. Player character is also talking both English and Finnish, and maybe later some Swedish. I have studied German too, but I might have forgotten too much of it to make a sensible translation? There's some little issues with ÄÖÅ characters and the text: the fonts that could print them, can't use the Scale4X shader, only the engine default font seems to be able use the shader. At least the default font looks fitting with the other HUD graphics.
---
Purifier Video:
Tested gameplay with locked doors needing a certain amount of keys to unlock. Of course I cut the parts where player unlocks/opens the locked doors. So far it seems like it could allow player to play the levels a little less linear than with color coded locked doors. Now the only color coding is if the door is locked or unlocked. Could add some signs near the doors.
As mentioned earlier, the weapons changed again, now thought to let them be as they are and focus on level design. The weapon functionality is going to stay mostly what you might have seen already. For a moment tested if every weapon had it's own ammo type, but maybe it's more fun if it's just 4 collectible ammo types, maybe max 6 if absolutely necessary to add some more. Current 4th ammo type is Fuel, but could be Energy Cells, Compressed Hydrogen or something like that (something that can power a Plasmagun and a Flamethrower).
---
Pictures: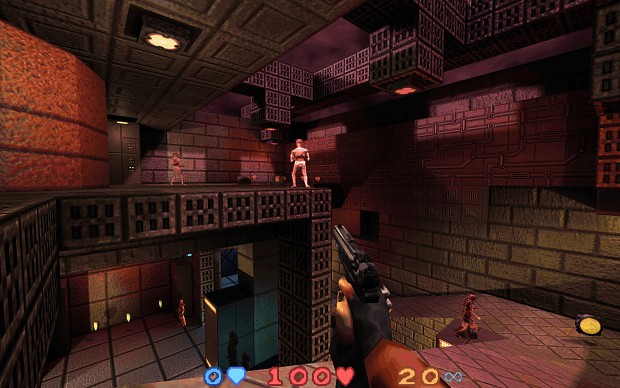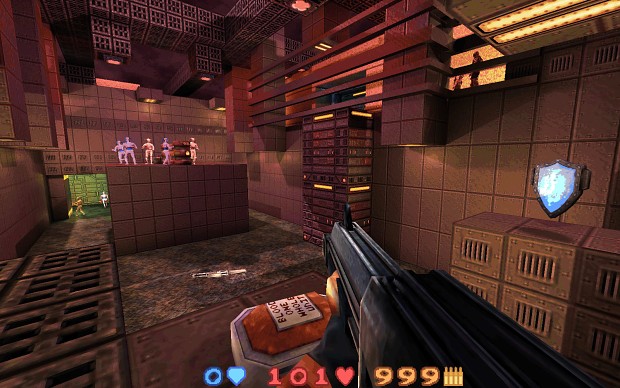 Yea, the brown metal texture is very much Doom inspired.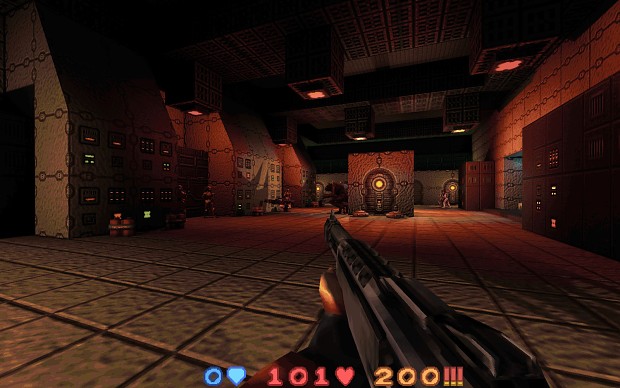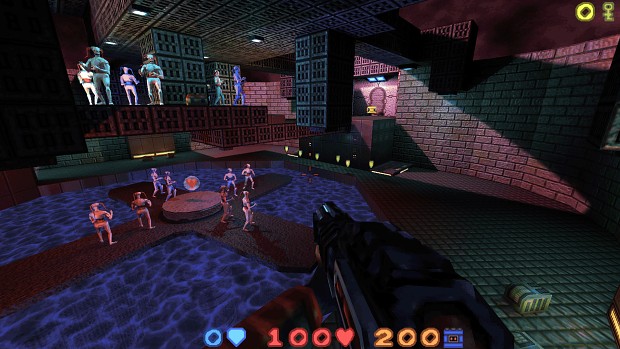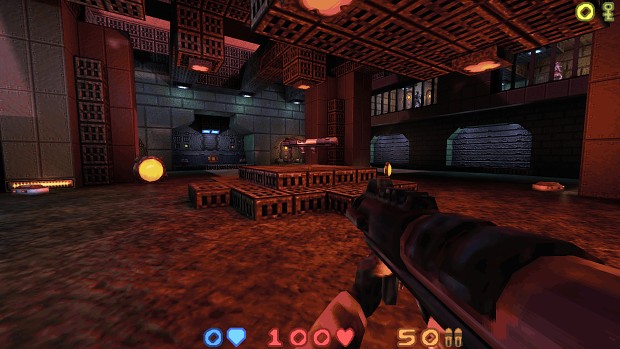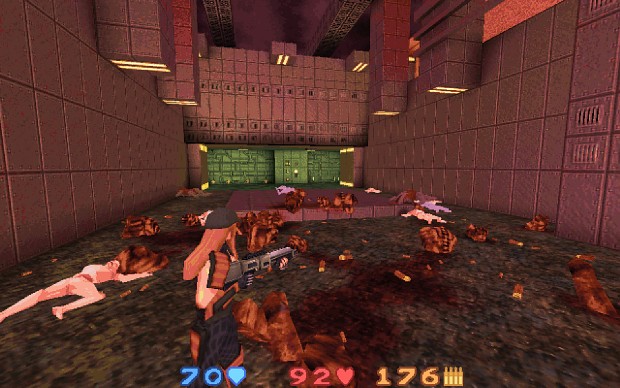 Third person mode is still there. Blood stains apparently only work if not using realtime world lighting. Realtime dynamic lights are ok.
---
Coming Next:
Different level themes, city, hell, graveyard, definitely something less scifi looking? Video with playing with a controller and showing off the aim assistance. Have also wondered that now that the palette is in a glsl shader, it doesn't really need to be Quake palette compatible, could redesign it a bit sometime (textures with fullbrights can be done with _glow textures and function with any color). Maybe re record some of the newer player character voices, my throat was a bit hoarse and couldn't get the same voice as before.