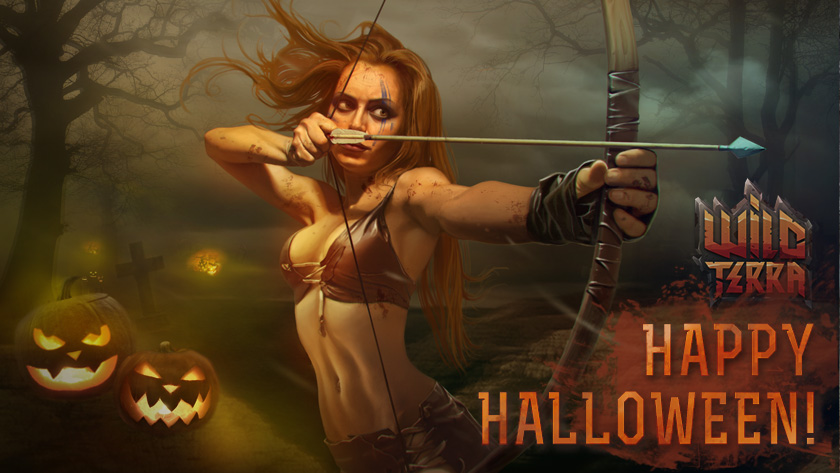 Worlds of the dead and the living had opened their gates, and inhabitants of the other realm have entered Wild Terra. Cursed by an evil witch, animals wander around the land and scare local peaceful folk. Turn off the lights in your houses, light jack-o-lanterns and play Wild Terra!
Join us right now and help stop the forces of darkness!
Special Offer - early access bundle "Halloween" just for 6.66, And 2-pack even more cheaper - 12.99 for a two keys. Special offer is limited in time.
Playwildterra.com
The main server updated to version 0.7.19. The tests are stopped, all thanks for your help!
Download the client update…
Topic for discussion Halloween update and publish screenshots. Best screenshots will get our news feed, and their authors will be rewarded by gold coins!
New in 0.7.19
All animals were bewitched by the evil witch! Hunt them to disenchant!
On the holiday, of all the animals you can get cursed spiders, which are used in the drawings and holiday recipes.
Now you can create a jack-o'-lantern, witch hat, cloak, pumpkin-hat, black leather jacket, stockings, boots and gloves.
Now you can build a grim halloween lantern, fountain, brick bloomery and brick kiln.
Fixes
Instead of thrown chests, now spawn finds that much better fit in the entourage of the world.
Part of icons for items in the inventory were redrawn.
Updated graphics for poultry house, now has 2 positions.
Updated graphics for scarecrow.
Lots of corrections and adjustments in the English localization of the game.
If you want to support Wild Terra, please, consider leaving your hype there:Mmorpg.com