Hey there mates. I'm sorry about how there's no new update on the game or news about it. I'm stuck and I can't use my computer much, I do work on the game a little but it develops slowly. Yet, I can assure you that the next update is really near. There was a news update tough, about two weeks ago I posted an image that showed how characters will have unique attacks (such as swords, as shown on the picture) instead of giving them all red bullets.
Now, what I wanted to speak is... Halloween. October is recently over us and so is Halloween. Don't get me wrong, I don't celebrate Halloween, I personally think it's kinda dull and whatever cliché about marketing you may come up with; but I do like the theme. How is Halloween alike The Million Character Game? Well, I already talked about how I got my idea of the Bit Drops from mexican piñatas: they are all characters that you hit until they drop some candy.If you've celebrated Halloween you've probably been asked: "Who did you came as?". Halloween is a really big celebration where everyone dresses as a character of their preference. It's thousands (probably, you know, Millions?) of characters gathered to collect candy in one night!
I might be over talking, but I need to fill this post with text, so it's alright I guess.Alright, so going one year back I organized a little Halloween event for The Million Character Game. If I remember well it was a livestream where I was supossed to make Halloween-themed characters for the game. But it was a total failure... So...
HERE'S THE DEAL
Right now I want to try again to make a Halloween special for The Million Character Game, but this time it's not about me, it's about you.
It's a contest! You just have to make characters for the game!"God damn it, Green Tie! Make your own characters! Get out!", that's what you must be thinking, but I won't, because there are... PRIZES!
You people like free stuff, don't you? Yeah, I know you do. So what about some Steam games?That's right, whoever makes the most approved characters will receive a $10 Steam game of its preference.What's that? You don't have enough self-esteem and you think you're not going to be able to make the most quantity of characters? Don't worry because threre are going to be 3 lotteries of $5 Steam games for different persons. So as long as you make one character, you have one possibility to win one of the games, but the more characters you make the more chances you have!
"But where is the Halloween?! You retarded cu-", you might say. You may not make just any character that comes to your mind, it must be Halloween-themed: scary, dark, horrifying, ghost-type, monster, etc. I chose Halloween as a theme because it relates to the biggests categories in characters.
You just have to make some characters and then you're in for the contest to win a $5 Steam game of your preference or even a $10 game!
Wait, I'm going to explain this in a more appropiate way for a contest... Ahem...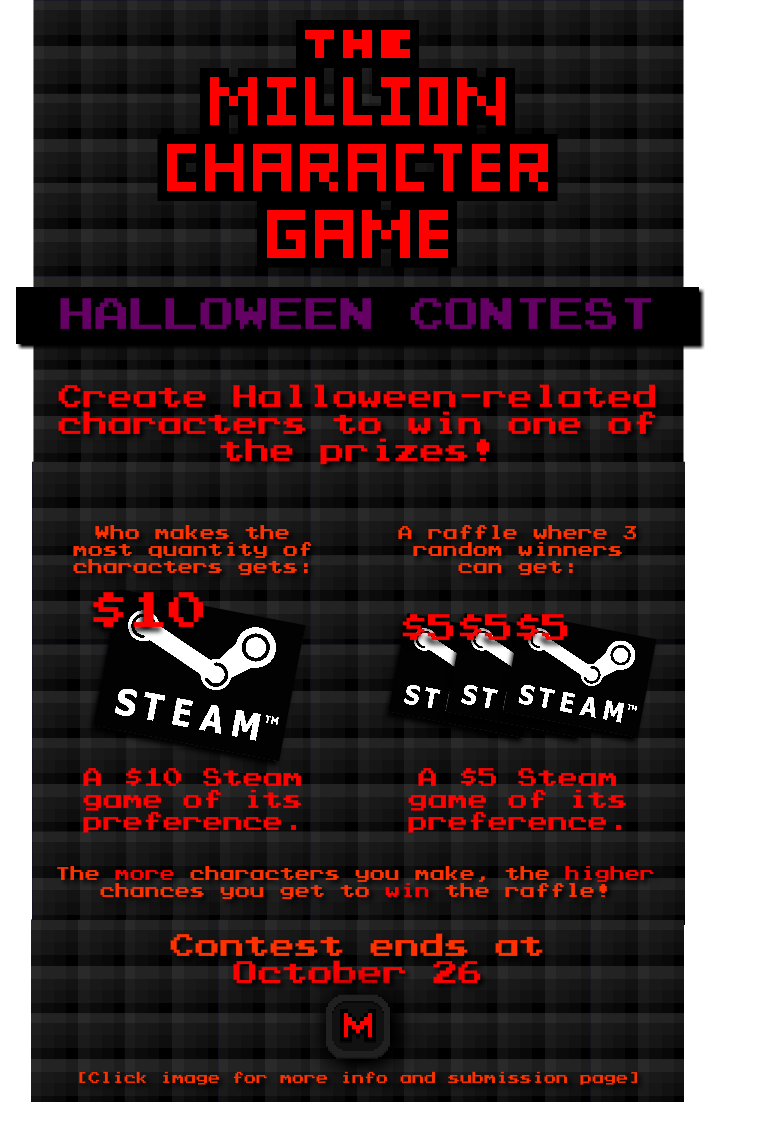 Click the image for more info. The submission page is at the game's IndieDB forums.
That's it! I hope that we have some fun with this. The next update should come around october. Cheers!
If you're interested, you can download the current version of the game here: