𝖂elcome once again to the project. Looks like I too have been absent for so long.


It appears that real life has gotten in my way as things have not been going well in that regard. I no longer have my previous job, which was funding the project, so I'm looking for alternative ways to make a living, but if worse comes to worst, then I'll have to get a new job. Pretty much, this absence was about trying to figure out what I'm going to do with my life. This has led to the project being put on the back burner.
I must confess to myself that this is a passion project. That may not sound like something I should be apologizing for, but the thing is I intended it to be a passion project that I could make into my flagship project and work on it for the majority of my time. But like many passion projects, it doesn't pay the bills. If I want to make money as a content creator, I need to make content that sells and this game is too niche to do that.
I still have strong inclinations that this game could be a hit. Problem is, it requires so much work that I don't have the resources or even time to make it happen at this time. I need to find a way to promote it and niche games are difficult to do so. After Gunshi is finished, I will have to put aside production of the game to figure out how to promote the game in order for it to be even a modest success. This game is going to be a long-term project for sure.
Sorry to say, but Child Arms is going to take a while before it finally takes off in whatever capacity I can manage to.
As for the project itself, Gunshi's sprites are officially done. I am so thankful for my artist who managed to work hard to get them finished, even if it took this long to do so. They are capable of making these sprites in a matter of two months, but due to real life, they were postponed numerous times. We managed to preserve and the sprites are now finished. Now, all we got to do is... everything else.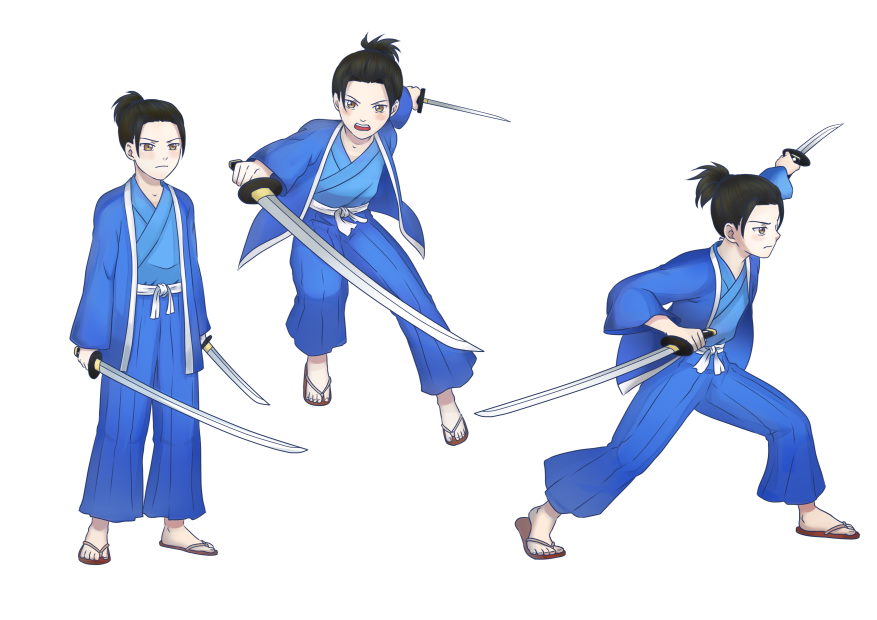 Gunshi's concepts.

Gunshi is currently using Enro's stats and coding, which was designed to be a template for the rest. Only Gunshi's idiosyncratic moves are unique as I had to implement his special moves. He also needs his color layers to edit his colors, as well as update the color editor itself to include him. There are also other things like his biography and adding him to the player select screen. Pretty much, the entire game has to recognize him outside of battles.
There's also another matter and that is the game engine. If you notice on the video, Enro is acting erratic. I updated GameMaker Studio to the latest version but have not touched the game in months. Something happened during the updates that makes Enro and Escudo act strange with their sprites. I can't pinpoint exactly what it is, but it has to do with a variable having a floating-point value. Only Enro and Escudo display this oddity as Gunshi plays fine. I'm in the process of fixing this as well.

GameMaker, what ails you?

That is all the update I can provide for you. There will be more updates during the development of Gunshi, so stick around. The game is only starting.