Gunlocked™, the roguelike, twinstick-shooter without the twinstick, has launched into Early Access for PC on Steam. Grab it for the Early Access discount of $3.99 and if you pick it up in the first week, you'll get an extra 10% off! Buy it here: Store.steampowered.com (Note: available at 7am EST, April 29th)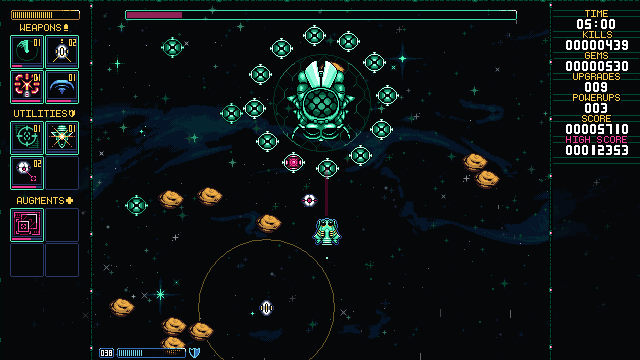 Can you defeat the Hive Queen? This isn't even her final form!
With streamlined controls, on keyboard or gamepad, Gunlocked is all about careful positioning and upgrade selection. Manage unique targeting systems across multiple weapons and upgrades, as you battle legions of alien ships, and hope you're strong enough to defeat the mothership! Then do it all over again with a new strategy.
Features included in the current build:
3 pilots with unique playstyles
16 unique weapons and utilities, each with multiple upgrade levels
10 different enemies
An evolving boss that grows in power and complexity each time you face it
12 achievements
Gamepad support
Retro Style, Arcade Action rendered in handcrafted pixel art
0 NFTs :)

Just some of the many upgrades in Gunlocked™ with more coming soon!
Expect more weapons, more pilots, more achievements, more enemies, and more bosses in the days and weeks to come! Get in now, and help shape the future of Gunlocked, today!