It's definitely been a fun couple of weeks having feedback on the game after the first open beta release. It's mostly been positive too, which is always nice :)

So we've now made our second release, which is available on the website: Grim-legions.zeefin.net

There were a few suggestions and bug reports... we've squashed a few nasty bugs, and taken up some of the suggestions, e.g.
There was a bug that let you move legions infinitely! It took a bit of messing around, but basically when 2 legions merged, it always took the movement points of the unit that moved onto the first... that was a bit of a face palm moment... now it always takes the lowest one
You can now change the movement speed of legions, so you don't have to wait so long for the AI to move (especially if it has a lot of units)
Also made the help a bit better
There was also a bug we managed to track down right before we finalized the release, which meant phantom legions could sometimes appear... was about 3 hours of solid debugging trying to track that one down just before we wrapped up the release!

We've also added a new desert tileset (and updated the existing one).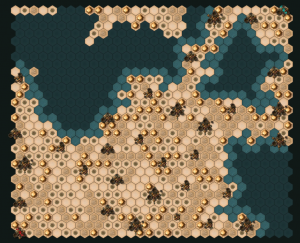 There should be at least one more release before 1.0. One of the major things still left to add is map reveal / fog of war.
Comments and suggestions welcome - either post here, or on our forum.