Greg Green February Re-Cap
---
Once again this wasn't a content-heavy month, I'v been pretty busy and I'm programming another game right now too. Not to mention that my PC's power supply went out at the end of the month and I had to get a replacement. ANYWAYS, I have been working with an artist, musician, 3d modeler, and my cousin who is also a musician. It's pretty fun seeing what these guys can create and bring to the table. I will have to introduce them in the next GG Re-Cap. They have been doing some great work but they have only started so there isn't a lot to show.
---
User-Friendly:
I managed to create a seamless connection between the player and his/her choice of controller. The player can start the game using the keyboard or any plugged in controller (or touch if you are on a touchscreen device!) and the controls will automatically set to that controller. They can then be changed again in the options in case you can't make up your fucking mind! ;)

Speaking of settings I made them look a little prettier and added the ability to change the graphic quality and mute the BGM (Background Music) and/or the SFX (Sound Effects). I also produced my own song in chiptune to be used in the title screen.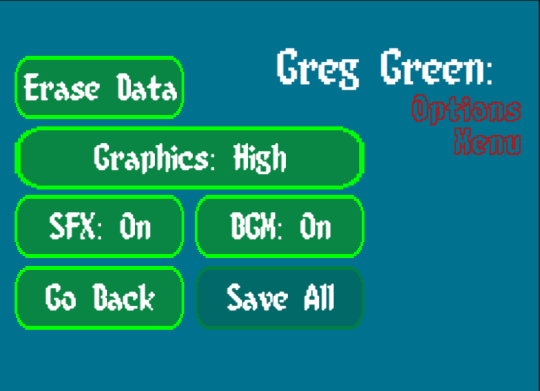 (Temporary menu background)


Optimizations:
I am still looking to make sure this game runs smooth on lower-end devices and I just optimized the fire effects and some scripts to help ensure that! I also have friends testing the game to help me find any bugs or performance issues.

I'd also like to note I'v finally perfected the AI for the first mini boss. To a degree at least, some variables might need to be tweaked after a series of test runs done by different people but all his behavior is in there now!
Visual Improvements:
Thanks to our new pixel artist we are getting some really beautiful visuals, I do not want to show off to much yet and this is also the reason I haven't been wanting to show in-game screenshots or GIFs yet. It's because all the art in the game is going to be re done and I don't want to show off some art that's just going to be re done, so it will take a few months at the most before I can start showing off gameplay again.

Meanwhile I want to show off what the first mini-boss looks like! His name is billy and he's an electric cigarette. Here is the concept and pixel art
---
(Concept Art by Alyssa Cole)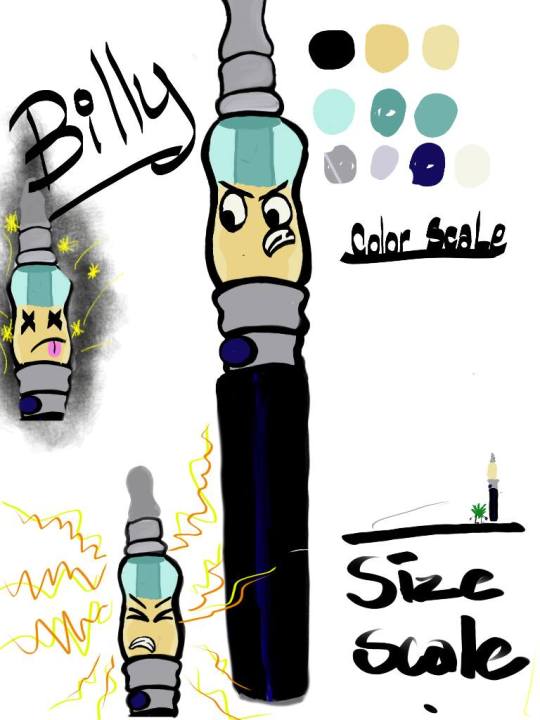 ---
(In-Game Pixel Art by Rhea Dimaandal)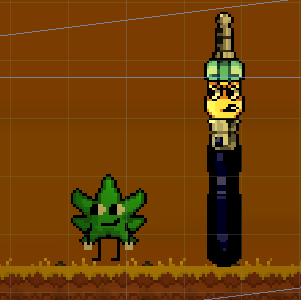 So sometime during the month I announced on Facebook and Twitter that I relaunched my merch shop. This is to help us get a website and if we can do that then whatever we make in merch will probably go towards mobile publishing and/or steam greenlighting.

In the spirit of Greg Green's development I designed a Tie-Dye T-shirt and some limited edition cases for Galaxy phones, iPads, and iPhones. They will be available for a month and a half longer so grab one while they are still cool.
In-D Gaming Shop: Shop.spreadshirt.com
Conclusion + NEW GAME?!:
I wish I could say I got more done but instead how about I talk release dates. It's impossible to say when the game will come out right now but I am aiming for November 2016. If, for some reason, I have to delay it, I will push it to March 2017. I know this sounds a lot later then November but it's because I'm sure if I can't rush the game out by November then I'm going to want extra time to polish the game, and if you don't know, development for Greg Green began in March 2013, so releasing it in March of 2017 will make it 4 whole years of development (if you don't count my months of absence).

I did mention I was programming another game, this game is much more organized and will probably not take longer than a year to finish if things go well with the team and our time management. My girlfriend, (who did the concept art shown above) Alyssa Cole, is designing this game and I'm programming it, publishing it, and kind of helping out with managing it. She has some really cool designs that look like they will make a really creativity driven style. Besides Alyssa and I, we have our pixel artist, and two musicians also working on this game (the same team from Greg Green). Oh not to forget a 3d modeler helping out with combining 2D and 3D visuals (only spoiler for now)

Having two games in development being designed by two different people is a really great thing for In-D Gaming having 2 completely different types of games created by the same people but guided in different directions. It's some beautiful shit.

SO THE IMPORTANT THING TO TAKE NOTE IS... for the month of March and MAYBE APRIL, we are going to be working on this new game so there will not be another Greg Green Re-Cap for a while. Maybe I can show off some stuff about the new game if Alyssa lets me ;)

Don't Forget to checkout our IndieDB and follow us on Facebook and Twitter!