Alpha 0.0.3 is now available for download! I decided against expanding beyond the three levels that were available in the previous release, instead focusing on some important polish/features/balance and just trying to keep pushing in the direction of making B-12 an all-around better experience.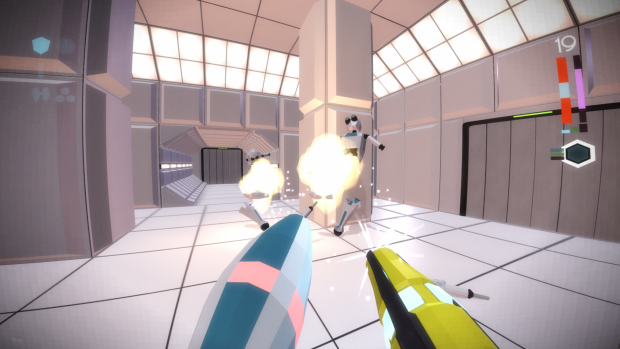 I re-added the optional first-person view, which I'd taken out a long time ago. I'm not really certain why. Having both first and third person available seems like a logical choice when it was fairly simple to re-implement.

I also made some important changes to the default control-mapping (xbox controller / mouse+kb) and some other things that got the controls/feel into a new sweet-spot for me. I'm very happy with the changes, much of it based on the suggestion/encouragement of those kind and generous enough to play my game and offer feedback. You are very appreciated!

As always there's an updated ReadMe.txt with a full changelog if you'd like to know more about the latest version.

Oh yeah aaaand, now that the game was Greenlit (back in June), I am shooting for an Early Access release when it's about 75-80% complete. Not willing to pin a date or specific price on it yet, but Q4 2016 to Q1 2017 is probably where the dart will land.
Here's a video of me doing a speedrun (no v/o) of the new alpha. (Also available on YT)