It's been a while since I last posted, so I thought I'd just give you all an update on how things are going.
I'm not great at the graphical side of games, sadly that was reflected in the first group of screenshots which I showed, so I have actually spent most of the last month on updating the graphics, there are still some things I want to change, but they're looking nicer now than they did before.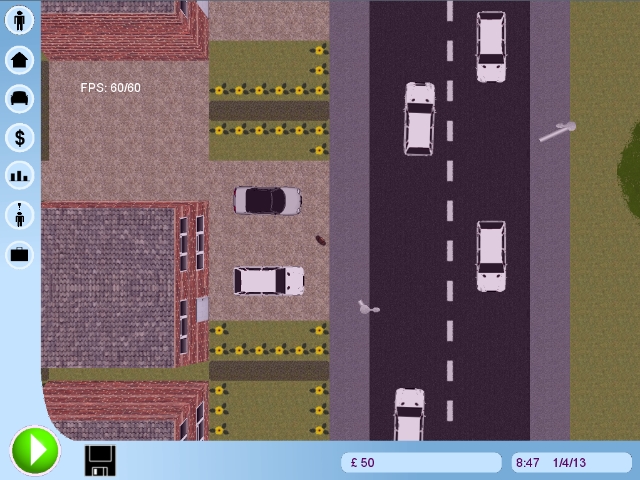 As you can see there are a couple of new things on the HUD, the suitcase on the left is your inventory, which is already working, the button at the bottom left, is the play/pause button, and the floppy disk is the save button.
I pretty much replaced every texture in the game with a new, higher quality one, also, traffic are now in the game, still need a little fine tuning, but they (generally) behave normally.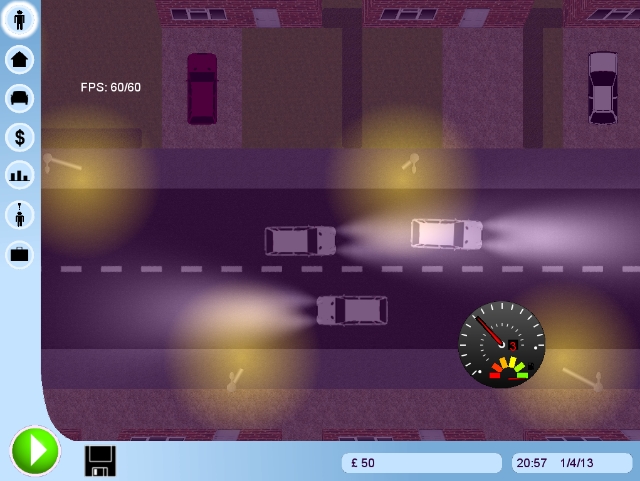 With the new textures, lighting also looks better, before the lighting made the world look overly bright and colourful, now it's a bit more realistic. Traffic also turn their lights on when it gets dark, and off in the daytime.
At the risk of sounding like a car simulator, instead of a life simulator, I've finally got car engine sounds to work nicely, took more work than I had anticipated, and after much work, a huge memory leak, and a lot of time spent in Audacity, there are actually a couple of different engine sounds for cars in the game.
Now, onto more cars: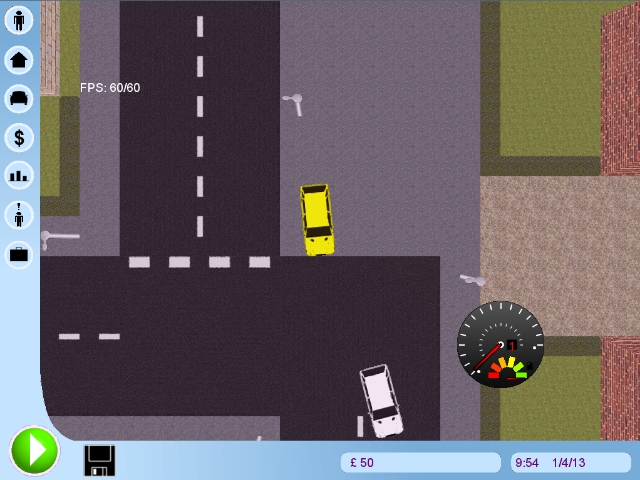 I believe that's my first time driving a car that isn't white!
Anyhow, despite me talking an awful lot about cars and graphics, I have been working on other things, they're just not at the stage to show yet. I've finished the interior layout of the first house you can purchase, I still need to add the buying of property/cars/items, so you can furnish your house and store a car in your garage/driveway etc.
I also did a little work on the main menu, I still need to add loading/saving of games, and a settings menu, but the menu itself is done.
Finally I'd like to share the games Twitter account with all of you. As I will only update the IndieDB page every so often, you may want to follow the Twitter account, to keep up with the development.
Also, you can talk about the game, and ask me any questions at the games forum thread on the Indie Game Magazine forum. It's a lot easier to talk on there than on IndieDB or over Twitter, so go ahead and check it out.
That's all everyone, be sure to follow the Twitter account and track this game to keep up to date. Feel free to ask any questions. :)