Hey 'trudas.
Have you heard of Discord? It's a new chat service. We've been trying it out for a month or two now -- no secret to those who frequented our IRC channel. Turns out everyone likes it, so we're sticking with it. We want you to join and hang out with us.
What makes Discord cool?
It has text AND voice chat.
Text chat is permanent. You can join today and scroll back to see what's been said since the beginning of time.
You can edit and delete your messages, without restriction.
It has an intuitive user interface that is welcoming to new users.
There are web, desktop, and mobile apps for all common platforms.
Image and video links show inline previews. Links to ordinary webpages show description text.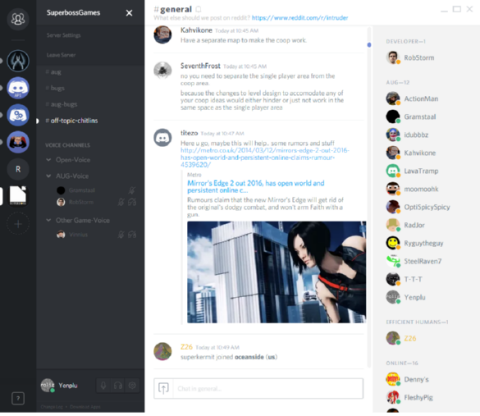 Plus, our old IRC bot has joined us. He's not fully functional yet but his most useful feature works. He announces new games starting. I'll talk about Z26 in detail some other time, after he's more complete.
Speaking of IRC, our channel (#superbossgames on Freenode) is generally inactive these days. It's still somewhat populated, but it's an echo chamber because the regulars have migrated to Discord.
You're convinced? You want to join us in Discord?
How to join
Click here for the invite link! We're pretty casual so don't be scared to join the conversation. The main rule? Be respectful. To say it another way: "just don't be a boop".
See you.
- Rolig & Optical