Hey there! Quite a few new people have started to follow Sails of War and our development journey since we last talked. Thanks to the Sloop screenshot begin selected for Epic's NVIDIA Edge Program we did manage to get some attention on Twitter and around the web.
I couldn't be happier and want to welcome ever single new follower! If you haven't already go check out our Twitter and Discord – the latter is awesome for direct communication and we have had a couple great discussions and idea exchanges.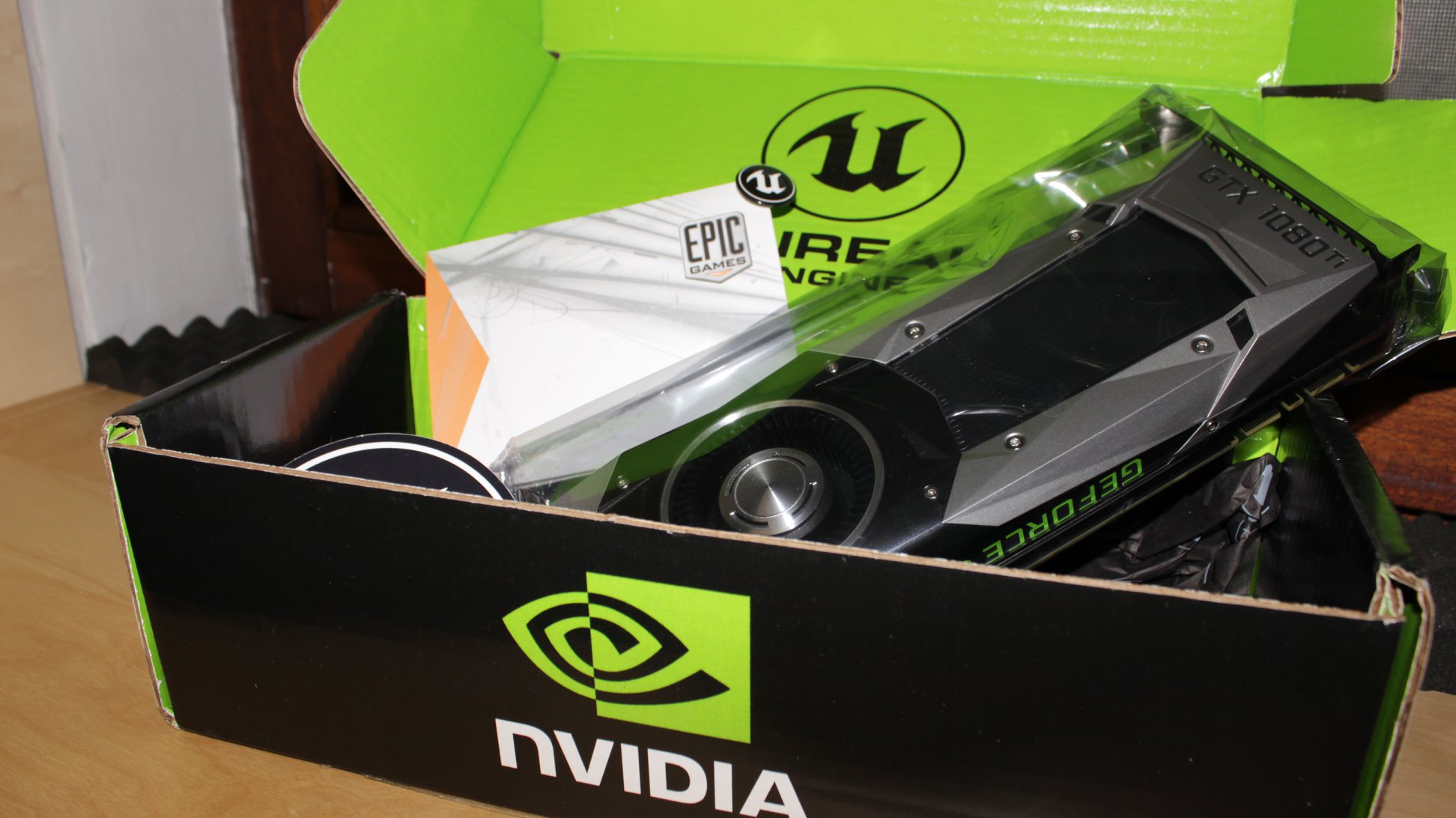 But – even though winning a 1080ti and getting some attention for the project was absolutely amazing – that isn't the good news! Before I talk more about upcoming development goals and show you the Cutter I do want to introduce you to my good friend Tobias Moos.
---
Tobias and I have worked together before – back then on game projects in a professional capacity. Whilst I concentrate on anything art actually building the game, and coding it, was always going to be a challenge for me.
I did bite down and program three different prototypes using C++ and Unreal Engines build-in visual scripting tool: Blueprints. Whilst that was an awesome achievement for myself it was eating into my art time rather heavily.
So I am very happy to announce that Tobias has been hard at work converting and rewriting my prototype into actual – well written – C++ game code. Over the past couple months we have had many discussions about design and possible additional features. Save to say having a dedicated programmer has not only made my live easier, but has also been of great value in shaping the finer details of what Sails of War is becoming.
---
So whats next? Whilst Tobias is busy making sense of the prototype code, building new awesome features and getting everything to run well, I am now finally able to concentrate on art. At this current stage in the project we are striving towards finally being able to show our work.
Thus far only the art side was shown and both Tobias and I are just as keen as you are to finally show the inner workings and gameplay.
As soon as this time next month we might be ready to show you selected parts of what Sails of War is becoming. Now, obviously, SoW is in development and doesn't look very finished or polished. So next blog I'll take care to explain the details of our progress, current standings and goals. I am very optimistic that we can meet our self set deadlines!
---
Now all this talk of code and what might be, it wouldn't feel right to just leave you at that. If you follow Sails of War on Twitter, or Discord, or maybe my personal accounts, you'll surely will already have seen it, but for all everyone who did end up missing it: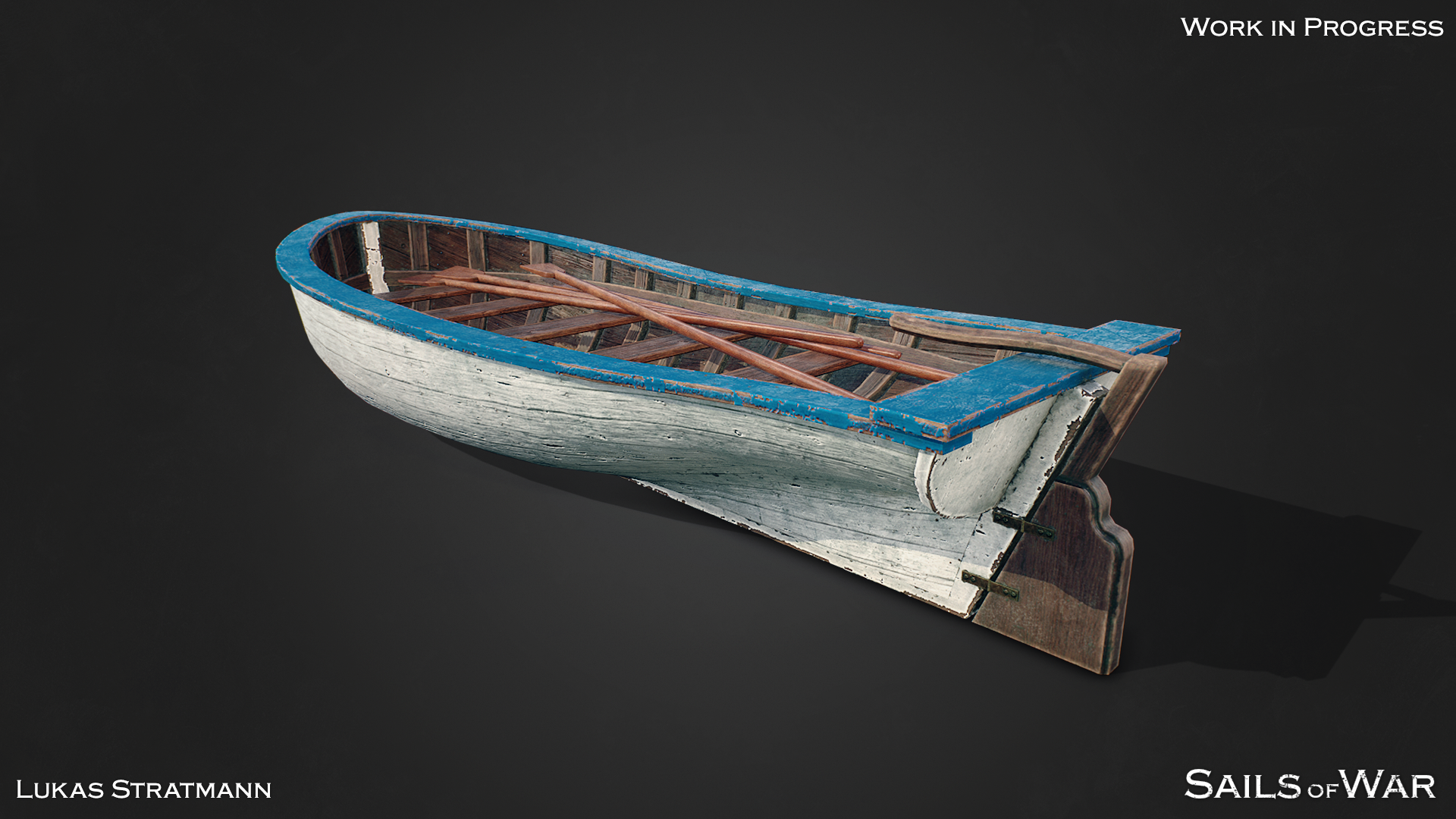 That's a small boat! … Yes it is indeed. The dinghy will swing off the back of the Cutter and be an additional detail. As a physics object with dynamic ropes and constraints it should add quite a lot when the ship is rocking in the waves.
But that's not all. A week back on Discord I shared a work in progress image of the Cutter. I am happy to say it's done as far as the model and textures go. It is still missing sails and additional ropes and also some minor adjustments. But it is ingame, up and running: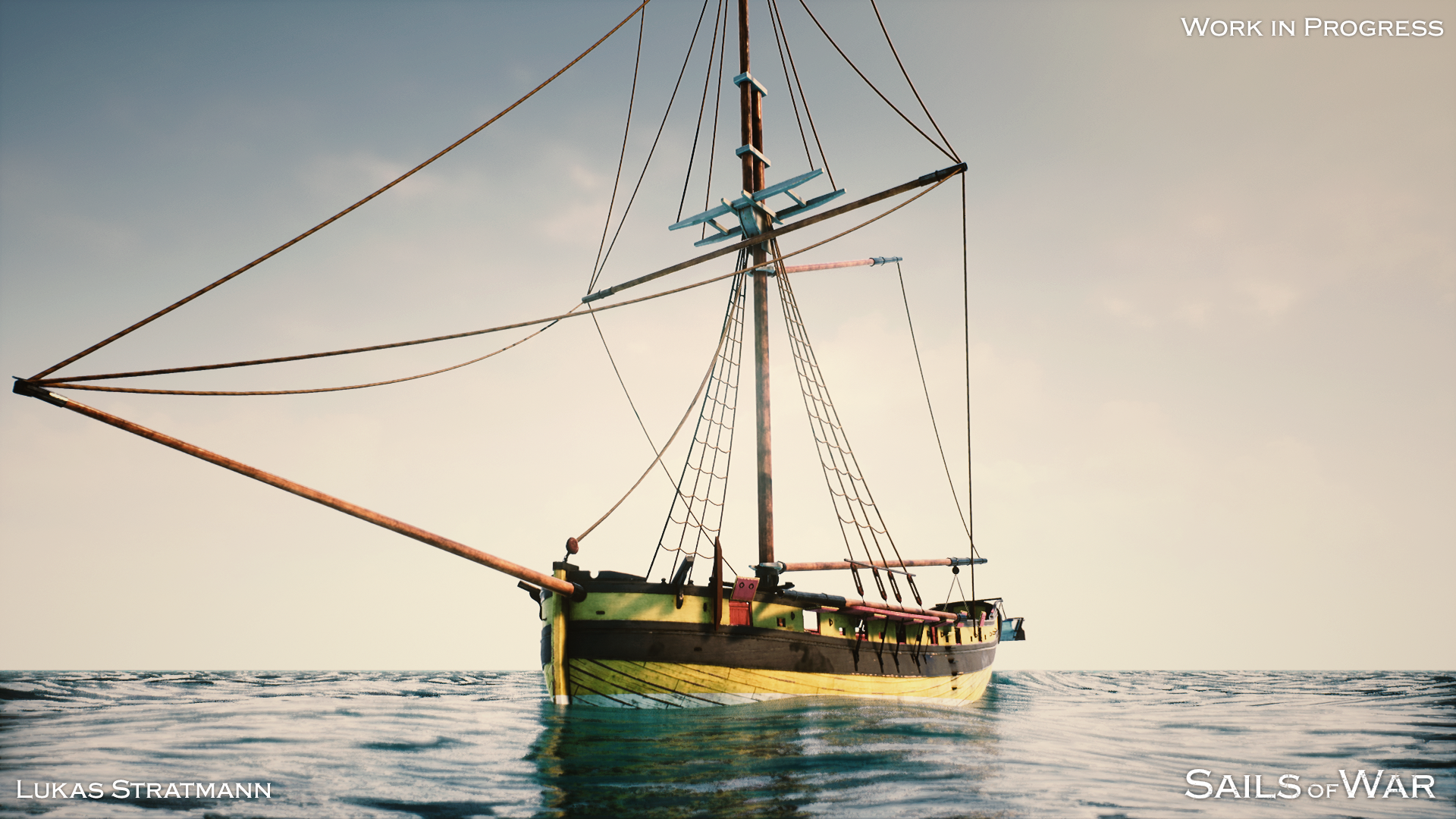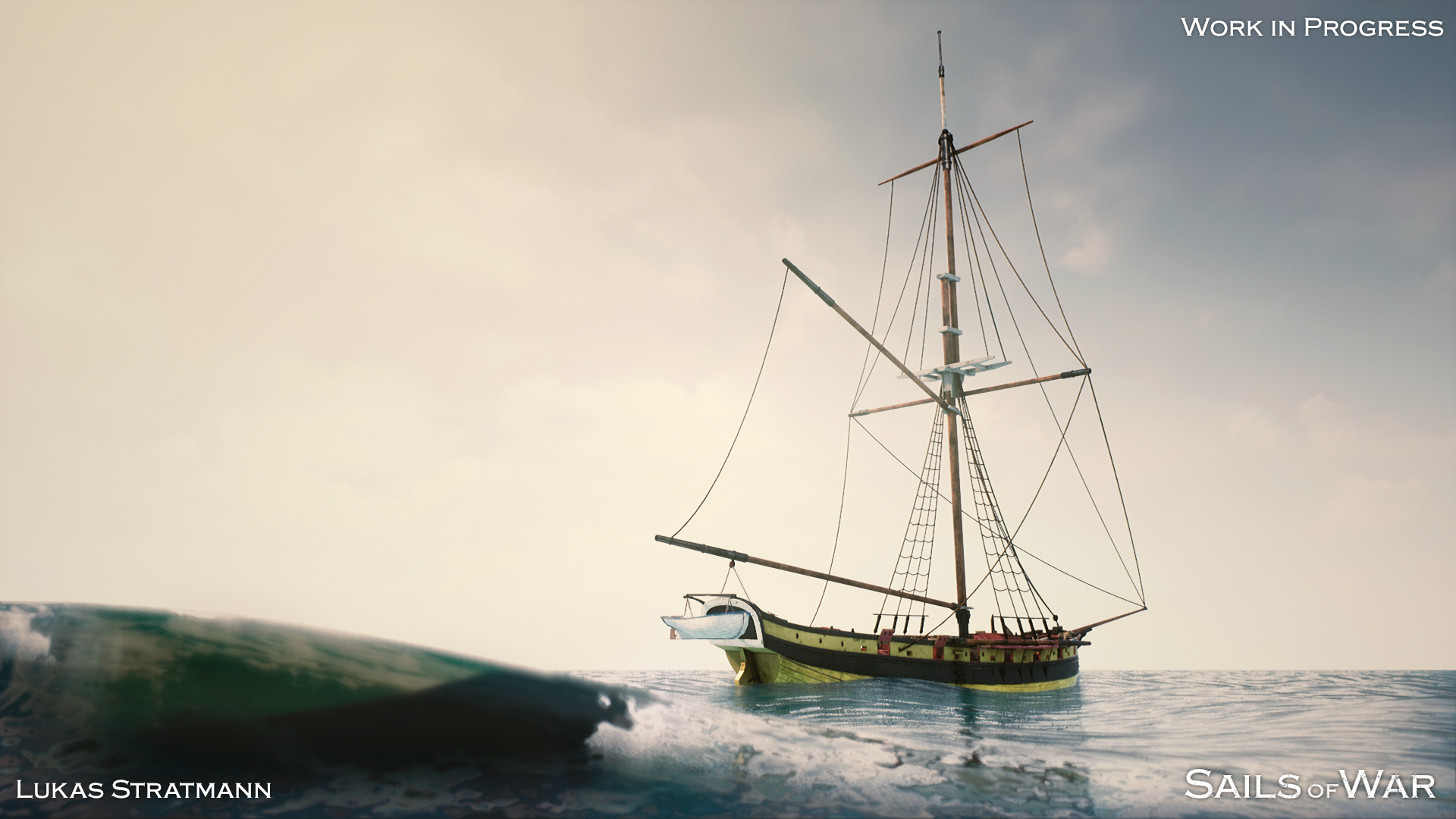 And at that I'll leave you for this blog. I am off to working on environment art – wooden huts, houses and civilization. See you next post when hopefully Tobias and I can show in depth – work in progress – gameplay and discuss goals and time frames.
---
If you feel like discussing the game, or have ideas don't hesitate to join Discord. It's been awesome to chat with everyone – and I am looking forward to more of it in the future. As we draw closer to a stable version we will eventually gameplay test and the call will go out to you, so be sure to join chat for more info when the time comes.
Until next time.
- Lukas