Hi all!
Kopanito's team is back with some cool new features in v0.6 and new yet-unseen bugs (regressions)! We've worked hard past 2 months modifying most of our rendering code towards promised online multi-player. There were a lot of necessary changes in the game's code, so it's very likely that many things got broken in the process. But we think that anyway the game is reasonably stable and all regressions will be fixed in future. Now about the new features.
Freeze super-move
This is the fifth super-move in the game. It allows you to freeze players in radius (except goalkeepers) around the current controlled player. The longer you hold the super-move button (E key or LT button), the bigger is the radius of freezing. Note that you may also freeze your teammates too. Frozen players wont participate in the game for some time (depending how close they were to the freezing player).
This super-move can be used both offensively and defensively. You can freeze opponent's defenders to make it easier to score a goal for example. The ball can also be frozen or, actually stopped, even in mid-air. It's a good method to cancel opponent's shots, including super-shot. Try it for yourself :)
You can also slide tackle a frozen player to defrost him faster.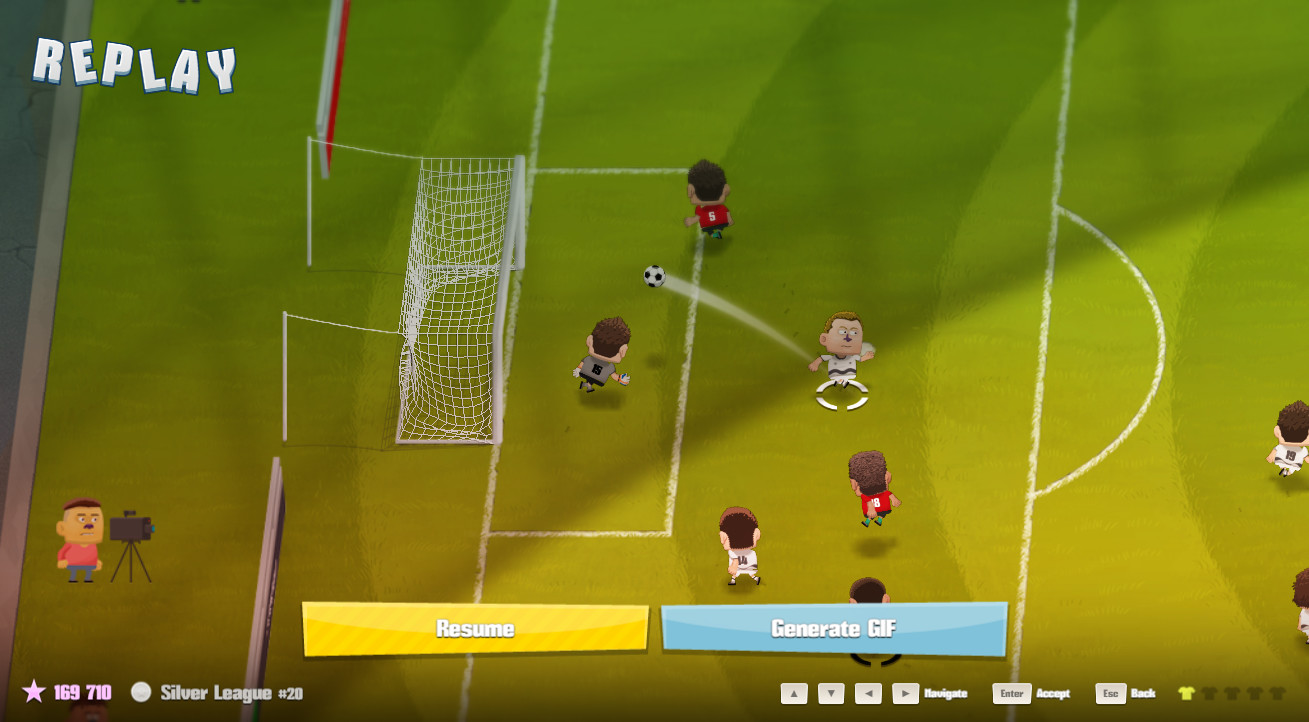 Action replays
They activate automatically after goals, but can be started manually from the pause menu. It's a side-product of online multi-player, where game state recording is needed. Since we're recording a match, we though it would be great to able to replay it. Up to last 8 seconds are recorded and can be replayed back. Note that replays aren't exact, pixel-perfect recreation of a given situation, but rather a very close approximation. This means that sometimes things may be broken during a replay (we'll fix this in future).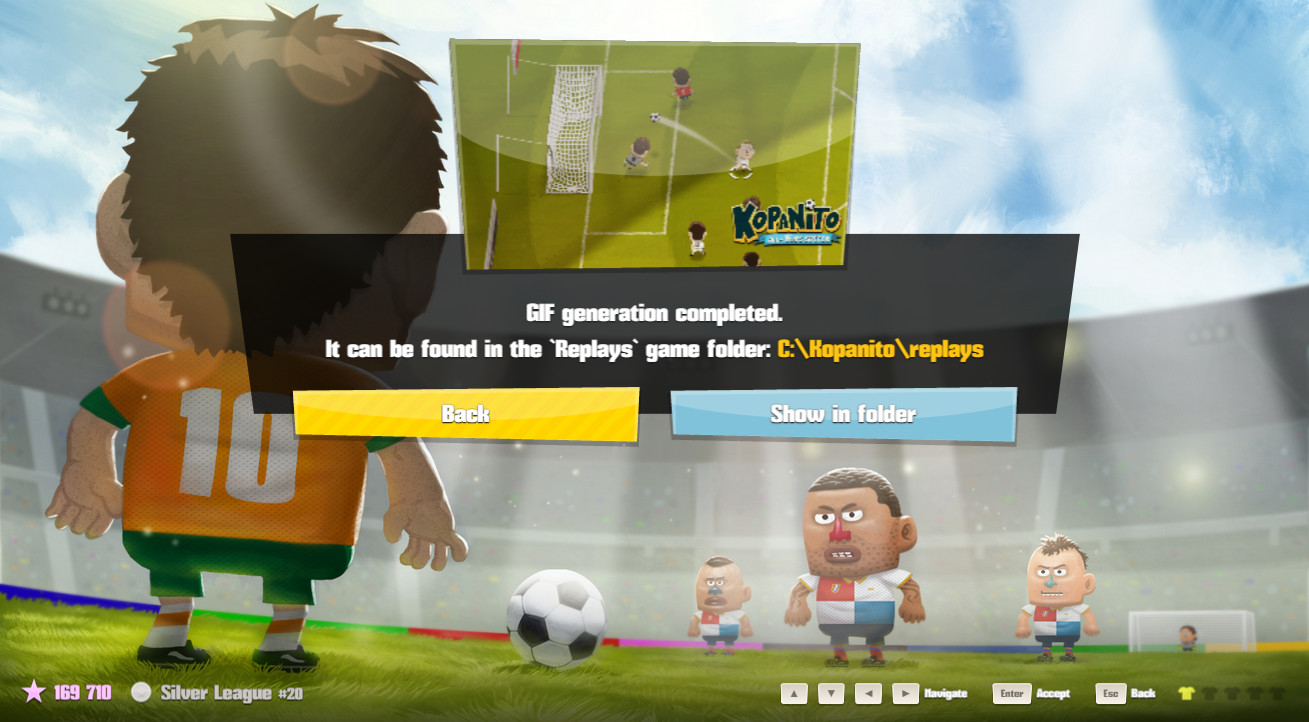 GIF generator
This feature allows you to create a GIF animation from an action replay. This was inspired by the first GIF animation uploaded by FUDO. We think it will be great feature to share all cool and funny stuff you do during a match.
Note: This feature is very experimental. It's good, but not perfect. GIF generation takes up to a few minutes to complete, so please stay patient. Generated animations are currently heavy (5-8 MB) and not so smooth. This will be improved in future assuming players' interest.
We encourage you to share your GIFs on the Artworks section of the Community Hub or anywhere else you like around the web.
Example GIF animations: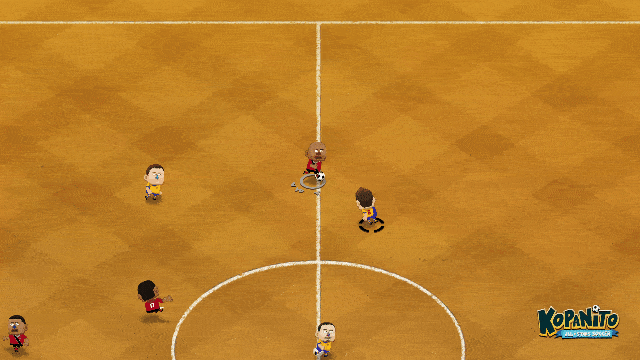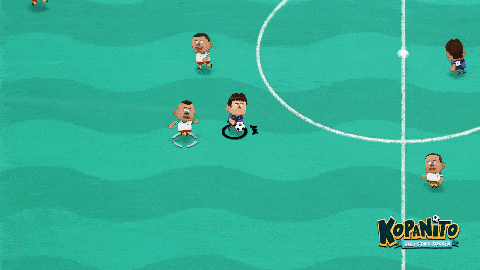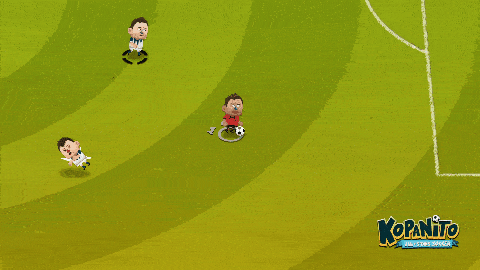 Legend AI
This fourth difficulty level was previously hidden. We've decided to show it, but leave locked. Unlock condition is visible when starting a new cup or league.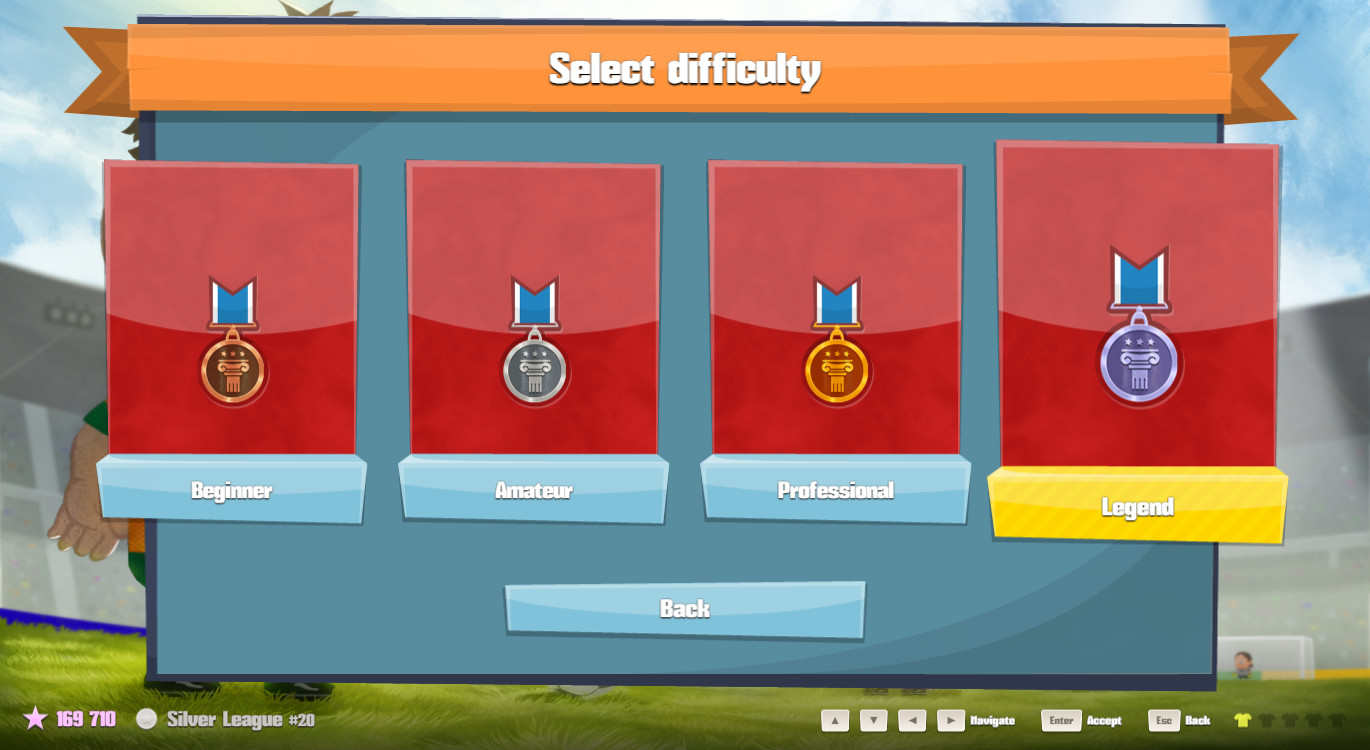 Other changes
Added gameplay options menu with ability to toggle goal replays, goal celebration and AI indicators.
Players can now "collide" with goal's net.
Fixed left side of the leaderboards screen flickering when the table on the right side is scrolled.
Changed labels on the draws button in the friendly match settings menu from "On"/"Off" to "Draws Allowed"/"Golden Goal".
Fixed always activating keyboard in the practice mode. Now the controller last used in menus is activated by default.
Displaying most important keys at the bottom of the screen in the practice mode.
Limited number of players to only one in the practice mode to simplify things (so we could display only one set of most important keys).
Fixed extracting dynamic libraries to the OS temporary directory, which prevented the game from running in some cases (thanks mr_auer).
Corrected the Super-shot achievement to better detect scored goals (thanks Skaery).
Corrected typo in the Team Work challenge description (thanks Monkey Jug).
Small accuracy improvements in AI shooting with the precise shot.
A lot of other fixes and minor improvements, but some regressions too.
This is not an April Fools' Day joke, in case you are wondering :) Thank you and have fun!
---