What have we been up to? Well, I personally have been hard at work coding the game up, and while I've gotten a LOT done, there's not too much to show for it, since it's all background code stuff. But I've been working specifically on the part of the engine that links the countryside to the dungeons and towns and crypts, etc intelligently. That's all working swimmingly, and I've also started coding up the Kevin Bacon module, which has been INCREDIBLY complicated. At it's core, it's basically a module that finds a thing in an infinite landscape. Normally, when you want to find something, you need a reference point to start looking, though, but in an infinite landscape you don't always have one. For example, if I wanted to, say, find The Eiffel Tower here on Earth, I would normally start with a reference point of "Paris" and know that it's somewhere in there, but since Ahkranox generates INFINITELY, me telling the game to "find a dungeon somewhere for the player to start in" is like me standing on a beach and telling someone "find me a particular grain of sand... No, not that one... Not that one...." so I have to make the engine intelligent enough to carefully find a correct reference point and find the specified object based on that.
Harder than it sounds... But it's starting to work! I can now find a town and ask the engine to tell me the precise location of, say, all of the dungeons with 40 square miles of that town, and it will do it in about half a second. So that means I can procedurally generate a quest that will take you to one of those dungeons, but once the module is complete I'll be able to do that for any item or location in any part of the infinite world that you travel, which means you'll always have stuff to do! It's pretty damn exciting when you think about it! But I'll stop boring you with the technical stuff and show you some pretties, which I know you've been craving ;-)
Carrie, one of our art leads, has been doing the stunning character scenes that you've been seeing lately, that will make up some of the incredible loading screens that you'll get to admire while you play the game, and she has produced even more for you all to look at!
Here's the latest one: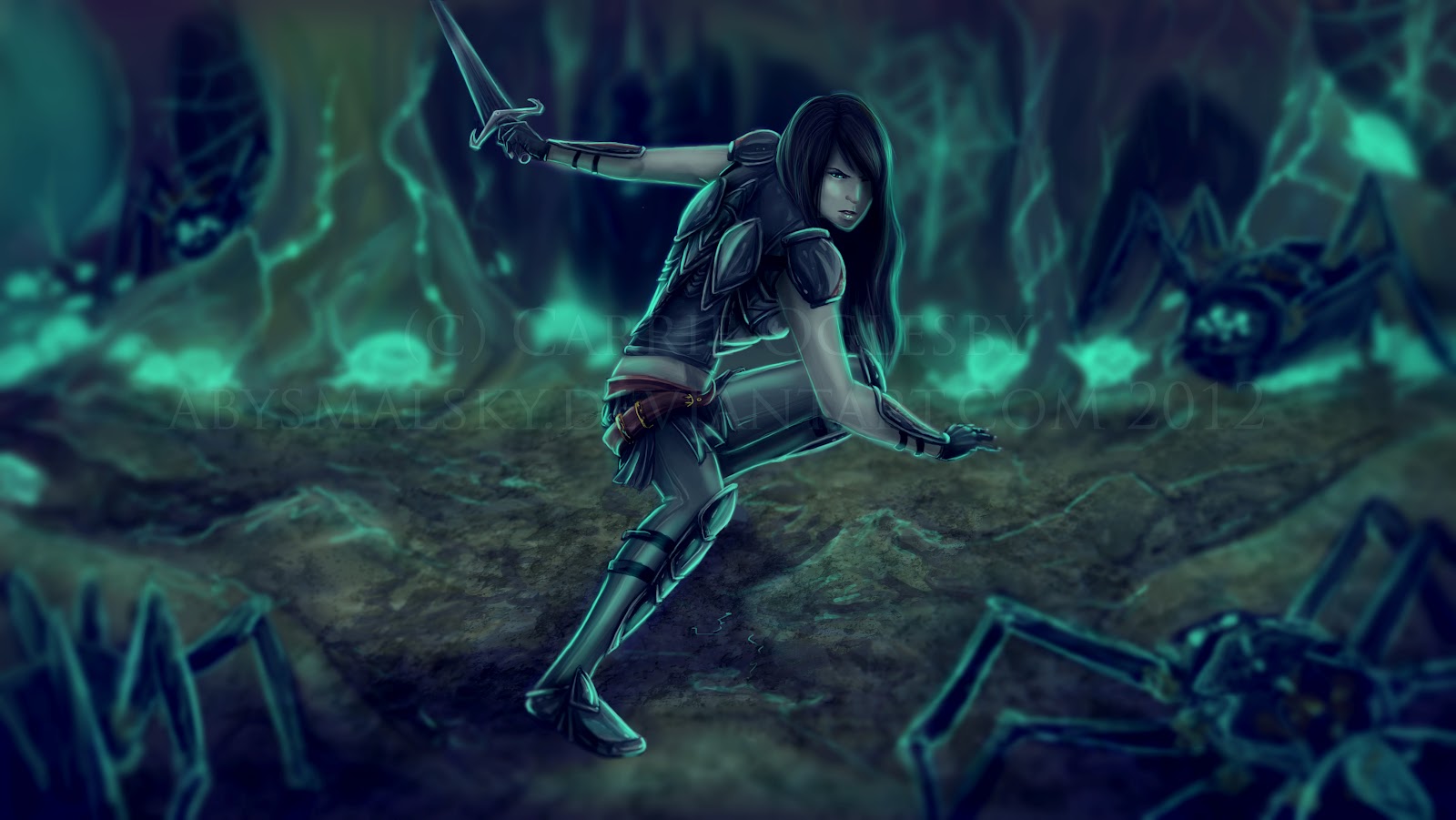 Amazing stuff, really. she's a very talented girl. Yes, giant spiders will be in the game :-P but, since we know there are some arachnophobes in the audience, we'll be putting in an option to turn them off :-)
Carrie has also started work on the next character action scene! Check out this amazing sketch showing the work in progress!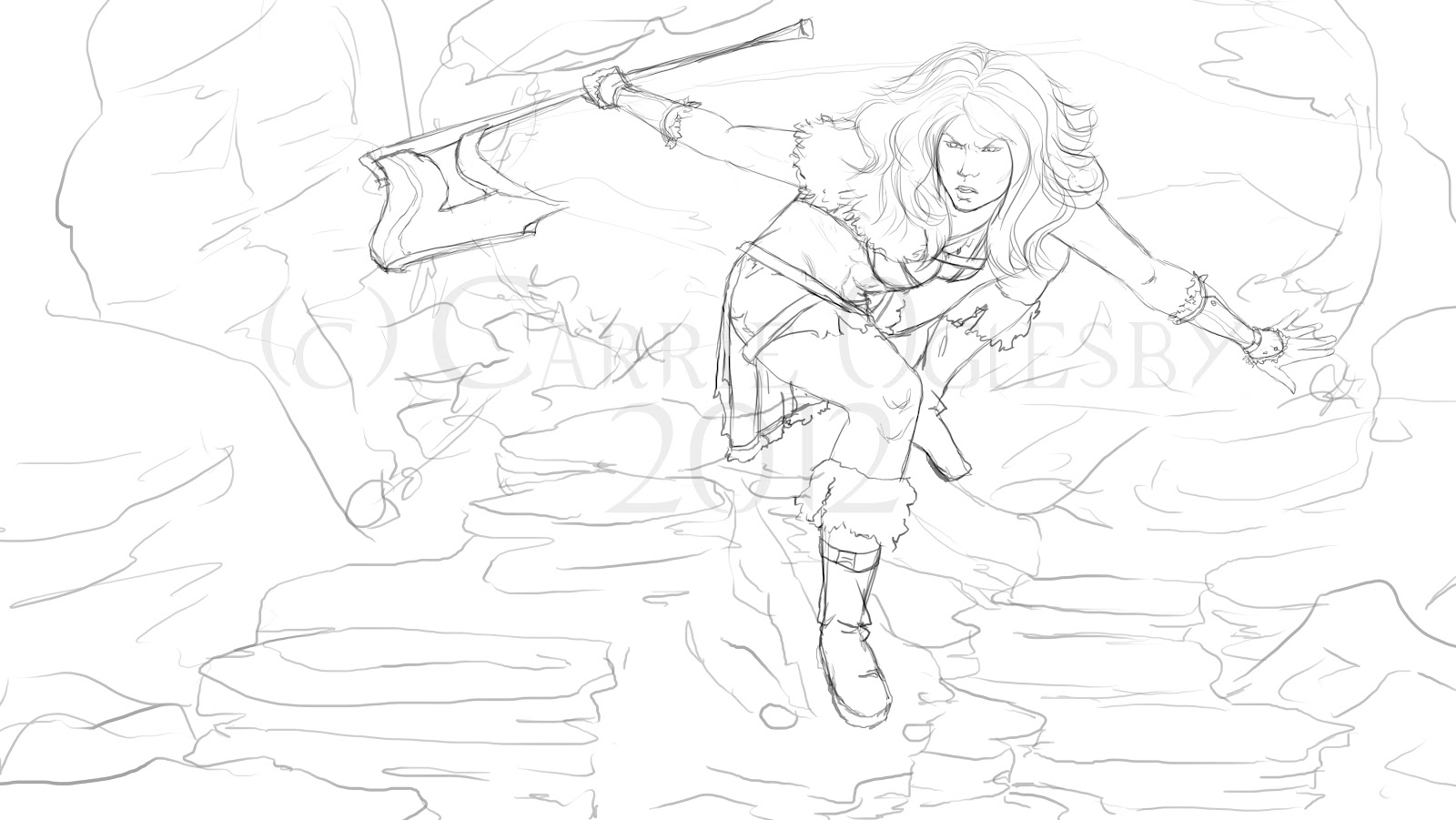 Apparently after this one she's going to start doing some of the male characters, too, which we're looking forward to.
Also, we had another lead artist, Rachel, come and stay with us for a few days, which was awesome. She did some great sketches showing some of the new armour she's been designing for the game. We're super excited to see it done, now, but she's put quite a bit of thought into the design process for it which I thought we'd go into for you, as I find it really fascinating.
First up is this one, which is my favourite so far:
This design is actually modelled on a gryphon (which make an appearance in the game) You can see the shoulder pauldrons are made to look like the wings, the greaves climb up the leg like claws holding the character's thighs, and the helmet shows the eagle's beak and head. It's a REALLY cool thought process behind this one and I really like where it's going.
Next up is the eagle armour: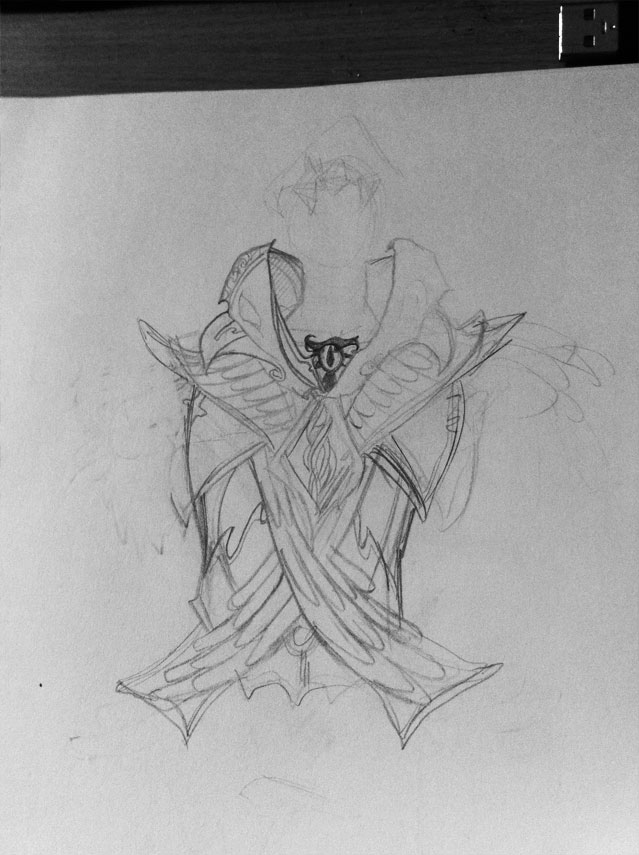 See how the armour across the chest is made up of overlapping plates to look like the feathers in the eagle's wings? And the gorget is shaped like the two halves of the eagle's head. This one's in fairly early stages, but I like where it's going!
This one is made up of pelts like a form of tribal leather armour: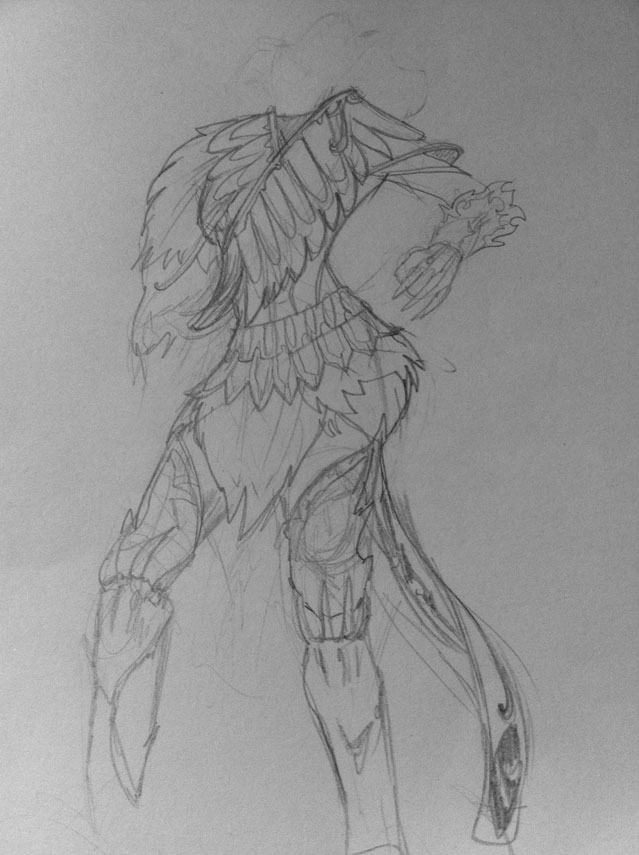 You can see the bear claw greaves, feathered cuirass and wolfskin tasset! A part of the over-robe has also been hung to sort of resemble a tail, for a very animalistic overall look to the armour. Super cool stuff.
Finally there is an alternate leather armour piece: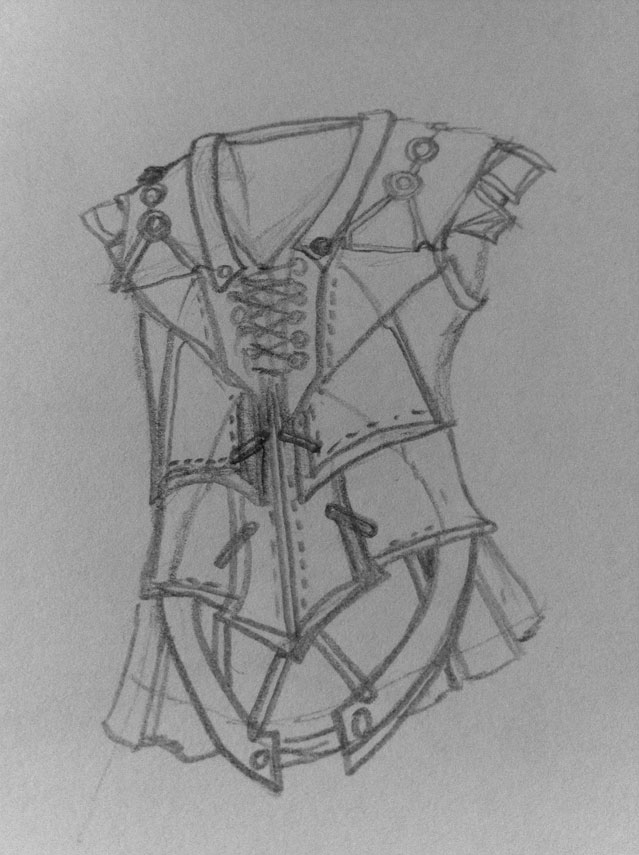 Not all armour would be professionally made, and some people would be forced to hand-make their armour in a patchwork form out of pieces of other armour that they may have scavenged, and putting armour like that into the game gives the world that sort of gritty, real feel to it, which is where the idea of this one comes from. Looks awesome, really. And don't forget that you can mix and match all of the different armour parts! Each suit is broken down into the helm, greaves, gauntlets, cuirass and boots, and you can swap and change them (from 20 different full suits) to create your own look. And the expansion pack will add EVEN MORE armour types to the game! If we end up doing the sequel, we'll make the armour procedurally generated like the weapons are :)
Rachel's also been working on creating lots of incidental items that you can find in the game. When you're looting, you're bound to not only find practical items like potions and weapons, but also things like ingredients and kitsch items that are purely used to sell and get gold. Because of that we're putting literally HUNDREDS of these items into the game. Here are a few of Rachel's sketch pages showing what she's been creating for it:
So they're looking awesome.
Finally, there are the characters in the game that you'll meet. You've already seen some of the NPCs that you'll run into in the game: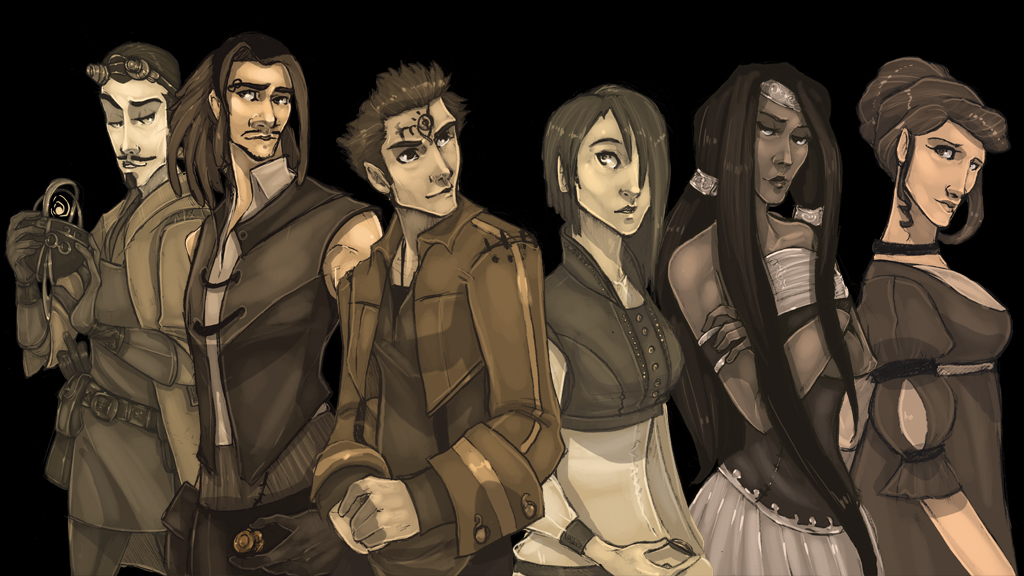 But in addition to these people, you will also find some members of nobility in various regions, who generally dress nicer, have nicer jewellry, etc, and Rachel has been kind enough to let us show off the first of these characters: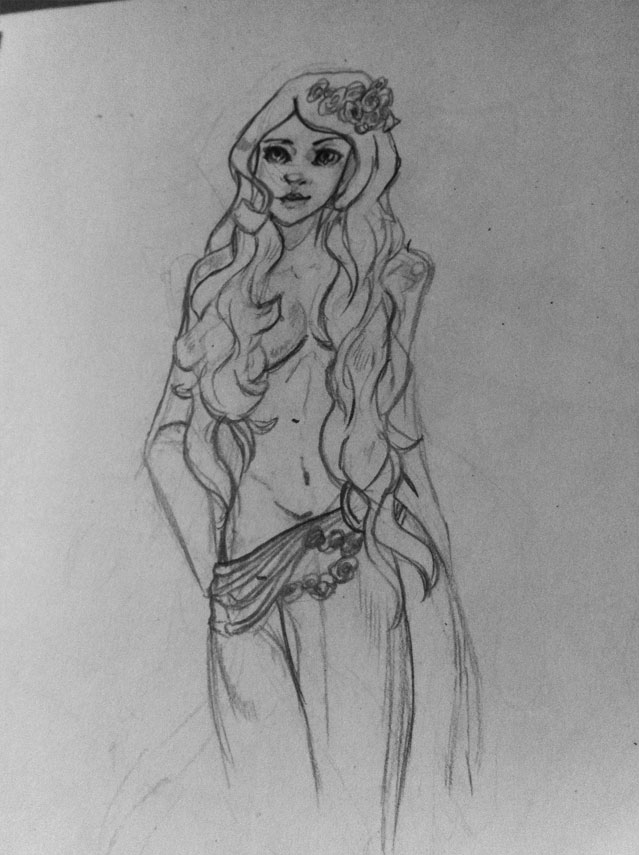 She's absolutely gorgeous and we're excited to see more of the characters that Rachel comes up with!
Speaking of characters, work has finally begun on getting the higher-tier KickStarter pledgers into the game (or those of them that opted for one of the $150, $250 and $350 levels) so you'll get to see some of them fairly soon. A bit early to show just yet, but verrrrry soon! :D Amazon has finally let us initiate the withdrawal of the KickStarter funds (which can take another week or so), so very soon the REAL work is going to start and you guys are going to get inundated with awesome pictures, music and videos!
Ethan also has some new mine models to show, but I might wait a bit so that there's more to show of that and put it in a separate blog post for you.
So for now, I'll leave you with this and we'll be back in touch soon! I hope you like all of this awesome art!