This is the second part of my "Ghostdream in Progress" article. You can find the first part here.
The remaining contents are:
>>Story
>>Game-Play
>>Extras
>>Story
First rule: no human world connections. My characters are ghosts living in a dream world. They know about their past life experience about as much as we know about ours. They are blind kittens with no history. When I write the dialogues I imagine 5-7 years old children (only if they would knew more words to express themselves). My ghosts are in fact even younger than 5 years old and there are no adults to tell them what they must do.
I want the story to be the same way. I imagine a kid leaving his house to buy some candy in the shop, but half way this kid sees something peculiar on the other side of the street and simply forgets about the candy. Then he meets another kid, who tells him "Hey, I know a cool place! Follow me!". And once again the kid forgets about "peculiar thing" and runs to see the "cool place" he knows nothing about. Imagine how far this kid could go if he would have an absolute freedom (the kind of freedom only ghost can have). That's the kind of story I want to tell.
Success. "The kid's logic" is there, but I needed to change my first rule once. Some ghosts believe in existence of scary "physicals", who can possess the ghosts and control them for their evil deeds. Naturally, this "physical possessing a ghost" is the player, controlling protagonist. I think it's a nice touch, worth changing the rules for. I especially like how the ghosts imagine us. The most bizarre thing about physicals to them is that physicals cannot fly diagonally. Why they believe we can fly vertically I have no idea.
>>Gameplay
At first I was planning it as a "Ghost World RPG", but very soon I've realized the only part I'm really interested in is the town with all of its characters. I still believe it could work well as an RPG – some would even call it unique, despite the archaic game-play, but it seems that "Ghost World Adventure" is simply more inspiring for me to think about.
>Structure of the game
Normally there is one big location in adventure games with all the events revolving around it. Usually it's a city. Exploring this city you find the paths to lesser locations while constantly back-tracking to some kind of center. Surprisingly it can be very addicting to do this – it feels like you are gradually becoming a part of this world, living and evolving with it. "Returning" is a very important element for building the "atmosphere".
My idea is different. I wanted Ghostdream to be an "Arcade style Adventure game". I'm not talking about the action elements here – by any means no… All I wanted is to borrow the structure of classic arcade games. That means: game-play consists of several linear episodes (usually called stages), no back-tracking possible, "boss" event at the end of each episode (slightly more advanced game-play element, usually unique).
Here's the plan for the very first stage of Ghostdream: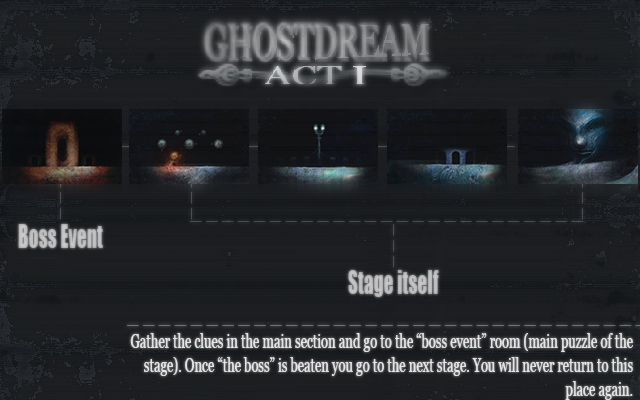 >Puzzles
Any puzzle ever made in a point and click adventure game is a disguised password menu, consisting of the two parts: "interface" and "key" (or "clue"). No matter how it may look it's a sequence of typical actions. Normally puzzle designers are concentrating on the interfaces of their passwords, trying to disguise it well enough for you to never understand it's a password. My idea is the opposite. Simple interfaces and advanced clues: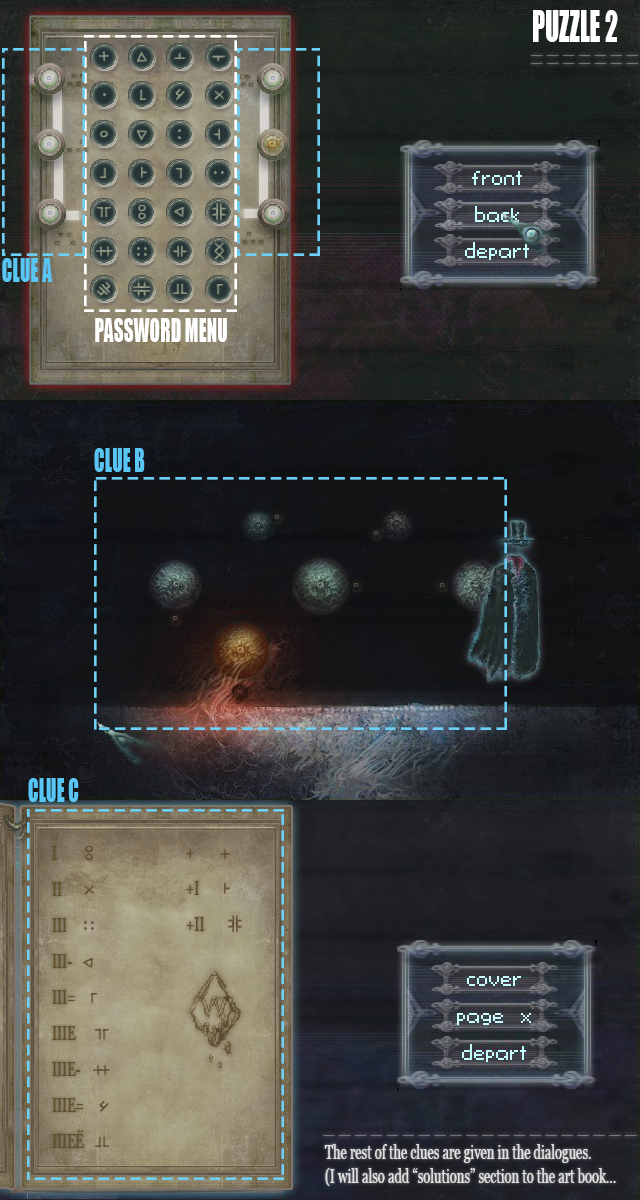 You can clearly see it's a simple password menu and the clue to it is quite complex. Two good things about it:
>1. You don't need to wander from one room to another just to press a button/push lever/turn a wheel/etc… you simply press the buttons on one compact menu.
>2. If you happen to know the solution, you can input it in a second. May be it's your second time playing, or you simply don't like solving puzzles in adventure games…
The most complex clue of Ghostdream is symbolically represented in a structure of the rooms you'll find it in. For that trick to work I needed to make 9 extra rooms… and just one simple menu with 9 buttons to solve it.
>>Extras
I'm always drawing more than I need just to have some material left for an art book. I'll start working on it for real right after I'll finish the game, but I already have enough art to fill the pages: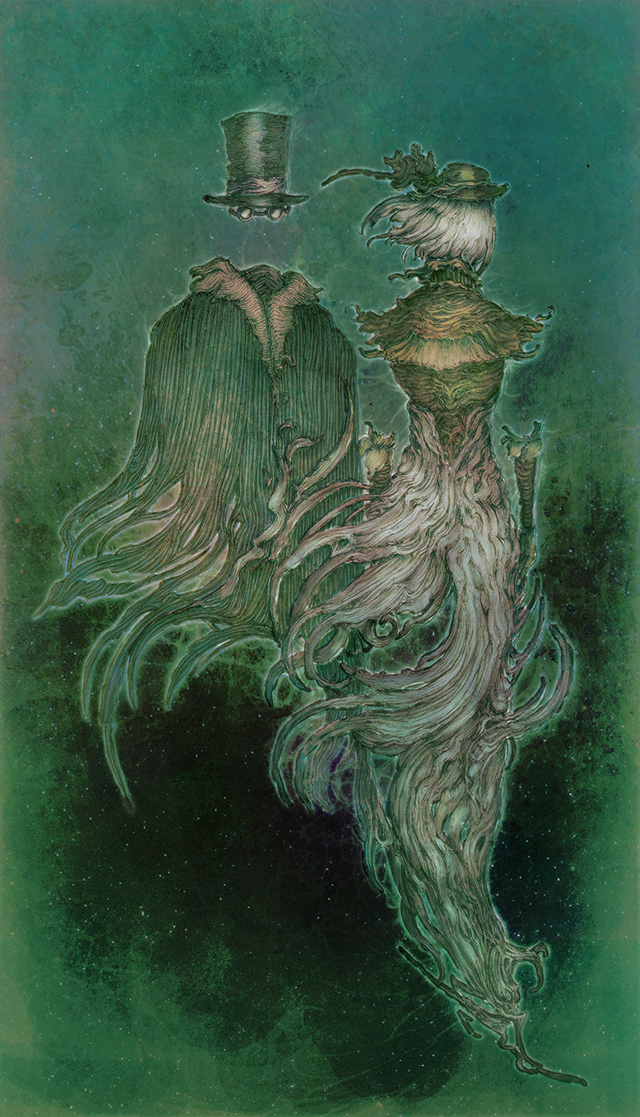 Another popular "extra feature" nowadays is a so-called "Commentary Mode". I can understand why people like it – if I love the game I want to know everything about it and just googling it is rarely enough for me. "Commentary Mode" should be the perfect answer, but… why do I hate it so much?
Because it ruins the atmosphere of the game. The worst thing that a game can do is to tell you in the face – "I am a game". And this is exactly what this commentary mode is doing – each minute or so you hear developers talking about how they created this game (at the time you are playing it!). It's a horrible experience for me as a gamer.
My answer is: separate commentary mode from the game and put it into… the art book. The only reason I'm calling it "Art Book" is because people can tell right away what it is without any additional explanations. I should be calling it "Commentary Book" instead – the concept arts will be put "into the comments", not otherwise.
Lastly, if the game will sell well, I have a DLC in mind, but it's too soon to dream about it…
This concludes my long article.
Good luck and have a nice day!
Alex