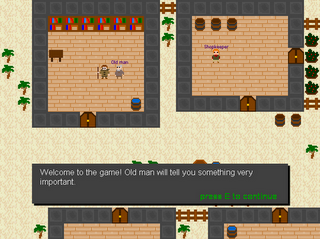 Hello! I haven't posted any updates for couple of weeks, but I am still working on this project. I've managed to finish lots of work, but the game isn't really playable yet. I am not sure if I will be able to finish first public test version of Arcane Dungeons till the end of July, but I will try as hard as I can. First new feature is dialogues. You will be able to talk to any NPC in-game (even characters which don't have anything to sell or are not related to quest). First town and little area around it are also almost complete. I've added introduction into the game and started the first quest. And last but not least is inventory. This is something I've been working for a long time, but I've finally managed to implement this feature into the game.
List of features I am planning to add before releasing first Alpha version of the game:
-Adding more equipment
-Adding first shop
-villagers
-more enemies
-at least one or two special abilities
-health/mana-xp/level up
-cave which will be starting area for the main quest
Guys I really appreciate your support and thanks to everyone who follows my project.