Inside Ultima Ratio Regum's ziggurats lurk some new generated graphics, and some hopefully fiendishly-difficult procedurally-generated puzzles, traps, and challenges...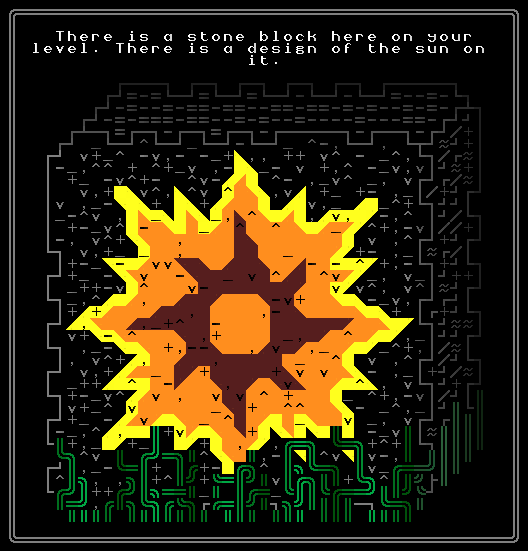 ... along with tales that speak of creation myths, legends and heroes from centuries before...

In a place beyond this life there is a shadowy and noiseless realm of limbo. Nothing occupies the landscape except a wet and humid marsh inhabited by great, lumbering beasts that splash through the undergrowth. The atmosphere above is dotted with a few sharp stars of different colours which some believe represent great artists and philosophers in the world of the living. Hidden here perched two hawks, one male, white and known as Ur`tharran, the other female, black and known as Undorar. They are believed by many to have dominion over the mountains of the world. They could see no other creatures in reality to eat, so they desired a land with more sport. They thus flew to an appropriate spot and scratched at the ground to unearth a new world, ready to be born and give them all the game they could ever want...
... and more to be revealed in future blog entries. The above is only one of many possible images for the "sun" icon that can be procedurally produced in game. Next time: historical figures and noble families in the in-game encyclopedia!

You can keep up to date on my devblog, Facebook page, or Twitter feed. The devblog is updated weekly or fortnightly on Mondays, Facebook a few times a week, and the Twitter roughly daily. Any thoughts, please leave them in the comments! Version 0.3.0 is now in the works, and will generate languages, myths, histories, coats of arms, flags, and entire civilizations. It'll be a big one, but I'm hoping to keep the updates coming regularly. Stay tuned...