I'm getting ready to launch Patent Blaster in mid-March, which means taking care of all the little details - like getting a proper logo for the game! So far, I've been using this rather anodyne image of a derpy elephant:

Which is all right and all, but it doesn't exactly bring across what the game is about: making patents die violently. So this is the new one: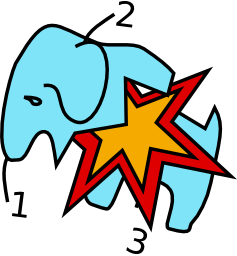 I made this one bigger so you can see it's better than the old one! Because I'm fairly literal-minded (other game projects include such titles as "Space Exploration", where you explore space, and "UFO", where you fly around in a flying saucer), this logo contains:
Patents
Blasting
Apart from the logo, I've been reading a lot about game marketing and talking to the press, for which I can recommend the excellent Pixel Prospector. The website and payment processor are also coming along nicely, and it should all be ready by middle of March.
Remember:

Hover-Elephant knows where you live.