GAMESCOM WITH CHICKENS - PART 1.

Gamescom is a huge event. Even for big games and publishers, not to mention a small, self-funded indie game like ours.
In any case, we had to take action because we knew that no matter how expensive and risky Gamescom is, it would be a luxury to let the opportunity pass us by, because of the presence of the best publishers and many potential players. So, we decided to go for it and as a result, we've experienced one of the hardest but most rewarding weeks of our lives.

Now, we're gonna tell you what it was like, with all its ups and downs...

ON THE ROAD

The journey from Hungary to Cologne is 12-14 hours long, so we set off on the 18th to arrive early on the 19th, arrange the accommodation and have our exhibitor stand ready, which was going to be quite special.
The trip was almost uneventful, except for the hotel where we slept for one night, as it was hauntingly similar to the buildings of cheap teen horror movies, where the lonely owner (who was also the doorman and server) seemed to have weird, murderous desires behind his never-ending smile... But of course, It was just our wild imagination, and it was our last good sleep for a long time to come in a locked room and a soft bed. Because from then on, we were tenting at the Gamescom camp! (The reasons for our camping were Cologne's horrendous prices and our late booking, but we looked at it as an adventure rather than a curse. At least at that time...)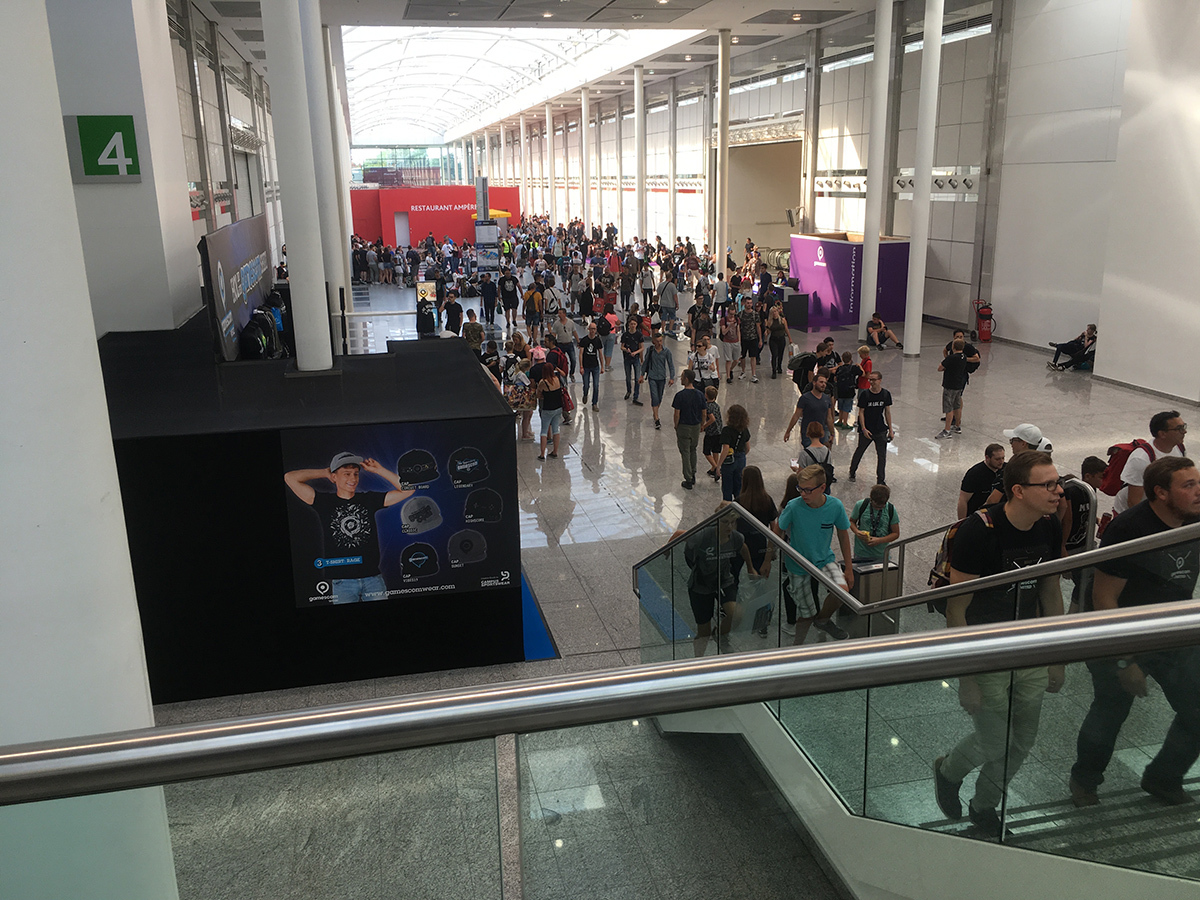 By the time we reached the venue, we had all been hurting everywhere and were quite distressed. But as soon as we saw the enormously huge complex and then our booth, all our bad feelings disappeared.
Well... at least for a little while...

A SERIES OF UNFORTUNATE EVENTS...

Yeah of course... It wasn't that easy.
First, we had to get to the Gamescom campsite, where we queued for about an hour and a half. After finally getting in, we had to find a place to set up our giant tent that our producer, Tamás, had acquired just for the occasion and none of us had seen before.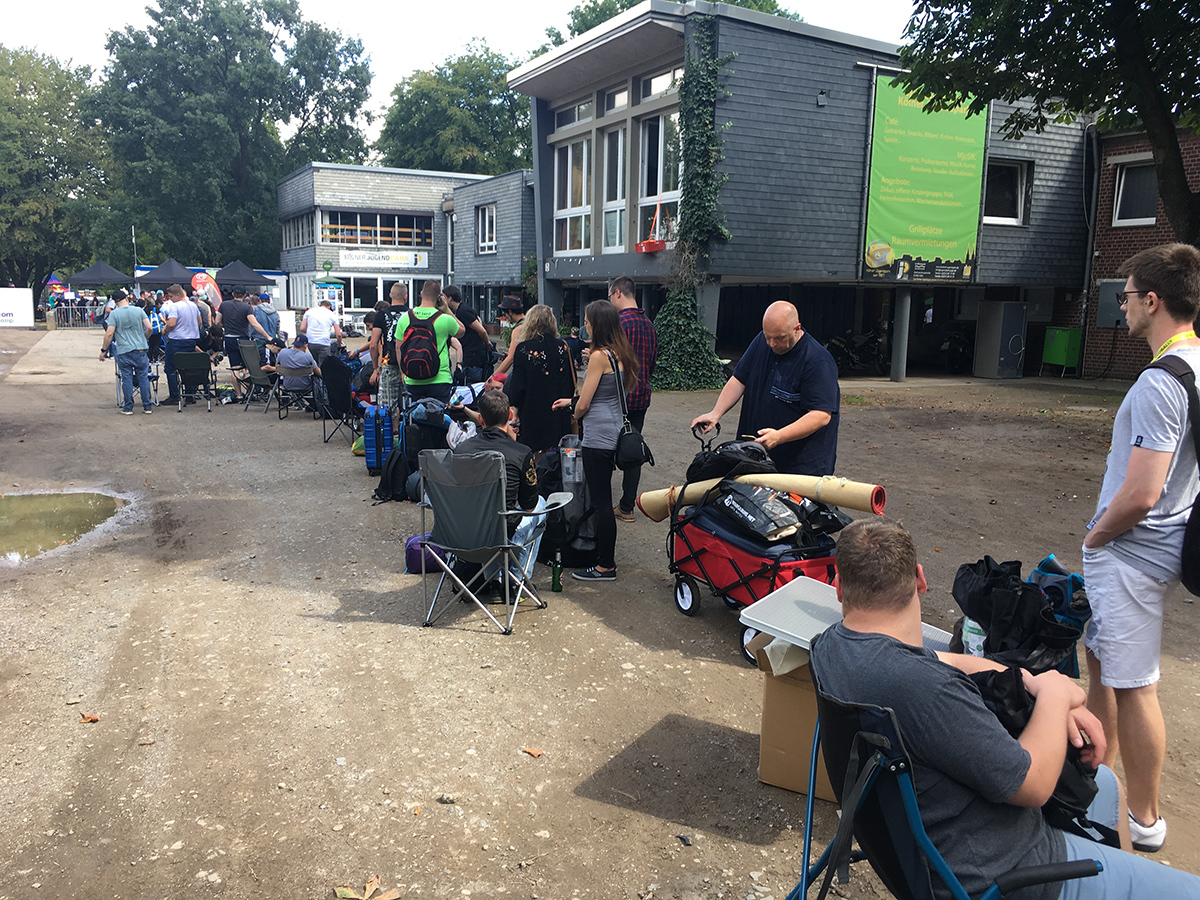 There would have been nothing wrong with this, but we were running out of time because, in theory, exhibitors were only allowed to be at the Gamescom site unpacking and setting up their stands until 6 PM. At half-past four, our writer, Bánk, was still untangling the tent stretchers...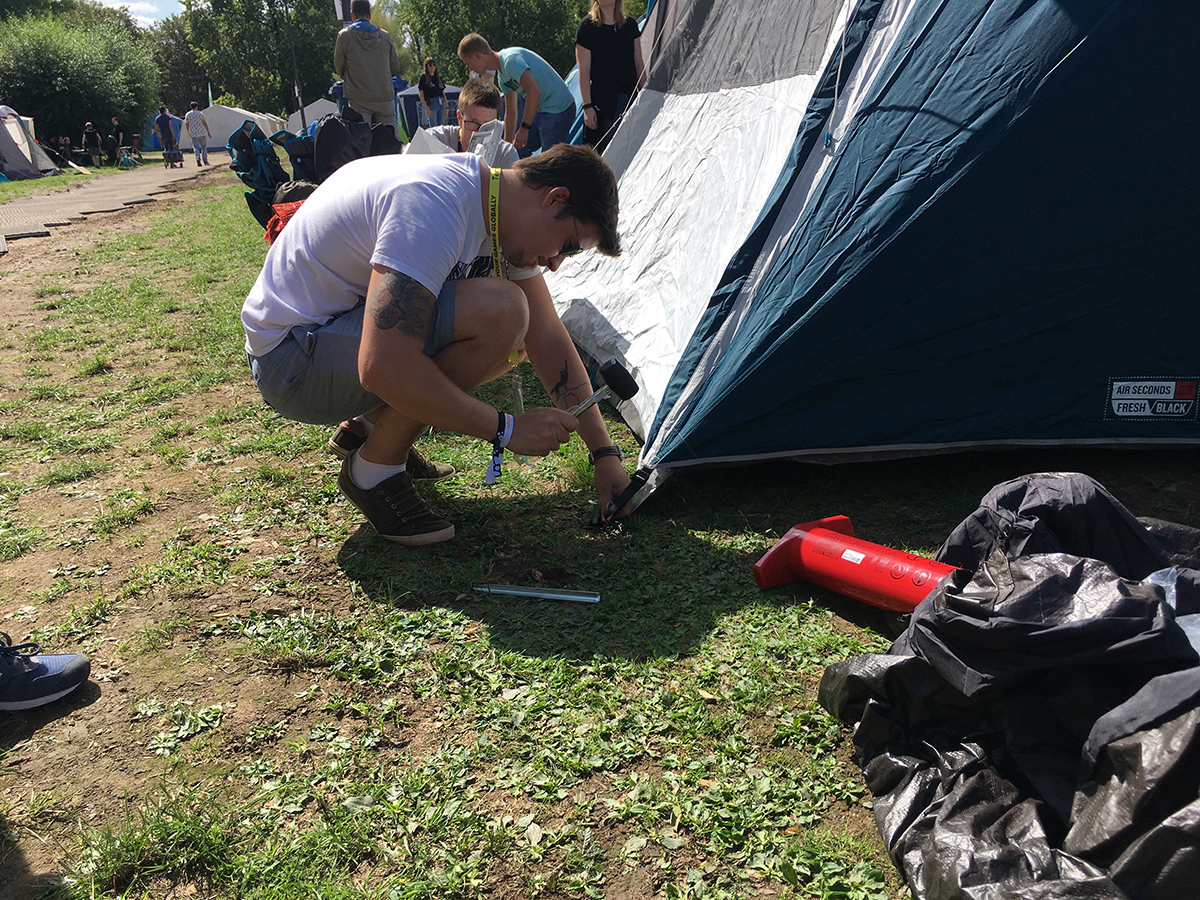 Finally, we succeeded. At least it was standing... We rushed back to the Gamescom site to build our exhibiting booth. However, the booth was quite different in design (and look) from the one on the pictures we had received from the organizers. So much for our plans…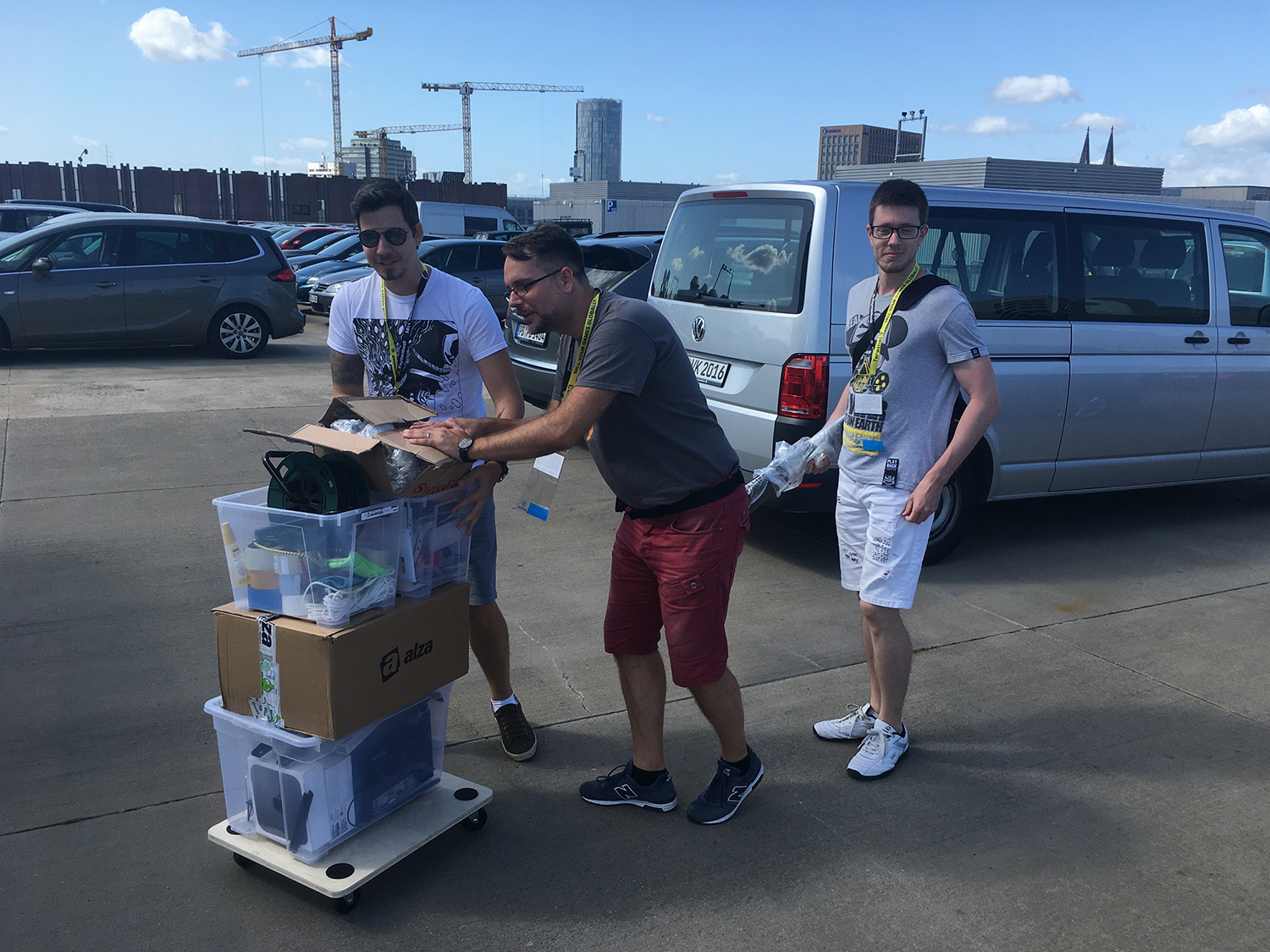 We were panicked enough, but if there is something typical of Hungarians, it is that we always get ourselves out of sticky situations. We had no choice.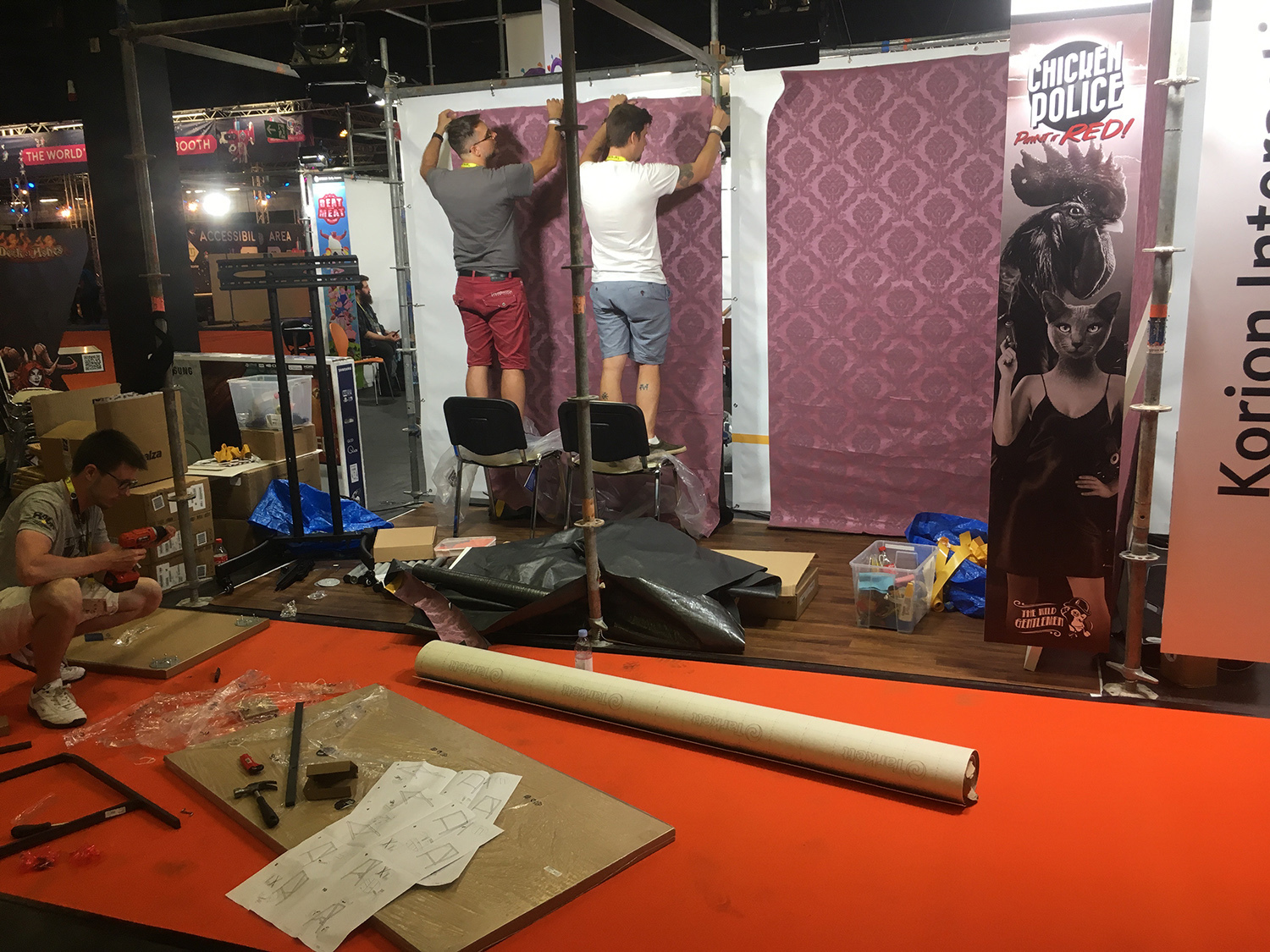 The booth eventually became quite homely. It had framed pictures, a new floor, and even (as well as we could manage) wallpaper. We had imagined it a little nicer, but it turned out that people liked our humble booth, as many kept praising it.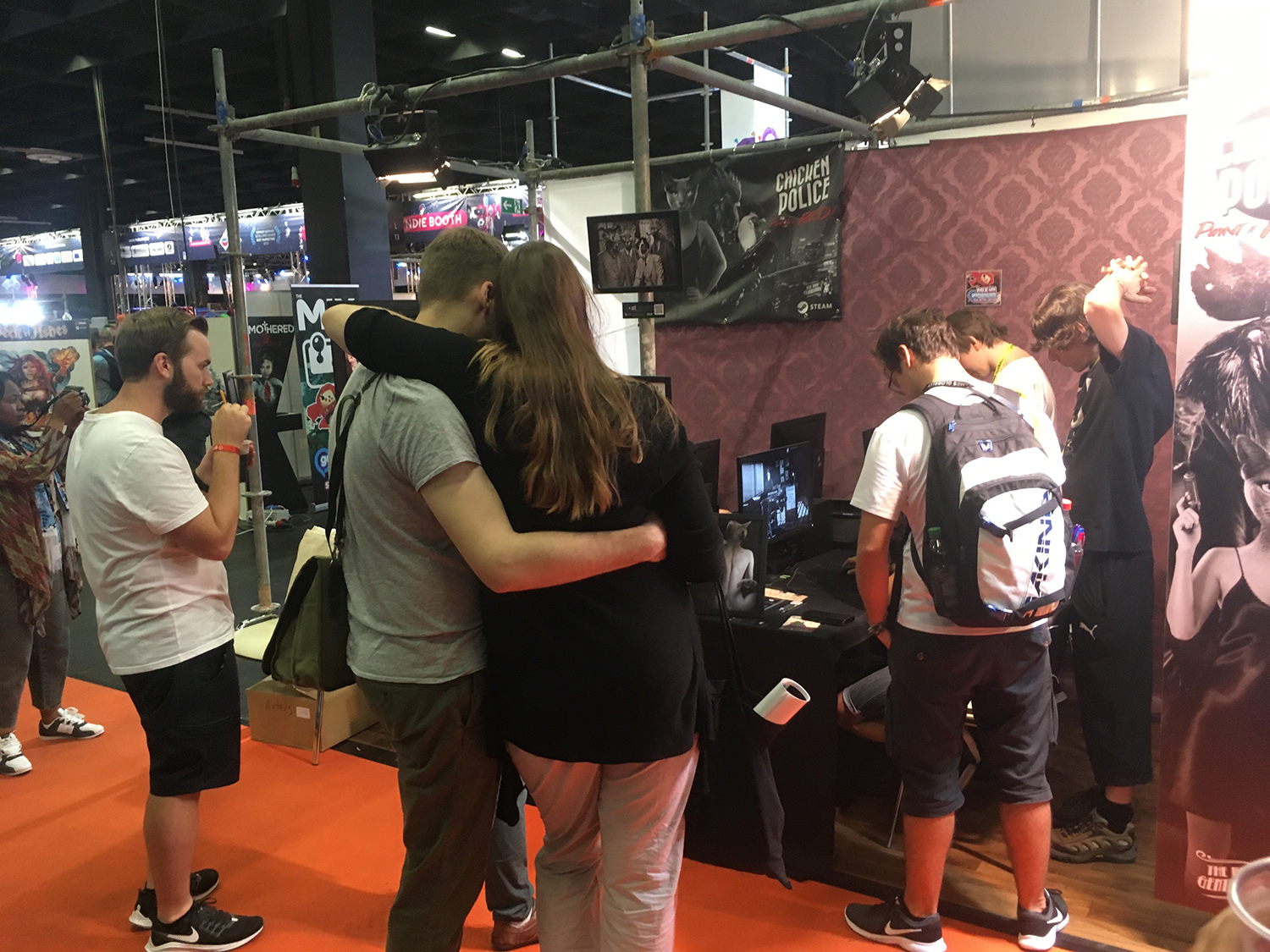 Phew... that was only day -1.
Finally, we ate at Subway and got back to the camp, to our tent where we tried to sleep, but if you have been to Gamescom Camp you may know that it's not that easy...!

DAY ZERO - IT'S HAPPENING!

We walked a good 3.5 km from the campsite to the site in the morning. It was day zero, where only the press and the industry were allowed to attend, so we didn't expect a big spike. But luckily, we were wrong...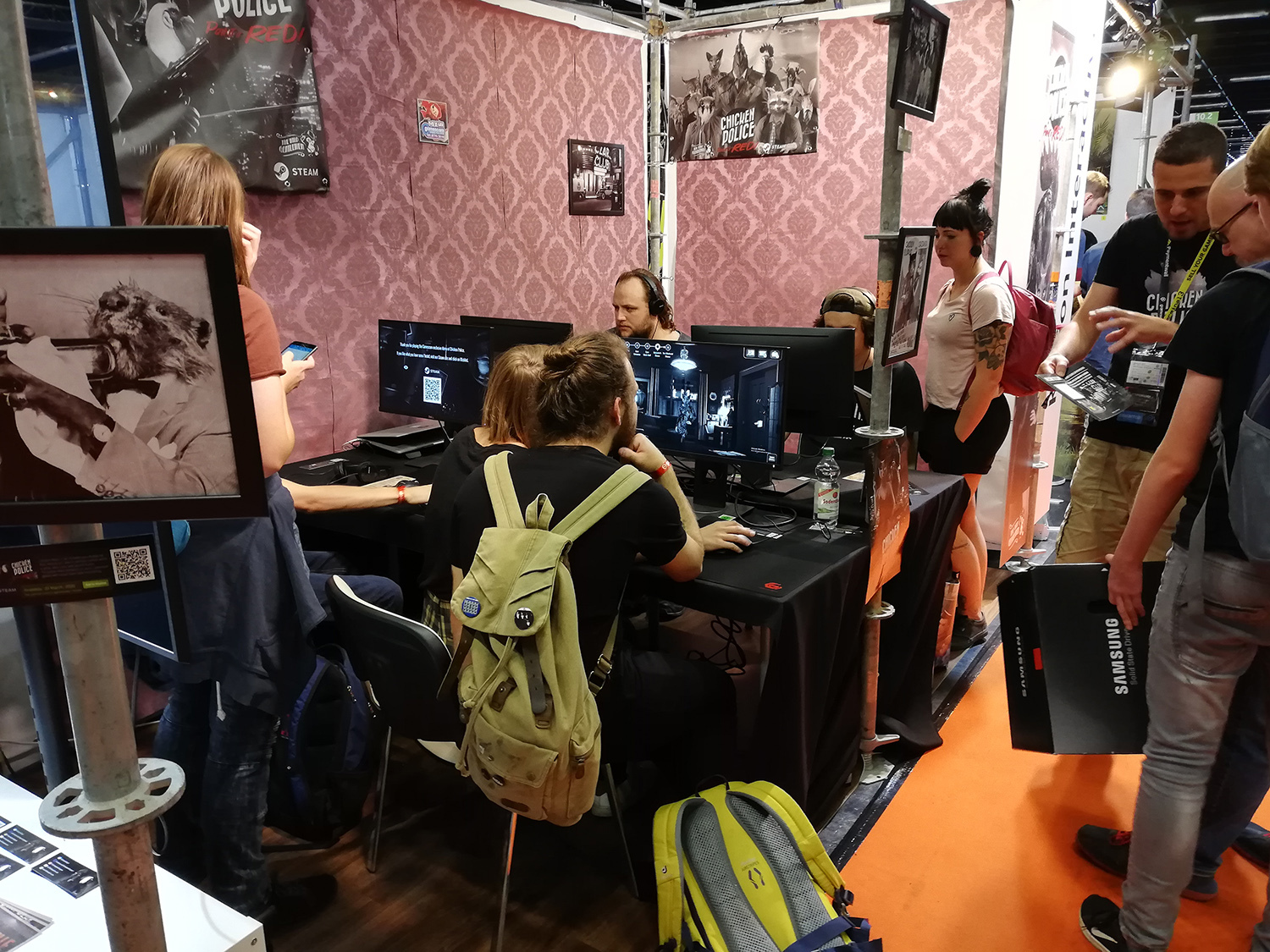 Our booth was quite big among the indie titles and we had 4 machines set up for the players. Two (stronger) main machines and two "backups," but to our great satisfaction, our booth was full almost all the time. That is, the game was constantly rolling on 4 machines, and the level of interest just caught us off guard.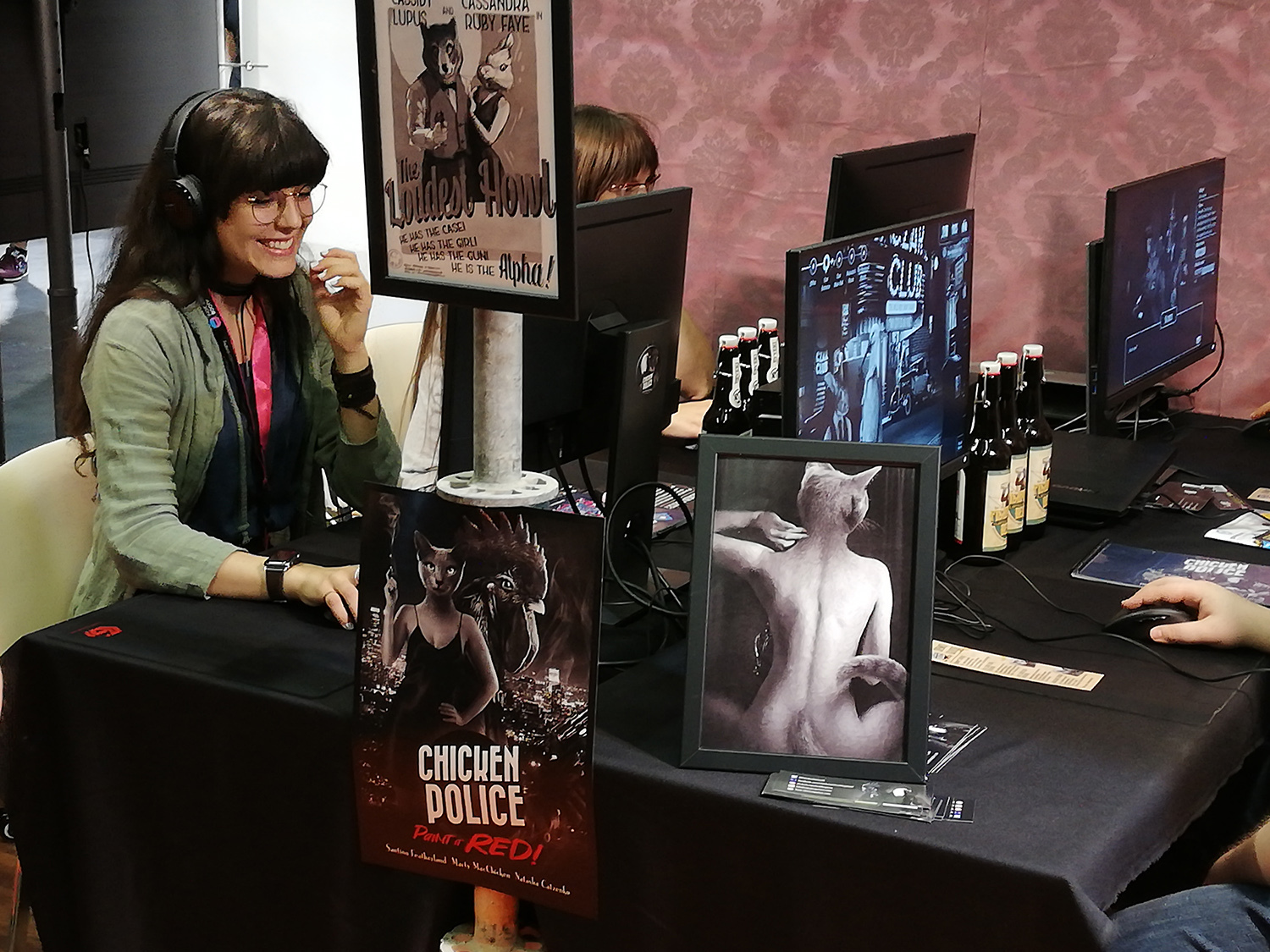 WHAT THE CLUCK?!

Perhaps the most surprising and amusing thing was that most people who walked past our booth felt the need to say CHICKEN POLICE?! out loud. Undoubtedly, the booth and the trailer on the big TV screen were enough to attract the players, so we got the "WHAT THE F...!" sentence (or look) a few hundred times during the event.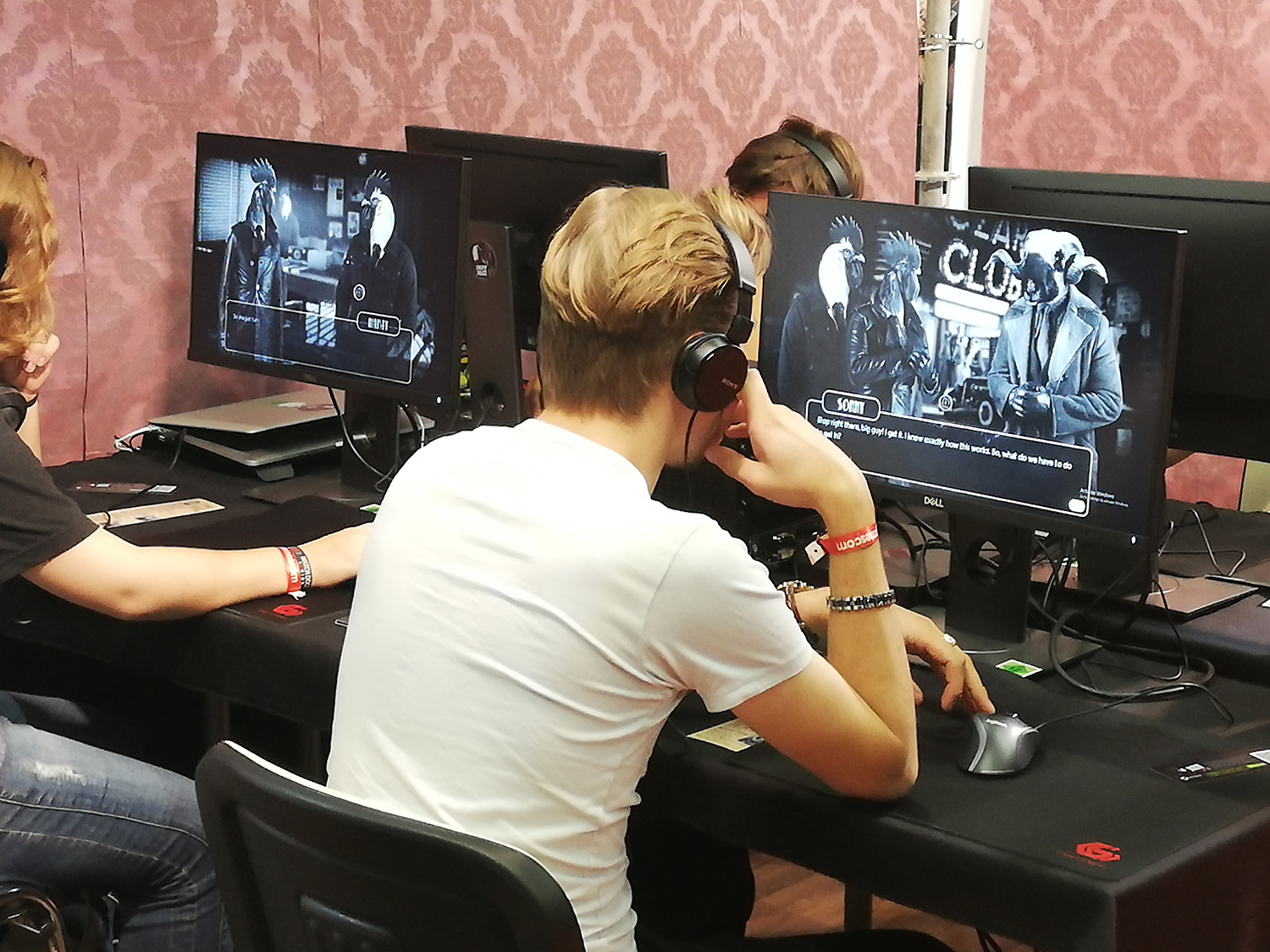 WHY IT'S WORTH IT?

It is very important to note that Gamescom is one of the best of all the expos if you want to build a professional relationship. The very first day we received a huge number of business cards from sponsors, publishers, localization teams, artists, sound designers, translators, etc... But these are just the first steps. To make sure that you leave the event with success, it is worth arranging 3-4-5 meetings at least in advance. We have done so and fortunately; we can say that we have closed the event successfully!




But there were many things that we had to live through till then, as you'll be able to read in Part 2 of this post.

TO BE CONTINUED...

So if you are curious about the best places in beautiful Cologne, advanced camping and expo survival techniques, how to give an almost great interview twice a day, and most importantly: our publisher negotiation experience, be sure to check out our next post as well!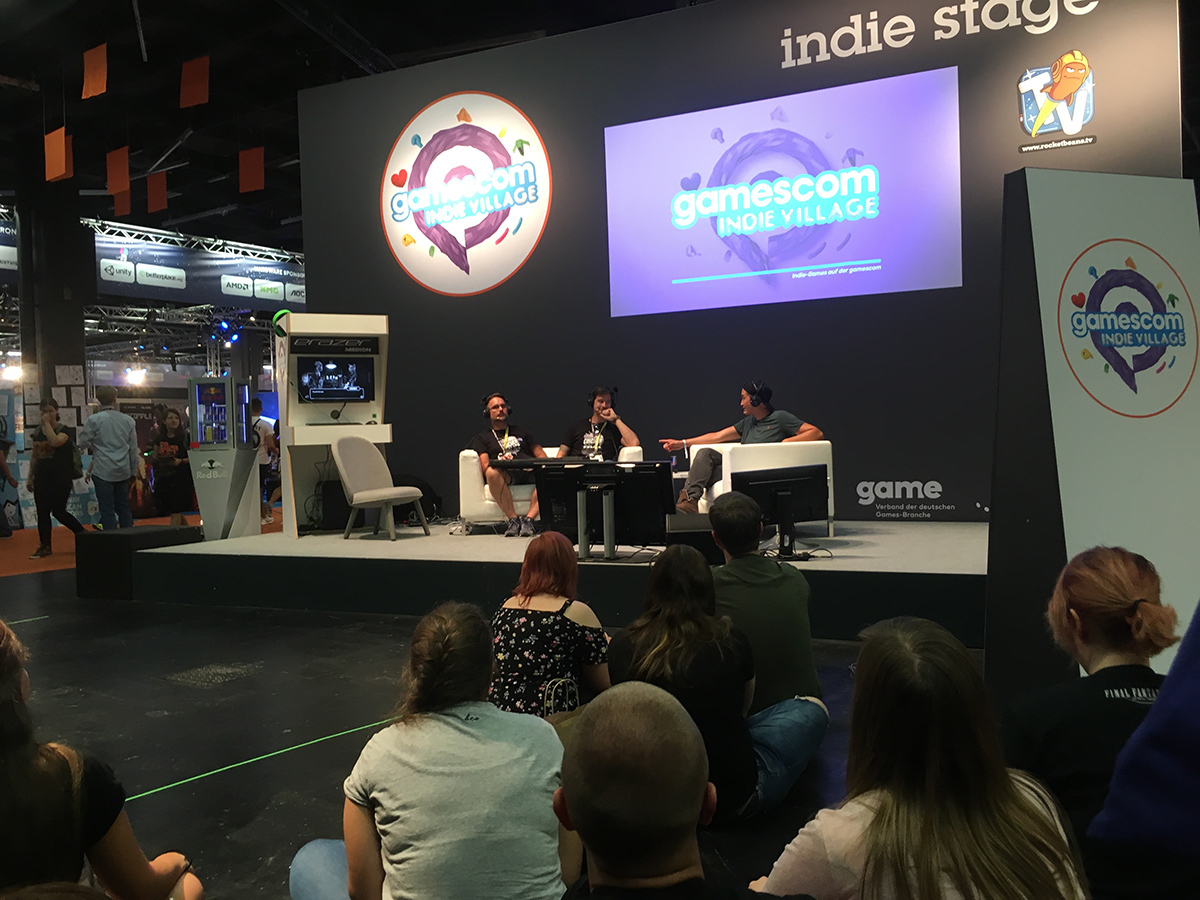 Have a nice week, folks!

And don't forget to hit Wishlist:
Store.steampowered.com