So, firstly, an announcement - URR 0.3.0 is going to include some dungeons ("dungeons" meaning tombs, temples, ziggurats, dungeons, etc etc). It will expand development time by a bit, but I think we need to get some gameplay moving. I decided that as important as the history generation aspects are in the long term, I want to get some gameplay moving at the same time. The dungeons won't include murals, or sculptures, or traps (probably) or bosses, but I'm aiming to at least work on the first stages of some dungeon generation algorithms, as well as creating their exteriors. For whatever reason (perhaps because I thought it would be a comparatively simple structure), I decided to start with ziggurats. These will be one of the major classes of building you'll find in tropical areas.
Early research found a ziggurat look that really appealed to me.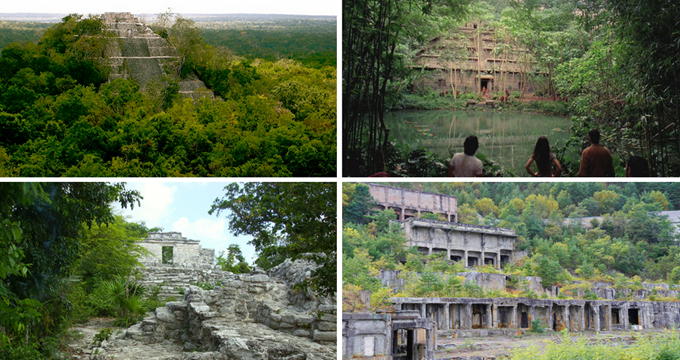 What I really liked was this sense of the ziggurat emerging from the jungle; as something that was hidden and overgrown, and could be easily missed, or that blended (relatively) seemlessly into its surroundings. However, the more I looked, the more I realized this look was generated by trees (and their canopies) - which is to say, things that go vertically upwards from the ground. The key question was how to emulate this emerging-from-the-jungle look whilst keeping a top-down view. Trees would not work in URR as they give vertical blending, but no horizontal blending. Ultimately, I needed something that could blend horizontally. The obvious solution was creepers and vines. I'd been thinking about unique things I could add to various climates and biomes anyway, so it seemed to me that vines could be added to all tropical areas (which I've now done).
Vines are mostly for decoration - in gameplay they may slow you down a little (which is to say, turns passing them might take a few more 'ticks' in-game), and when I start working on combat, there may be context-sensitive possibilities to trip over them, etc. They spread across the ground in tropical areas, and serve as the main way to blend ziggurats into the surroundings. Ziggurats are not quite a finished product yet - I need to add doors which lead to the interiors (which are actually being worked on now), and create a system to ensure the interiors have enough floors, each of the correct size, to make the interior match the exterior. I'm also going to add ramps to some ziggurats, probably based on civilization preferences. Lastly, various things will be atop ziggurats - shrines, sacrificial altars, etc etc. Nevertheless, here's your first ever glimpse of a building. Full version @ Ultimaratioregum.co.uk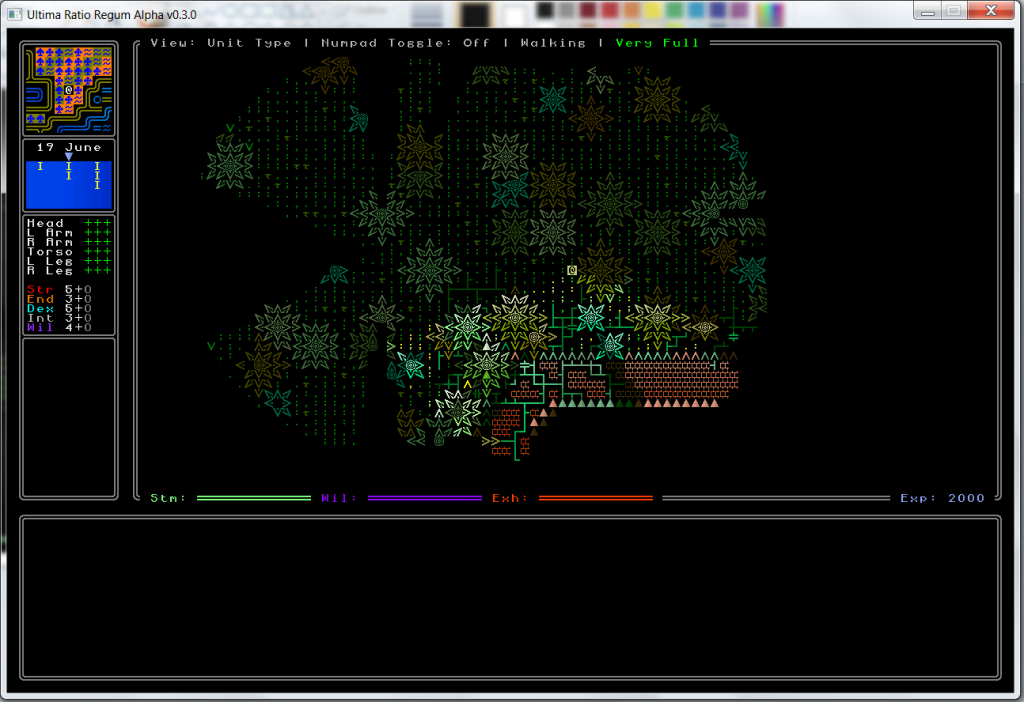 Last but not least, I did an interview for a new games blog, The Game Bastion, about URR, goals, the future, etc. You can read it here:

Thegamebastion.wordpress.com

You can keep up to date on my devblog, Facebook page, or Twitter feed. The devblog is updated weekly (or rarely fortnightly) on Mondays, Facebook a few times a week, and the Twitter roughly daily. Any thoughts, please leave them in the comments! Version 0.3.0 is now in the works, and will generate languages, myths, histories, coats of arms, flags, and entire civilizations. It'll be a big one, but I'm hoping to keep the updates coming regularly, and maybe put out a 0.2.2 in the mean time. Stay tuned...