PC/Mobile Unique MMO ( Not pay to win :] )
Sorry for delay, links will be sent Nov 25.
What is Spellborne?
Spellborne is a cross-platform MMO that gets a lot of inspiration from old-school games and trys to keep the core elements of a good game such as having a high difficulty level, and having to use strategy in order to defeat your foes.
Unique Combat System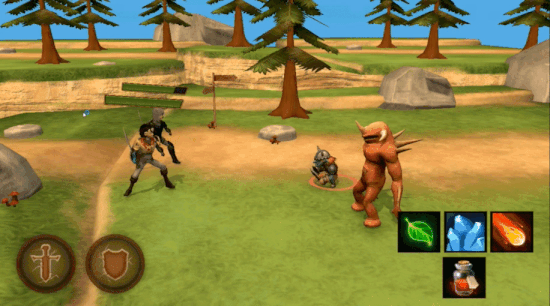 The player will be able to decide exactly how they want to build their own character as our game does not have a class system. Instead you are able to obtain any spell/skill in the game and use it. As much as this sounds "too powerful", the spell/skill strength is determined by the stats and armor of your character Stats along with spell/skill restrictions.
Another thing worth noting is that this game is not turn based, so the enemies you encounter will not wait around for you to decide what you wish to do. This is also not a button smasher where you just press as many things as possible as many enemies will have resistances/strengths that you need to choose your actions correctly.
Each enemy will contain resistances and strengths, this requires players to either work in a team or have flexibility in their kit. This is a monster in the Pengara family that have a lot of armor and are resistant either to fire or ice (this one is resistant to ice). So using fire on it will cause it to do a lot of damage. Also some enemies can cast spells that do either extra damage or aid their comrades. Make sure to attack the most important targets first.
Bosses are also a big part of Spellborne and usually do not have weaknesses. These bosses are a key part to the lore behind Spellborne and are not monsters you can handle on your own.
There are 6 different types of damage and each have unique attributes along with them, written below are the big attributes that USUALLY go along with them but not always.
Physical : Physical aims to do extra damage with a average percentage of landing a hit.
Arcane : Is usually a spell that either attacks many monsters or does an unstable damage amount
Dark : Dark is usually a spell that does massive damage but has a low hit rate or is focused on poison.
Fire : High damage with high cool-down or medium damage with extra factors such as burning.
Ice : This type of damage is more crowd control as they are able to freeze or slow the enemy but does less damage.
Holy : This is for healing/buffing yourself or your team usually, though there will be spells that do damage as we do not want to tie this strictly to healing.
Because there are no classes in the game, any armor is up for grabs to wear and use as long as your stats allow you to. Every piece of armor has pros and cons that usually go something like metal is bad for magic, but cloth does not give you much defense.
Also it is important to pick the correct weapon as it is the main contributor to how you do your damage. If. you are wearing a sword, you will do a lot more damage with spells that have to do with hitting a target upfront and personal but will do less damage with spells.
Crafting & gathering skills will be in spellborne as well to help those make reagents to cast certain spells or to make armor that will help them get through some parts of the map. There will be more information going in depth at a later date but is planned to release soon after Alpha.
Any feedback is highly appreciated.
We really hope you enjoy this game and we have been really putting a lot of time and effort that went into developing this game, so we would also like to thank the developers for sticking together for so long.
Make sure to join our Discord/Twitter/IndieDb if you have not already.