Have you ever wondered what the character concept creation process looks like?
We took our time and asked one of our Artists - Magdalena Krasiejko, to tell us more about the whole process behind character creation, from the concept up to the final model. Of course - Magda is not the only Artist in our Team. There are also other talented people who are working on the characters, including Sebastian, which you can remember from the game promo arts.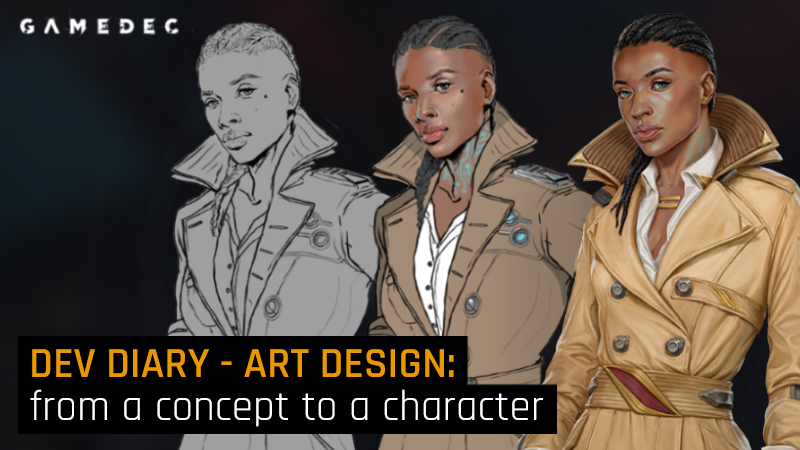 Creating characters for Gamedec is a challenging task. After all, a good story is usually based on well-written characters, and in a game strongly focused on its plot, it is crucial. Of course, a character with a specific personality needs individual looks to tell their personality type at first glance - this is when the work of concept artists begins.

The process of creating a character concept art starts when our design team provides their description. Usually, they have a clear image in their heads and try their best to lay in on paper - and our job as artists is to deliver a visual representation of what they had on their minds. Of course, it's easier said than done, and there are some essential things that you should always keep in mind while creating characters for Gamedec. Usually, the description focuses on the characters' looks and includes their story, personality, and life purpose. Even small details about a character's past help a lot, since artists can use it to make the character more authentic by adding personal information, such as scars or tattoos.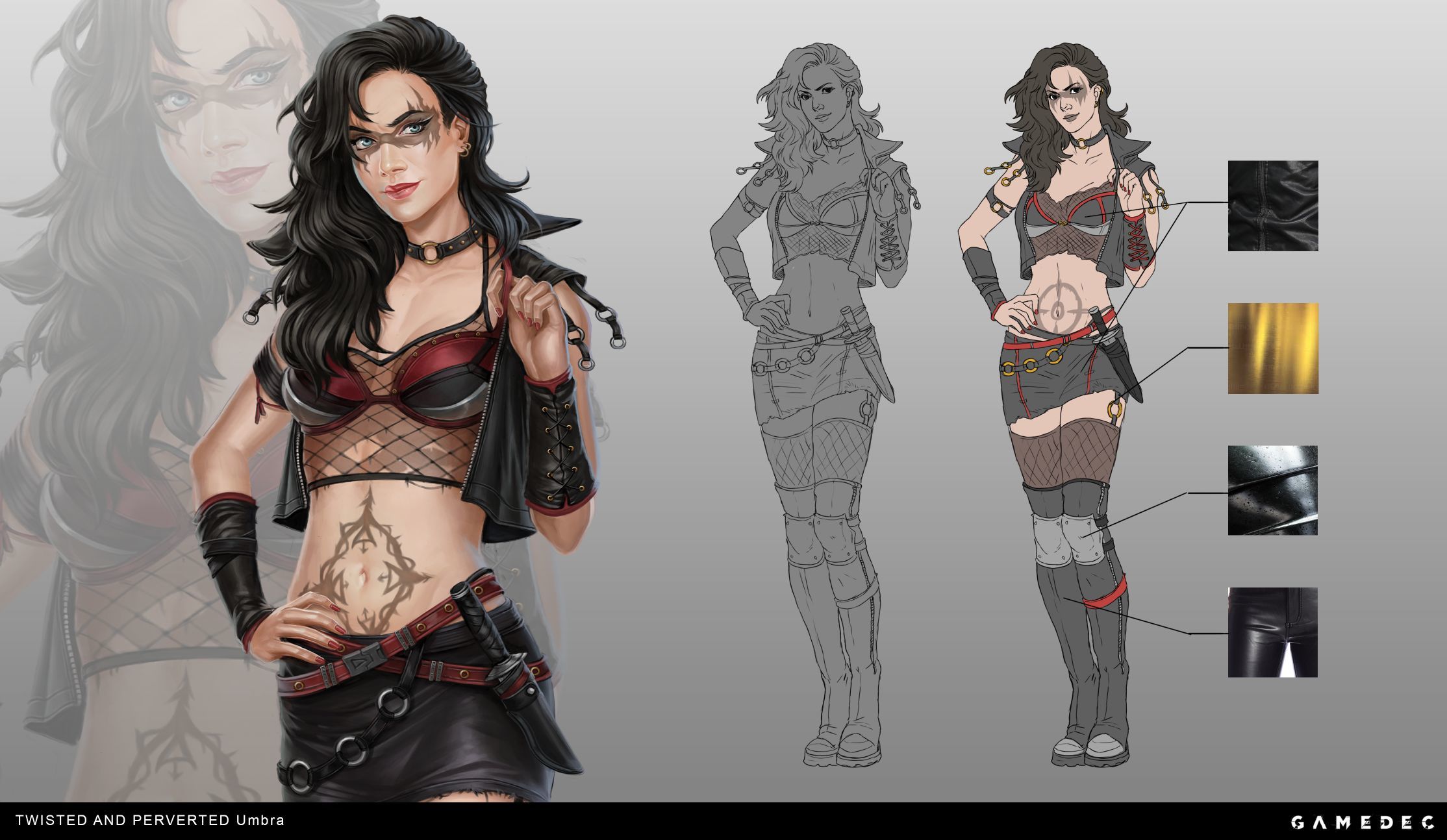 After receiving a description and making sure they understand everything correctly, artists can start their work on the concept art. Let me tell you about how it looks like while working on Gamedec. First of all, it's crucial to express a character's personality. While working on concept art on which a 3D model would be created, we focus on their appearance, clothes, hairstyles, and other visual elements. But those elements can, and should, complete the character's personality. Later on, while making a 2D avatar for them, we can draw them in specific poses and with certain expressions, creating the look whole and giving the player a full picture of the character, which completes the way they act speak. Both their appearance and things such as expression and pose should come together, so the player can suspect what kind of person they're approaching, even if they didn't yet say a word.

The designer's description always includes a lot of references and texts about how the character dresses up. But even though they try their best, most of the time, there are simply no accurate references for clothes they have in mind - since the game takes place in a particular world in the future. Our job is to make the designer's vision come true.





So, let's pretend we need to create concept art of a specific character, which lives in a world of Gamedec. What would they look like? You can create a Thor-like suit for your character and call it futuristic clothes, and of course, it will pretty much look legit. But think about how clothes evolved in past centuries. We use different materials, patterns, and shapes, but there are still plenty of styles you can dress up today. Fashion exists and will exist forever, and that's the thing we try to achieve in Gamedec. The clothes of the characters need to look futuristic, but still, express different styles and aspects of fashion. It helps to make the whole world authentic. Even essential garderobe elements like leather jackets can exist in a futuristic world, but with slightly different aspects, such as more geometrical patches or features created with other materials.

It would be best if you still thought about what purpose it would serve, though. It would be way too easy to put some shining lights on a plain old jacket and call it futuristic, right? In the world of Gamedec, we are lucky - there are plenty of elements already created by the author, which can be easily integrated into clothes. For example, devices such as homeostasis sliders, which help you control body temperature. Making it an integral part of character clothes makes them look more futuristic.

Speaking of futuristic, there are several important rules of the Gamedec world we should keep in mind while creating characters. Besides the devices, such as omnic or walktel, which are essential for any person living in Warsaw City, all the clothes are sewn in a certain way, using specific stitches, making them always fit perfectly. Zippers or buttons are usually used as decoration, while biofasteners, which look similar to burs, keep parts of the material together. People are no longer using shoelaces, and all the things made out of paper should be made with different materials - ever cigarettes or newspapers. All those rules make artists think about new, inconvenient ways to design clothes, trying to make them fit the character's personality at the same time.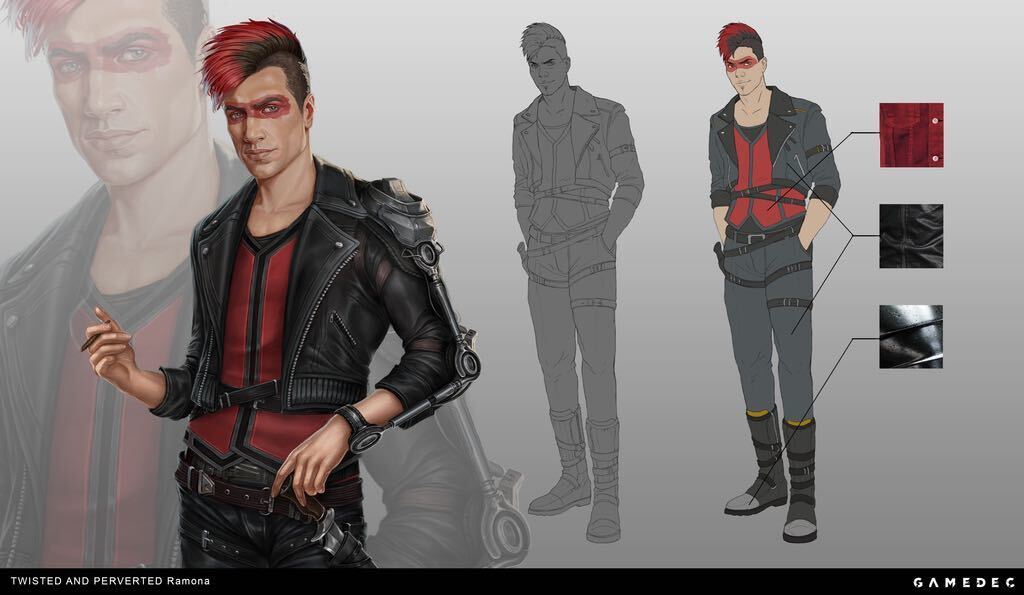 One of the aspects of creating interesting characters is to think about what they would look like if they had an option to choose it. For example, what kind of accessories they would wear, and how would they personalize their clothes. You can dress up your character in pretty basic garments, but your character becomes authentic when you pay attention to such details. It can be either a symbol of their favorite band on a t-shirt, a specific piercing, or even a button in their shirt. Those small things really do make a difference!

All these situations and problems to solve are things concept artists need to face while creating a character for the Warsaw City, the original world of Gamedec. But let's not forget that one of the most critical aspects of the game is the opportunity to visit other virtual worlds. While working on the game, I've had the chance to create characters for both futuristic, cyberpunk worlds and a noir-like world of Twisted & Perverted or straight out of western Harvest Time. You definitely can't tell this job is boring! Jokes aside, this is an excellent opportunity for an artist to learn. While working on Gamedec, I had to look up for many references. I tried to figure out how the fashion looked in the Wild West and how different weapons look.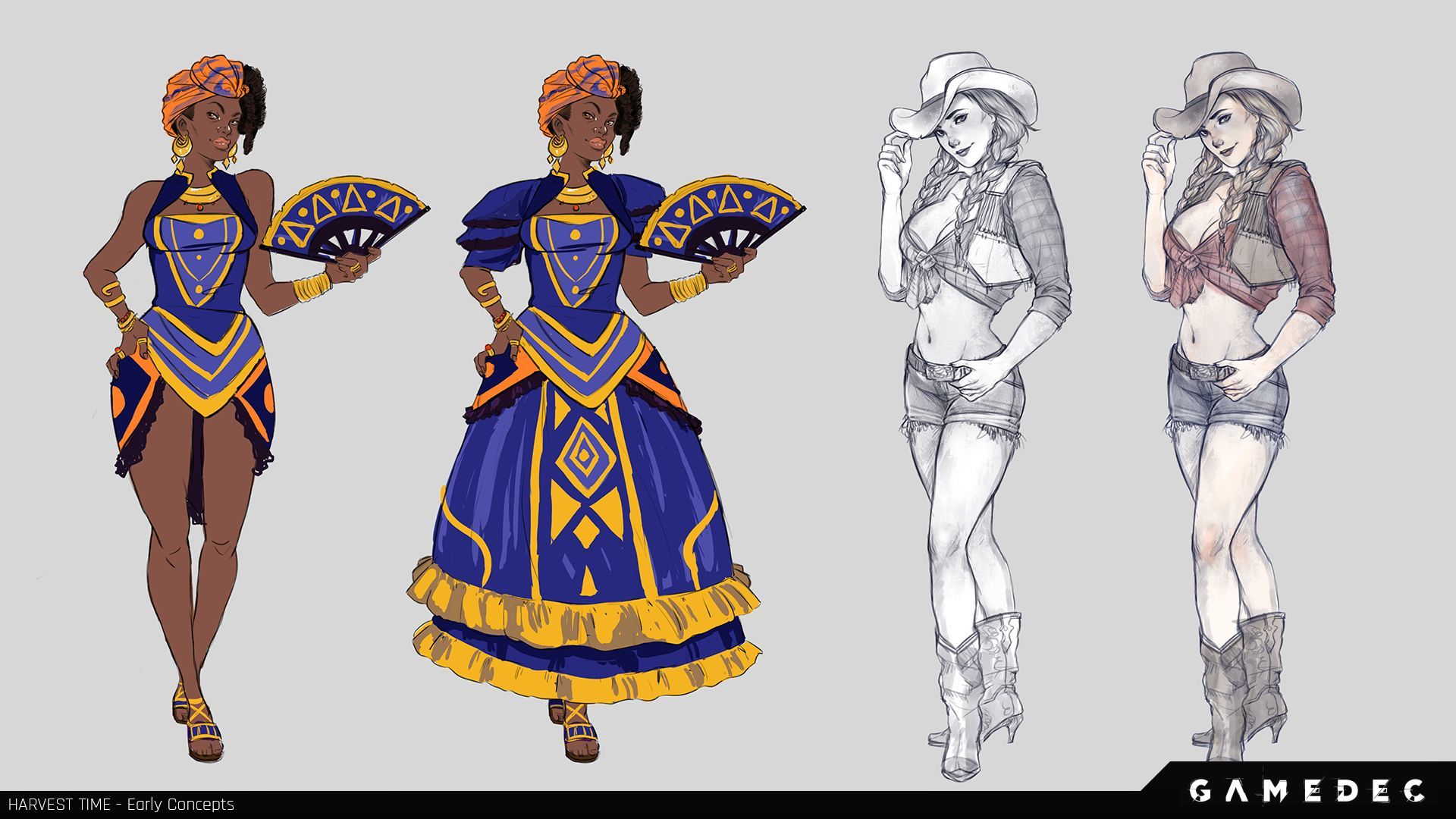 There are many things you should have in mind, and many details you need to remember to make your character likable, authentic, and as real as possible. After all, in a game based on the story, characters are extremely important. But even though it's challenging and sometimes tricky, it's always an excellent opportunity to develop your skills. And besides that, seeing the character you created - your character - come to life in a game is one of the best feelings ever.