Hey!
I have a lot of free time at the moment, so I've been doing tons of work on improving LOST Extreme. Many of these updates you can check out for yourself a Lostextreme.net , but here's a quick overview of what I've been working on.
I've made some major changes to the game's database engine. The main one has resulted in a pretty massive performance leap for action which utilise the accounts table (like logins, signups, preference changes and so on). While before I was storing both user account information as well as account output information (for admin/performance purposes) and core user information like stats and items, in the same table, I've now sharded the data across multiple tables with a brand new database architecture:



It took a lot of work, but I think that the long-term benefits in terms of performance and scalability should be well worth it.
However, more interestingly, I added a whole new section of the game - the DHARMA Initiative. I added a new Points currency, which players can earn by referring people to the game, finding bugs, voting or donating. If a player has points, they have the option of joining the DHARMA Initiative, getting access to the Flame (a top secret part of the Island I've coded just for DHARMA members), and can even purchase add-ons to their account: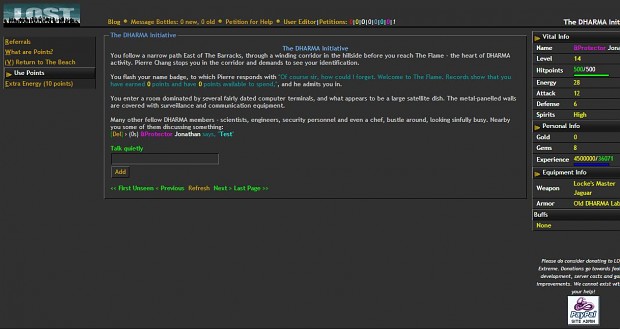 As you can probably see, the only add-on that is currently in the game for DHARMA members is the option to purchase additional energy, which is given each in-game day. However, I'm working on adding plenty of additional enhancements, many of which should hopefully be quite exciting.
This is all new code, and since this was a major update I am sure that I'm going to find a ton of bugs over the next few days which probably aren't going to be particularly fun to fix :P
Finally, I added an Outbox to the in-game messaging system. Not the most novel of updates, but as I was mailing a couple of players I realised that it was a pretty needed update. So, here it is (don't worry, I am working on improving the interface ;P )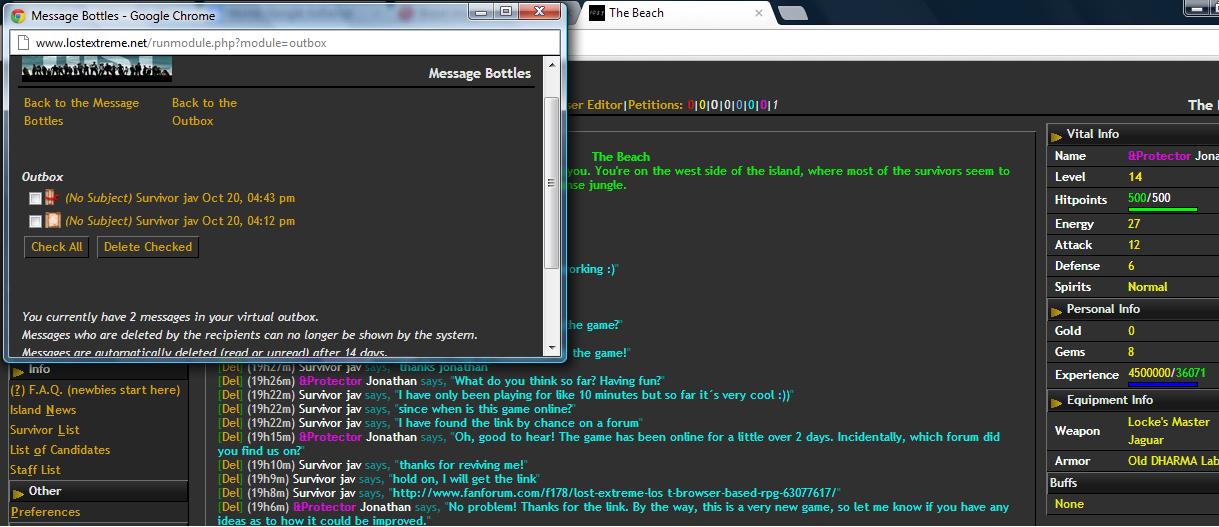 As you can see from the chat log behind, the game is becoming somewhat active (more quickly than I'd expected, in fact). If you're interested, it'd be awesome to see you there! You can sign up for free at Lostextreme.net
Hope you have fun!