Fellow pilots!
Project Amalthea: Battlegrounds Demo gets two consecutive updates in a row to version 0.4.294 and 0.4.295. The game is also now available in the Windows Store: Microsoft.com
Also Project Amalthea features experimental 3rd person camera for people who are not comfortable with top-down camera:
Version 0.4.294:

- fixed bug with invisible missiles
- fixed GameObjectError when putting down the flag
- Flurry of Fire talent launches 4 missiles instead of 6
- changed and significantly accelerated the rendering of stars and the sun
- additional price balancing
- the character retains its orientation upon resurrection
- some resurrection and death tweaks
- new non-intrusive soundtrack
- sounds and music are loaded in parallel (removes jerks when the sound first appears)
- other changes and improvements
Version 0.4.295:

- fixed a problem with registration and the account log in issues
- the skill Breakthrough makes a volley of 10/20 missiles instead of 12/24 as before
- possession of an artifact gives -30% to speed (there was a bug in build 294 that gave +25% instead of -25%)
- fixed a bug in the English locale when it was stated incorrectly which team lost the flag
- changed some workings with flags in Russian locale
- torpedo talents reviewed, optimized and are now in RC state for next builds
- replaced artifact icon while carrying it
- added player team icon for all CTF battles
- the Fast and the Furious skill reduces maneuverability not by 100%, but by 80%. Ship control is now allowed during the skill effect
- added another soundtrack, music will now be repeated
- highlight the artifact when it is lying on the playing field
- different colors for effect icons at the character's life strip
- no BG bots with stun effects are created
- minor price changes
- other changes and fixes


P.S. One more meaty screenshot from the RPG part of the game: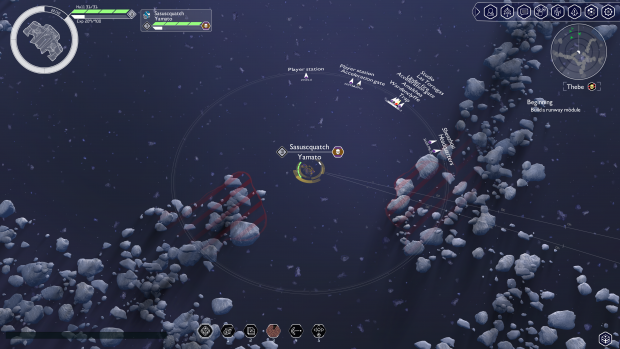 Let me remind you that Project Amalthea: Battlegrounds is now available on Steam for free. It's a downsized version of our huge MMORPG with pre-built level 10 characters where you can only participate in pilot practicing battles. RPG game release is scheduled for 2022 and highly depends on reception of Battlegrounds demo.
Also our game is available for Mac and Linux. There are also iOS internal builds and if you are interested in testing these feel free to contact us at amalthea@runserver.net