Game Update 6: Initiating Team Domination
The brand new Team Domination game mode and the first multiplayer version of Martin Jonsson's unique multi-levelled map are the headlines in this feature-packed Interstellar Marines update.
The Team Domination game mode, along with a reduction in run speed and an increase in spawn time, all combine to make the gameplay more tactical and cooperative. With the new scoring system not only do you gain points for kill shots, you also gain points for capturing - helping your team and denying the enemy!
Daily Deal 40% Off!
If you want to purchase Interstellar Marines for a friend, or have not purchased the game yourself, why not take advantage of this weekend's Steam sale? Click on the link below to find out more.
Click here to see Interstellar Marines on Steam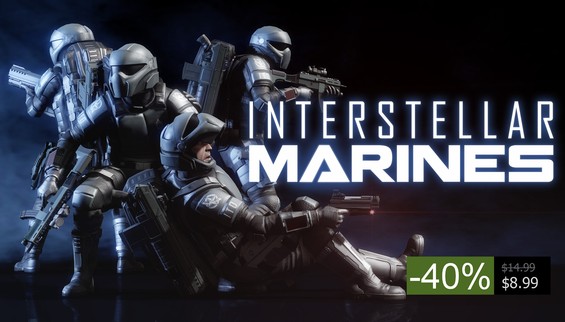 Version: 0.5.6
Released: 30th of October 2013
New Features
ADDED: New "Team Domination" capture game mode:
- The team that has most presence in a Domination zone takes tickets away from the enemy
- Tickets are distributed evenly between the dominating players in the zone
- The team that ends on 0 tickets OR has the fewest tickets left when the time runs out loses
- Only one Domination zone is active at a time
ADDED: Domination zones to all existing maps.
ADDED: Global team score that's always visible.
ADDED: Support for in-world UI overlays (currently used to outline the Domination zones).
ADDED: 1st iteration of queued SARA announcements to local player.
ADDED: Network capability to dynamic platforms.
ADDED: Taser light to marine's impact effect.
ADDED: Ville-Valtteri Kinnunen's combat suit concept art to the Spearhead content folder
Improvements
UPDATED: Elevation map with improved bunkers, markers, reverb zones etc.
UPDATED: Alternate routes to Arch and Rupture to support new Team Domination game mode.
UPDATED: Dynamic platforms now performs better and works with physics (ragdolls).
UPDATED: Marine run speed and weapon bobbing to be a bit slower.
UPDATED: Team colors are now always the same for friends (blue) and enemies (red).
UPDATED: Player names over friends now positions correctly with distance.
UPDATED: There's now a small wait period after dying before respawn is possible.
UPDATED: Marine spawning now takes enemy vicinity and respawn point occupation into account.
UPDATED: Spawning is now always "grounded".
UPDATED: It's now possible to switch team during countdown regardless of team sizes.
UPDATED: Initial countdown increased from 10 to 20 seconds.
UPDATED: Tracking color and label markers on all maps.
UPDATED: Impact effects now spawn more persistently and accurately on client-side.
UPDATED: All image effects to the latest from Unity 4.2.
Fixes
FIXED: "Tapped keys stay on after dying/loading level".
FIXED: "Camera shaking becomes unstable with low FPS".
FIXED: "Cannot switch team".
FIXED: "Join game friend info is not cleared on disconnect".
REMOVED: Corrupted shader that made flashlight cones pink (possibly fixes black screen bug for systems with Intel HD graphics cards).
Known Issues
FIXED: Player scores does not always sort correctly.
FIXED: Other players will seem to float above or interpenetrate while standing on a moving dynamic platforms (network smoothing will exaggerate this effect).
Keep the great feedback coming!
FOR THE LOVE OF THE GAME,
Your team at Zero Point Software