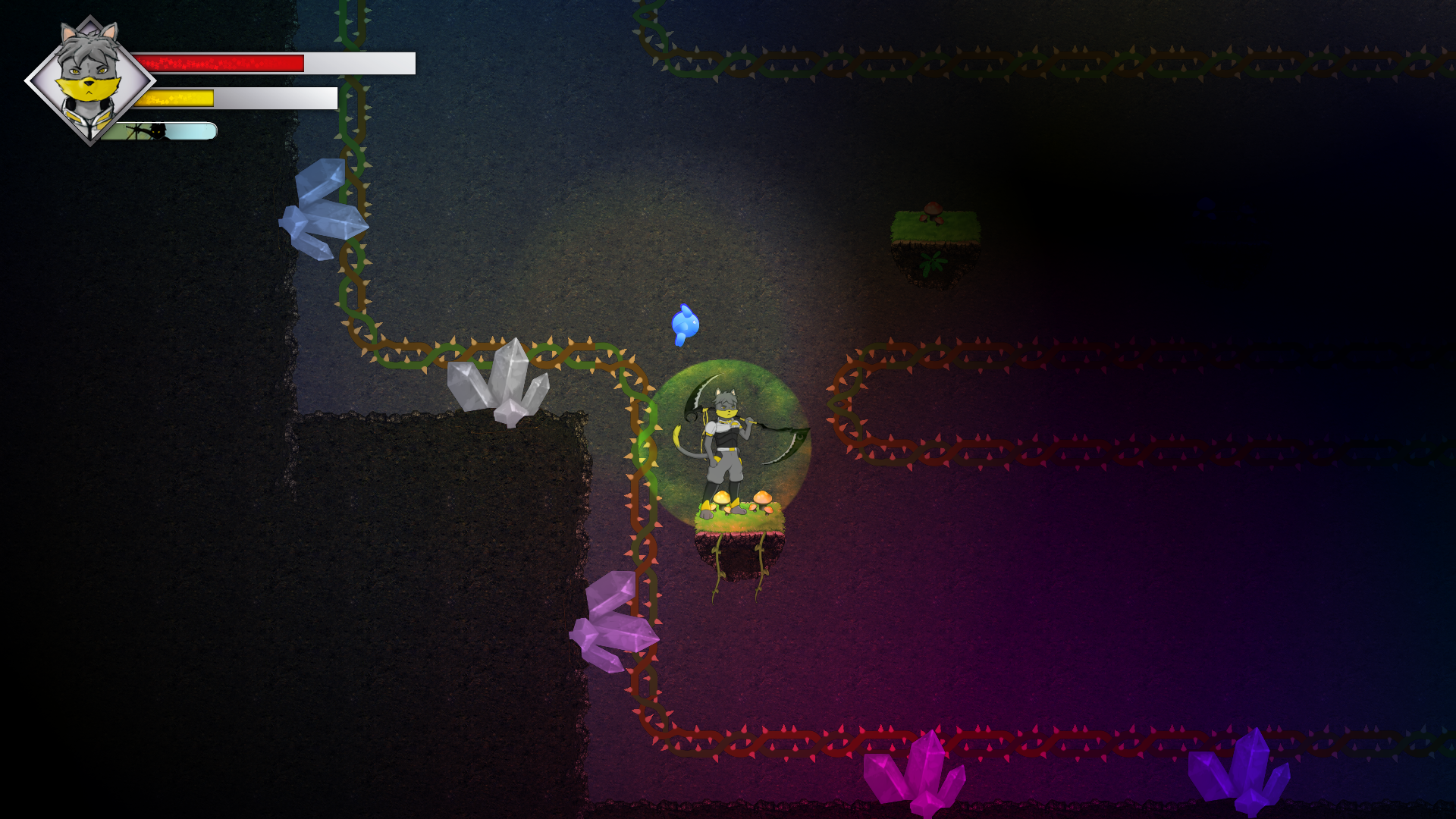 -animated objects
-Small fix the animations (like the attack)
-Fixed some physical errors (such as the fall with maximum speed to start falling)
-enemie "Treester" now has rampage mode (berserk)
-enemie "Azuk" now has rampage mode (berserk)
-A Collection of coins now makes sense :D
-Access All the menus of the game through the joystick (arrows move the cursor and jump button selects).
-Access To the field of the second phase tests available (after defeating the boss go to the cave entrance).
-Some Fixed lines
From today I will invest in the story and plot of the game, we will soon have new (very nice) ahead.

Visit the download page to provide such new version and do not forget to complete the google form to help with advice and report errors: D

Thanks to everyone who helped: 3
Some Skatches:


Explanation
Installation (Required Administrator permission):
____________________________________________________
| To install the game, you must run only
| the "Yellow Desire.exe" file. Himself
| already install the dependencies of the game.
---------------------------------------- ------------

(Best Resolution = + FullHD (1920x1080) or higher).

Controls (Default) - Supports keyboard and Joystic:
____________________________________________________
| Move Left = A
| Move Right = D
| Look up = Hold W
| Look down = Hold S
| Change Habilitade = Q
| Use Skill = K or Right Mouse Button
| Dash = "Left Shift" (Shift) - DOES NOT START WITH DASH
| Skip / Next Dialogo = "Barra space "space (the leap has power, then the longer pressed, the higher the jump)
| Attack = J or Left Mouse Button
| Pause = ESC
| Use Item Mission = E
----------- -----------------------------------------

How to Play (Laucher):
______________________________________________________________________________________
| Initially we have the game launcher (Laucher)
| where we find three options (Start - control - Settings)

| in Controls: You can change the game commands by clicking
| on command (eg "a") and pressing the desired control
| at the top have the kEYBOARD button is pressed, it changes to cONTROL
| and resets all controls, this screen you can configure the Joystick.
| (remembering that the joystick directional are configured automatically.
| if you need to, use the RESET button to return the controls to standard.
| You do not need to save this screen, because every change he saved automatic.

| In Settings:. on this screen you can change the language and some graphic options
| if the game is showing some kind lag or little frame, Enable / Disable
. | the Vertical Sync or other settings
| this screen is required thrown click save to can confirm the changes.

| in Start: it starts the game and close the launcher.
---- -------------------------------------------------- ---------------------------------

How to play (Ingame):
_______________________________________________________________________________________
| the game begins with the opening credits and then go to the main menu
| where we have 3 options new game - Continue - Quit.

| new game:. Resets the current save and start a new game

| Continue: If you saved the game in the middle of the stage, he returns where you saved.

| Quit: Exits the game;

| In the game: you start the game by controlling Rheiz (the main character)
| pressing the "ESC" or that you set up for the "Pause" button, you
| can see your mission and have the option to leave the game - return to the main menu
| and summarize (same effect as pressing "Pause" again. "
| each enemy has its mechanics, and you can attack them normally or use your skills
| (to use the ability you need only press the button "use skill"
| if you want to use another, press the button configured to "Changing skill" and use the button "use skill."
| the current skill is in the upper left corner next with HUD.). The game begins with a only.

| The game has a hints system (Tips) for beginners, as the tip of the enemy Azuk (A leprechaun)
| because for defeated, you must hit the skill he throws at you, which is a stalker ball,
| for this you must atacala before they get to you (Skill also bounce).

| There are missions the map, the material is required, the other options, the status of the task is shown in the corner
| upper left. For each full or mission, can have effects throughout the game.

| The game has breakable objects like walls and crystal energy and life, which to collect 3, your life / energy
| maximum are increased permanently.
--- -------------------------------------------------- ----------------------------------

As in development, ending the first phase, will return to the main menu .

Every phase has:
3 crystals of life and 3 energy crystals (Good Luck)