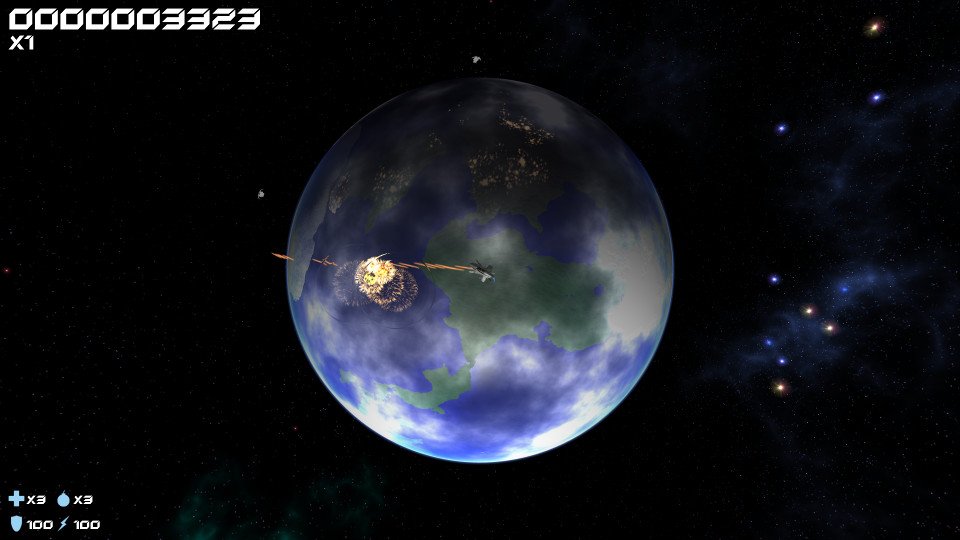 I thought I would share with you info about the different game modes in Outpost Alpha Protection Service. There are five modes in total and each one requires different tactics to get a good score.
Death March
This is the main game mode, here you can shoot everything in sight with your main weapon. You also have a limited supply of bombs you can use to destroy groups of aliens. You can also boost through aliens as well as boost jump to escape imminent death.
Every so often, an alien mothership will appear. These will drop a pickup when destroyed that can refill your boost or shield or give you an extra life or bomb. After a short while, the mothership will disappear so make sure to find and destroy it when the warning appears. Each mothership destroyed will also get you a bonus for you final score.
Bumper Cars
In Bumper Cars, you can only destroy aliens using your boost. You can't boost jump or use your main weapon or bombs. This requires careful use of your boost at all times. You get a bonus for the highest number of aliens destroyed in a single boost.
One Hit Wonder
In One Hit Wonder, your main weapon fires a bullet that destroys any alien with one hit but you only have one bullet. After firing, you then have to retrieve the bullet before you can destroy another. This requires avoiding detection of certain aliens while prioritising which one to destroy next. You get a bonus for the number of aliens you destroy without missing.
Bomb Jumping
In Bomb Jumping, every time you boost jump, you release a bomb. This is handy as you can't use your main weapon or boost through aliens. You'll have to watch your boost level and plan which path to take to avoid being surrounded by aliens and unable to jump. The highest number of aliens destroyed in a single jump gets you a bonus for your final score.
Checkboxing
In Checkboxing, like Death March, you can shoot everything in sight, release bombs, boost through aliens and boost jump but with the added paperwork of a checklist of aliens to destroy. You'll be given an alien and a number of them to destroy, tick this off and you'll get points but destroy a different alien and you'll get a new alien to check off. The more aliens you check off, the bigger bonus you get.