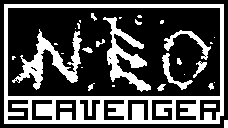 This Saturday evening (October 5th, 2013), I'll be giving away 6 copies of the NEO Scavenger beta. Anyone can enter, though 4 copies will be reserved for players who don't already have beta access. 2 additional copies will be given to existing customers, to be given away to the person of their choice.
Recently, an anonymous fan generously offered to buy a gift copy to be given away. Since I thought that was such a cool gesture, I decided to throw in 5 extra copies and make a thing of it. Hence, this giveaway!
Here's how it works:
Play the free NEO Scavenger demo, dodge some crazed bandits, scavenge some useful junk, die of cholera/hypothermia/pulmonary embolism a few times, and get a general sense for the world and story.
Decide what question you are most curious about in the world. Is there something about a character you want to know? Something about the world itself? Basically, if you were to finish the full game, what question would you most want answered?
Create or log into an account on bluebottlegames.com. Creating an account is free. Winning accounts will be granted access to both Flash and downloadable versions of NEO Scavenger on bluebottlegames.com. Beta access also includes a Desura key, Steam key (when available), and access to the final game (when it's finished).
Comment on the official contest page with your top choice from step 2 above. You can include more than one question in your response, but indicate which is your top question. Only comments on the contest page will be counted.
Only one post per person will be counted. Additional posts will not be counted in the random draw.
4 copies will be reserved for new players who do not yet have beta access.
2 copies will be reserved for existing players, who can then email/PM me with the person to whom they want to give the beta. (Existing customers have seen more game lore, and I'm definitely interested in their opinion, too!)
Respect other users. No name-calling, trolling, racism, sexism, yadda yadda. If you're a jerk, you're out. No warnings.
So please give the game a shot, see what you think, and toss your question into the ring! Your participation will help me improve the story as I work on it, and please spread the word if you have friends who'd be interested!