I have great news! Game... is… finished! Yes, yes, yes!

Two major things that were still missing in the game were sound effects and music. I was looking for a quite long time for a someone who will be able to create soundtrack for my game (and who would like to do this!). Finally I found great people who were happy to help me:
- Patryk Scelina (www.patryk.scelina.com), who created great music, where each track is different, but all of them together creates coherent whole. I'm sure you will enjoy it while playing.
- Bartosz Gajdarski (www.soundit.pl), who created nice sound effects for the game.
(So, as a side note, if you have same problems like me in this area I can recommend them both. I'm sure they will happily help you)
While waiting for soundtrack, I was thinking what I can do to make this game better. It should be something small, without much changes in the game code. And I made a conclusion that it would be really nice, if there would be more gems to find by miners. I draw few just for test and... I liked it! So, I created more and more, and now each graphic set has its own gems to mine and sell. This means there are now 21 different gems to find! Please see below screen:
---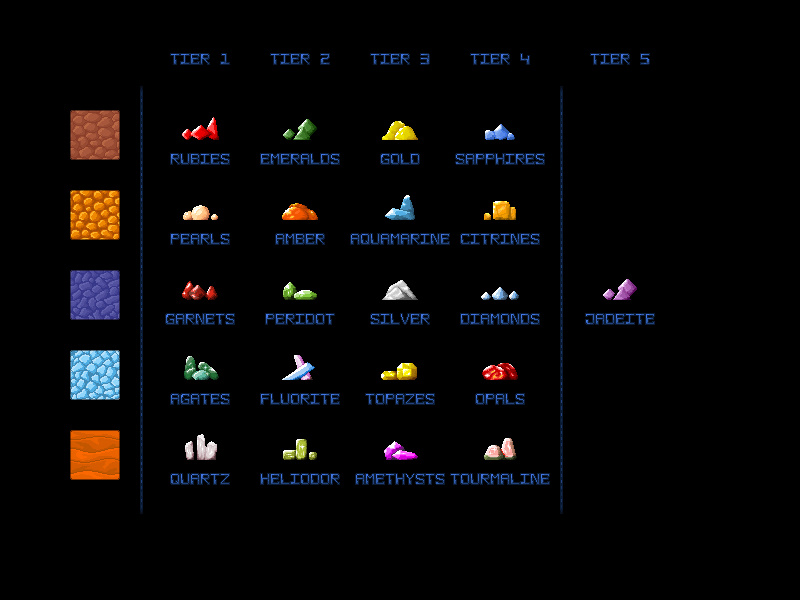 ---
Finally, I can officially say that game is completed! Below you can see newest official trailer. It has final graphics, sounds and of course music. With small exception… it does not show all gems, that were created very recently.
---
I'm sure, now you will ask: "if game is finished where I can download it"? Well, currently... nowhere. Next week I'm going to submit my game to Steam Greenlight. Of course I will let you know when this happen. Hope, you will support me there!