This week, we are going to be sharing some new information about the Single Player for Stellar Conflict as well as show off the first video for our new Advanced Combat System. We will be working hard over the next few months, adding new 3D Models, Animations and particles and updating the graphics in the game.
Firstly, I would like to show you the new Stellar Conflict logo that will be used to promote the game. We have kept it fairly similar to the old one, however we have added a few minor details that we think make it look more visually appealing.



The new Stellar Conflict Logo
We have also been working hard to add more variety to the environments. We have added six new skyboxes that we will be able to use in the Skirmish maps as well as the Campaign Missions. I think they are a big improvement from the purple skybox we were using in the previous builds of the game.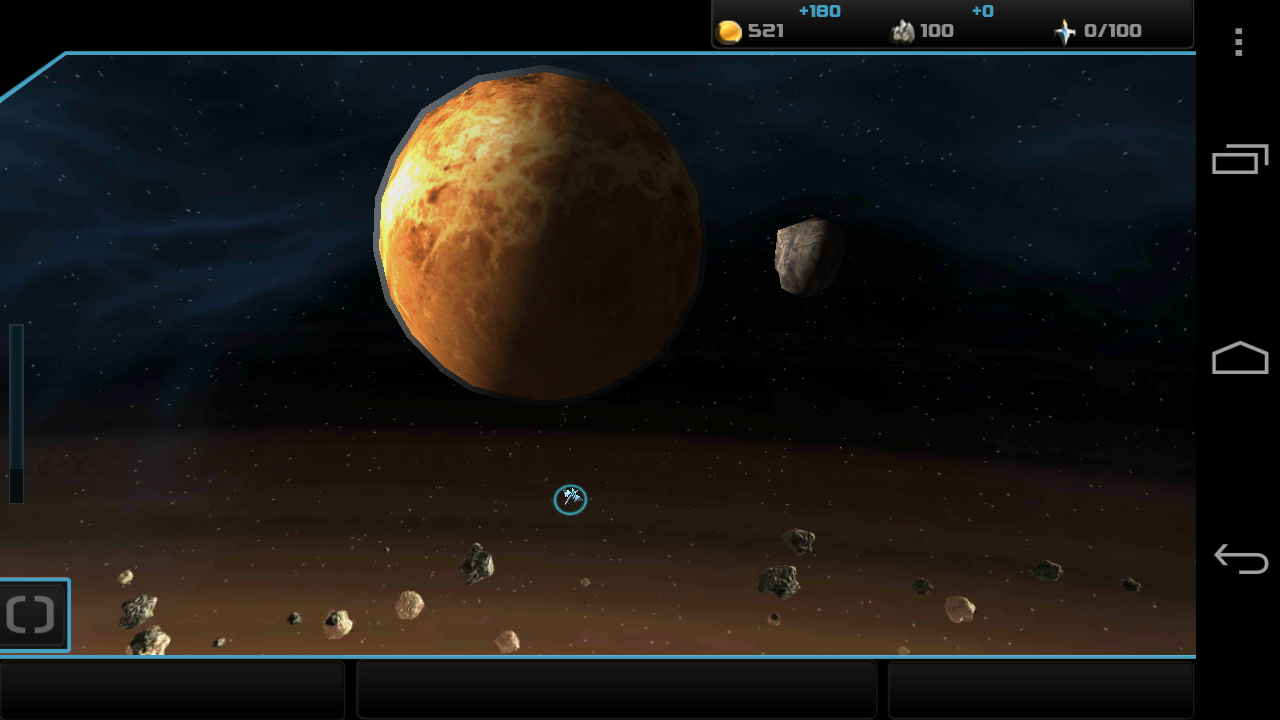 Some new environments and skyboxes are now implemented into Stellar Conflict to add more depth and detail
This week I have been working on creating a better menu to access your Campaign Missions. This is an early prototype that I have created. Your missions will be listed on the left hand side of the screen, and you will be able to scroll through them. When you select a mission, it will show the mission details panel. from there you can press the start mission button. You can also continue from your last saved mission and jump right back in from where you left off. I will continue to work on this menu and will show my progress in the next couple of weeks.
We have also begun designing each Campaign Mission and I have some new information regarding these missions. We are aiming to have around 20 missions each going for around 15 minutes which will allow for pick up and play game play. This also means the campaign will last for around 5 hours, and will feature a rich story with action packed cut scenes that will be rendered in game.
The story is still being written by I can tell you it will have a number of twists and will feature black holes, scientists and parallel universes. You will be fighting a terrorist organization that has traveled from this parallel universe. I will share more details with you once the story has been written fully.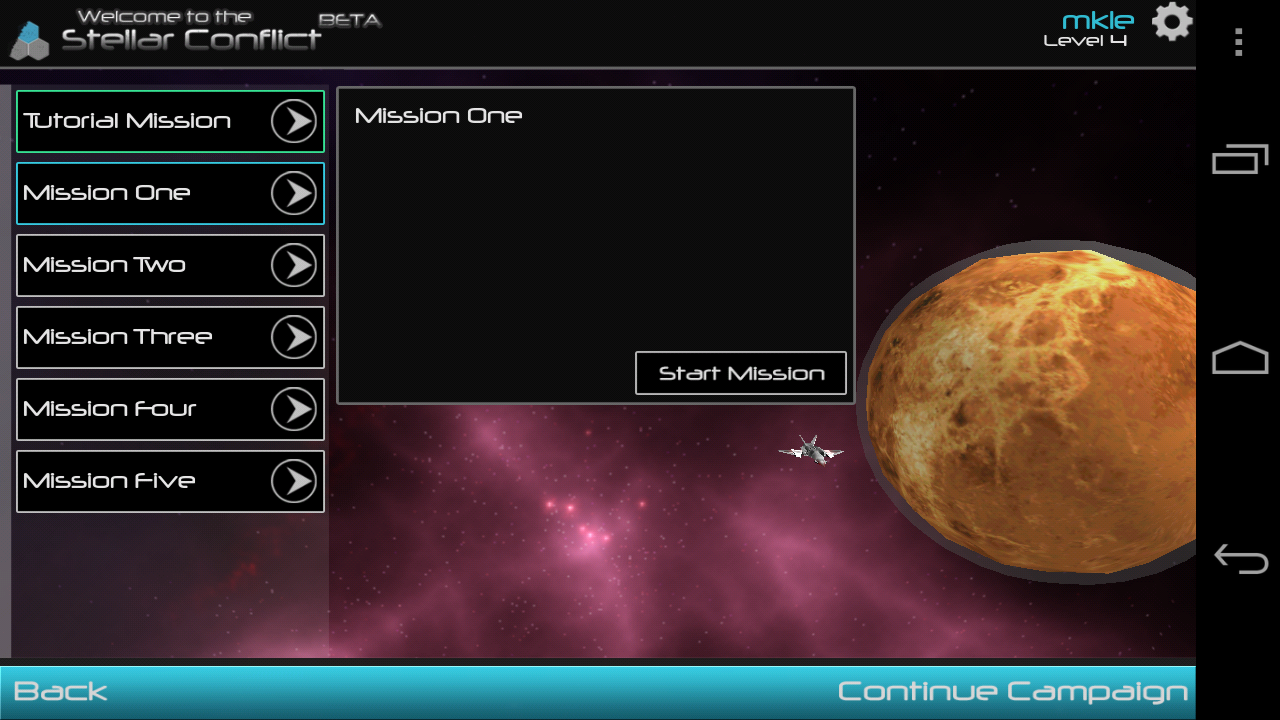 This is the new Campaign Selection screen. From here you can replay and old mission or continue with the campaign. Green indicates the mission has been completed. Blue is in progress and Gray is locked. This screen is still WIP and will show mission details and a screenshot in later builds.
We have also made some improvements to our In-Game Interface to make it easier for the player. Now when you select a planet, you will be shown a build radius. This indicates where you are able to place your new structures. Once you place the new building, the build radius will disappear and the new structure will begin construction. We may make some changes to the visual appearance of it in the future.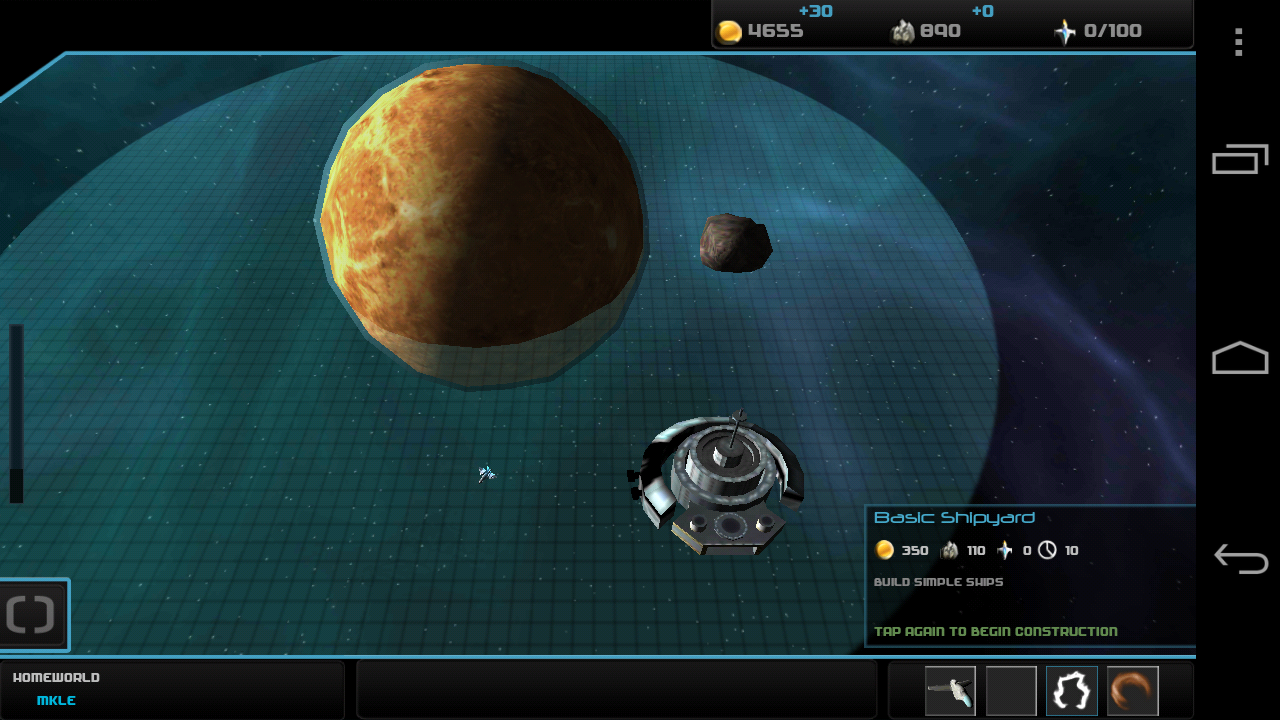 Now when you have the planet selected, It will show the build radius. This indicates where you are able to build the different structures around your planet.
I have started to make the combat for Stellar Conflict more advanced to make sure it is more exciting for the player. The combat is still in the prototype stages however it is already making the game feel more realistic and exciting. Before when you attacked an enemy, it felt very static and the ships just positioned themselves next to each other and opened fire. Now they will fly around and follow each other trying to get in the line of sight. It is still very basic and I hope to add more features like missiles and mines to make the combat even better.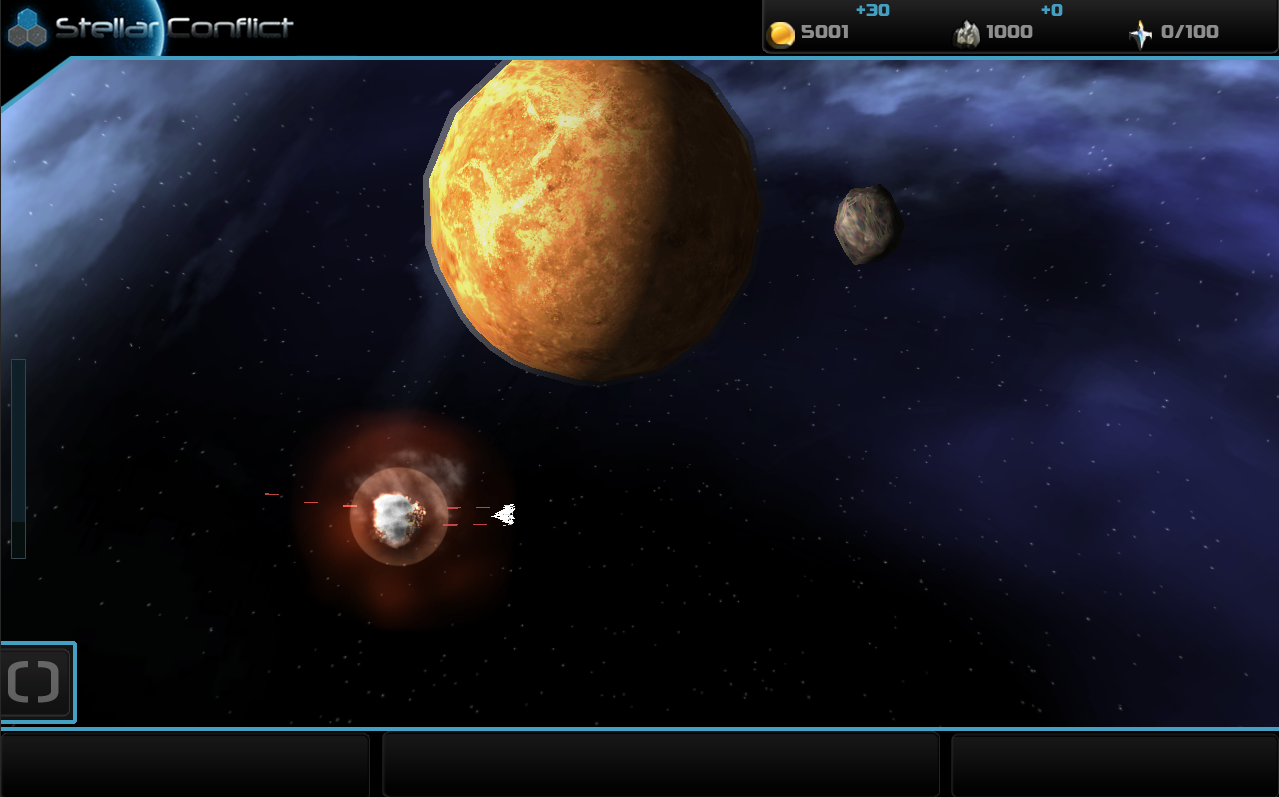 Here is a preview video of the current progress. This footage was taken from inside the editor and the lag is from FRAPS. It runs smooth when played on a mobile device.