First off, welcome to the Star Villains and Space Heroes IndieDB page! We hope you stick around for updates, because we have a lot planned!
I'm going to give a bit of background about the game and our plans for its evolution.
---
SVSH is a game influenced by our love of science fiction in general and space combat games in particular. Both of us spent a lot of time playing older RTSes, sims and FPSes, from really old classics like Descent and TIE Fighter to more modern games like Supreme Commander. To that end, we've decided to draw together a lot of disparate elements to create a game that, first and foremost, we'd enjoy playing.
At its core, SVSH is a 3rd person space combat sim, though with enough streamlining and simplification that it's easy to pick up and play. You, the player, take command of a single large capital vessel and engage in combat with similarly equipped enemy ships. It's up to you to use your ship's abilities to their fullest and defeat the enemy.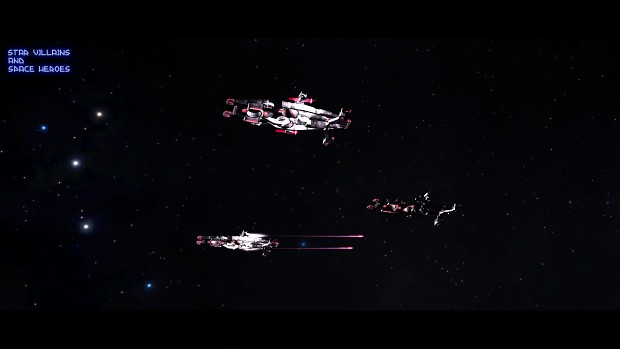 Combat takes place in full 3D space with realistic space physics - no drag unless you are in an atmosphere. This increases the complexity of the maneuvers you can pull off - imagine setting up an attack run past an asteroid outpost, firing your main engines and coasting by on inertia as you fire off your ship's arsenal. Trust us, it's damn fun. You also have access to advanced technology and abilities, such as point defence guns to shoot down missiles, electronic countermeasures to jam enemy locks, and special engine overloads to boost the power of your engines.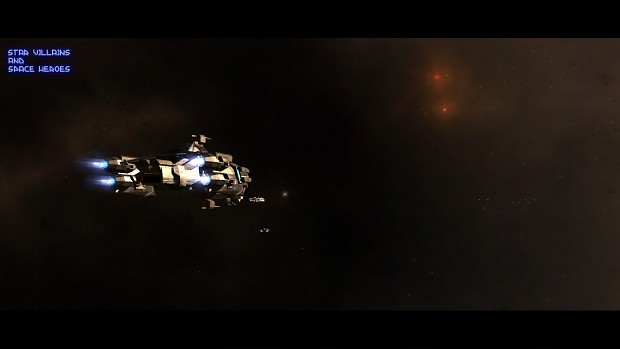 We aim to present a very large range of ships, from small frigates to large battleships and dreadnoughts, with lots of different types of weaponry (railguns, beam weapons, missiles, unguided rockets and more). We have a detailed original backstory with at least five (and probably more) unique factions, ranging from humans to aliens to artificial intelligences. Each faction has its own design philosophy, set of preferred weapons and strengths and weaknesses. Look for more information on these factions and their starships in the coming weeks!
---
Star Villains and Space Heroes has now been under development for about 2 years now, much of which was teaching ourselves Unity and experimenting with various systems and ideas. We've made great progress in the last year, and are ramping up to deliver a playable demo reasonably soon.
The demo will give you a taste of what the full game will be like, and should provide four missions with four playable ships.
That's all for now! Feel free to check out the image gallery, where we have uploaded a number of ingame screenshots from one of our recent alpha versions.