We've managed to hit our next major milestone for the client. We now have a "Game Selection" screen: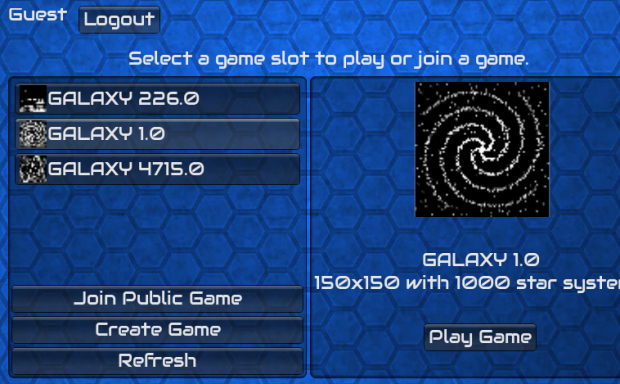 It lets you do the following actions:
Join Public Game - Will find a public game that needs players (and that you aren't already in). If there is no public game, it will create a new one and put you into it.
Create Game

- This brings up the old "Galaxy Generation" screen, with a new twist. You can now press "Create Game" on that screen to actually create a live game using your generated galaxy!

Play Game

- This brings up a new screen that shows you a very simple texture of the galaxy of the game you selected. This will eventually become the "in-game" screen after a few more iterations.
As always, you can find the latest version of the client here: Galacticusurper.com

---
I hope you enjoy playing with the screens. I'm still learning about Unity3d's GUI system, so I know there are a few pieces of overlaid text and whatnot. I'll be working on getting the layouts to work much better as I progress.
From here, I've got the following things I want to concentrate on:
Updated Login Flow - I want to make it multiple account aware and have a better flow.
Updated Create Game Wizard - You shouldn't only be able to create the galaxy, but also set the other parameters for a game (including it's name - no more GALAXY )
Generate the rest of the game state. Right now, the server isn't doing it's part to populate the galaxy with fun stuff to do.
Interactive Galaxy Map. The meat and potatoes of the entire "in-game" project.