Funimation has scheduled the first anime DVD releases from its distribution deal with Geneon Entertainment (USA):
August 19: Black Lagoon season 1, Black Lagoon: The Second Barrage volume 1, Elemental Gelade volume 1
September 2: Karin volumes 1-4, Kyo kara Maoh! season 2's volume 1-7
September 9: Shakugan no Shana series box
September 16: Black Lagoon: The Second Barrage volume 2, Fate/stay night
series box, Hellsing Ultimate volumes 1-4, Rozen Maiden series box
September 23: Kamichu! series box, Paradise Kiss series box
September 30: When They Cry - Higurashi volumes 1-4
Funimation announced at Anime Expo 2008 on Thursday that it had agreed to manufacture, sell, and distribute selected DVD titles from Geneon Entertainment in North America. Geneon Entertainment had ceased in-house distribution of its own titles last September.
---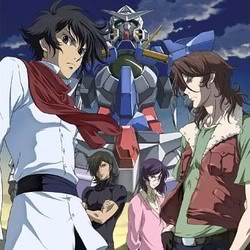 Bandai Entertainment launched its official Mobile Suit Gundam 00 website with the promotional video that was first shown at Anime Expo this past weekend, and posted the English dub cast for the four Gundam Meister pilots. Ocean Studios is producing the English dub of this science-fiction television anime series, which will premiere on America's Sci Fi Channel on November 17. The English dub cast for the Gundam Meister pilots are the following actors:
Setsuna F. Seiei: Brad Swaile
Lockon Stratos: Alex Zahara
Allelujah Haptism: Richard Ian Cox
Tieria Erde: Sam Vincent