One of the parts I enjoyed more while developing Goscurry was the creation of the avatars. They're simple pixel characters, but I took the occasion to portrait people I know, or to homage other games. This is a recount of the ones that have a link to someone - or something - else.
The People
---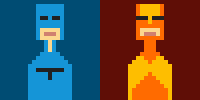 These are the superhero alter-egos of Isak and myself. Isak is the red one, because he's more evil - though he still didn't beat me at Goscurry, ah!

This is my stepson Aki, in his powerful scout costume. In reality he's a very funny kid, and surely doesn't look that martial.

From left to right, we have:
- Jelena, my awesome superhero comic-artist lady, which always wins when we play Bang!
- Natalia (Isak's superheroine and co-creator/illustrator/animator for Fran Bow)
- Bere, red-headed curry lover and Ruben Müller's geek companion
This is NOT Jesus! It's actually a faithful representation of myself - and also of Isak, if you pull his hair a little.
The Homages
---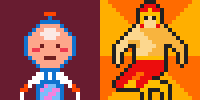 From left to right:
- DOT, the main character of the fantastic and nearing-release game by the great guys at 1Coin
- A wrestle-jumper, one of the two fighting twins in the absurdly fun Wrestle Jump by Mr. Otto-Ville Ojala