We are incredibly excited and honored to make Voltron: Cubes of Olkarion available on Steam Early access.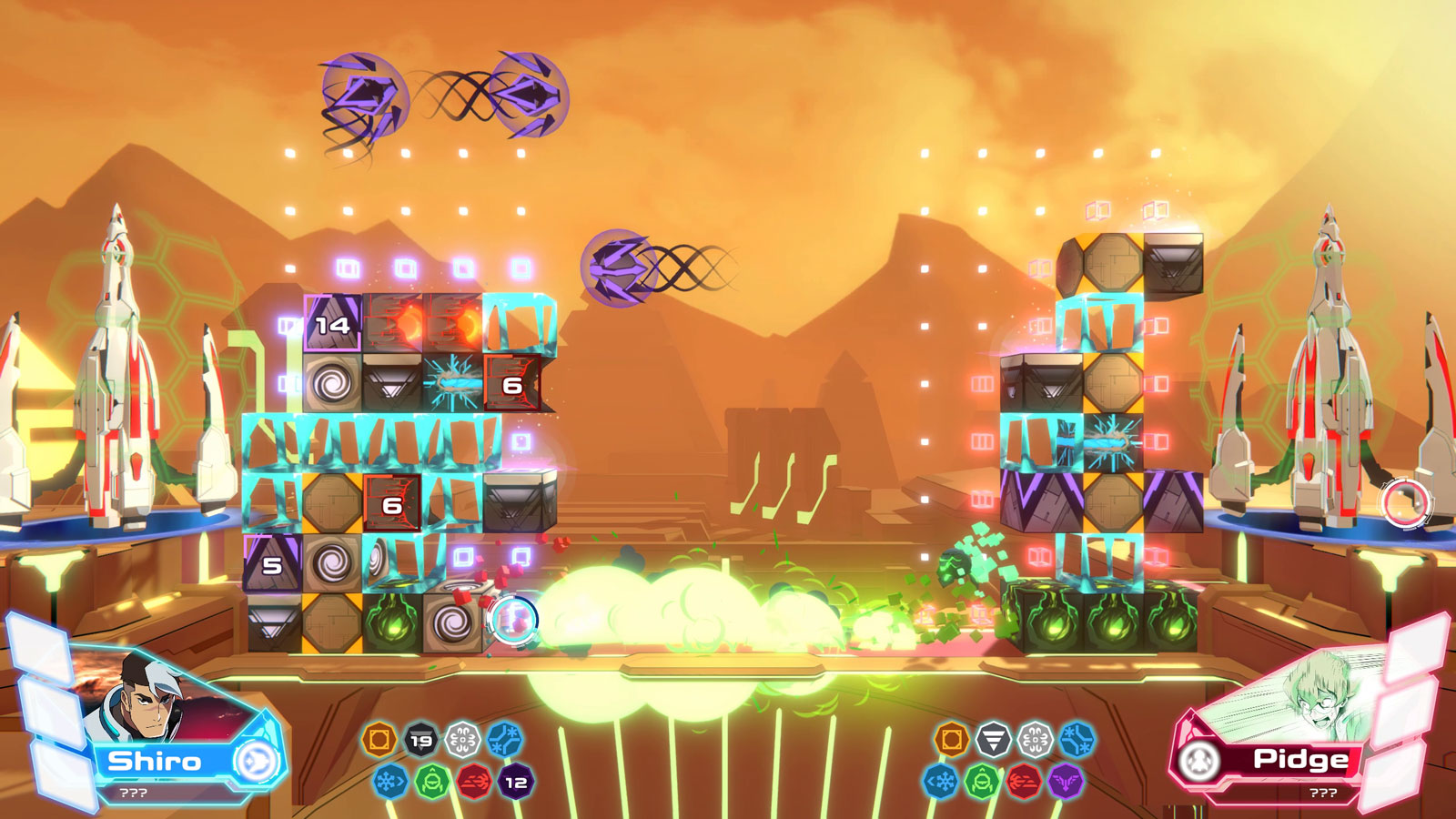 But how did we, as a small indie studio from a small country, partner up with Universal, one of the biggest entertainment companies on the planet, to create a game? It all started with the Universal Game Dev Challenge in March 2018, when Universal Games and Digital Platforms, together with Unity, Intel, and Microsoft called for studios worldwide to create a PC game concept for one of Universal's iconic brands. In the competition, six finalists would be selected to create a Vertical Slice – and the winner could win $150,000. Competing with the whole world seemed like a long shot at the time, but we were excited for the possibility and took the challenge. Voltron: Legendary Defender was our favorite choice.
Our first step was (re-)watching all episodes of the DreamWorks Voltron Legendary Defender series on Netflix, and reading through episode recaps, forums, and wikis looking for interesting elements of the Voltron world. In parallel, we went through existing game ideas and prototypes we had created. After some days, we discovered a certain object in the series that intrigued us. An object so simple in shape but so powerful at the same time, we couldn't resist building a game story around it – the Olkari Cubes.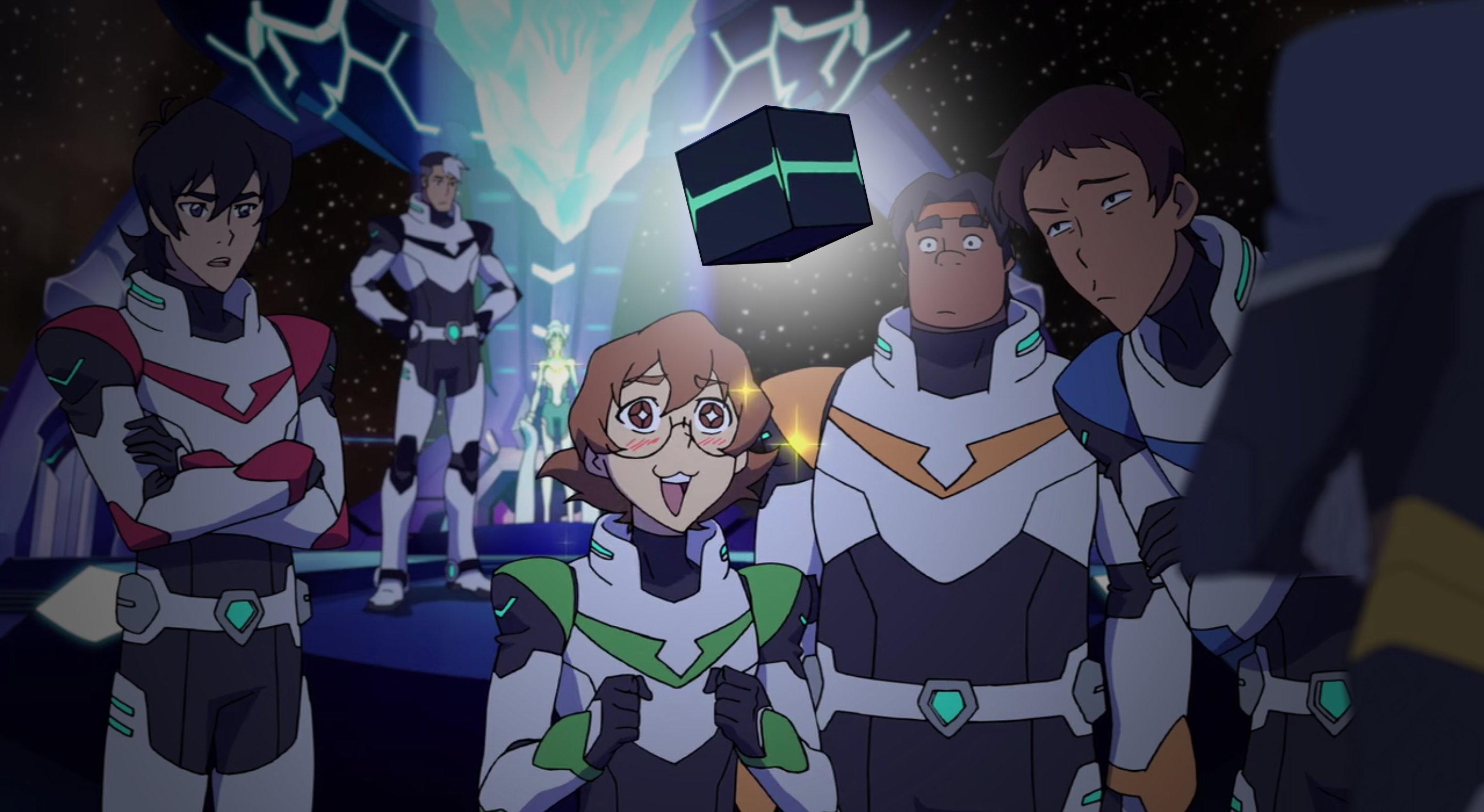 Just like Pidge, we are fascinated by Olkari Cubes!
Olkari Cubes first appear in an episode from season two for the first time, in which Olkari people are forced to build a single gigantic cube super-weapon to try to destroy Voltron. Our game imagines emperor Zarkon taking another shot at the idea saying "Why build one cube when you can build millions?". We thought of a spin-off for the game that we internally call the "Cubewars," a time during Zarkon's rule where he mass-produces the titular cubes by enslaving the Olkari. The Voltron coalition, which the Olkari are part of, build cubes for self-defense.
The first step in the Universal Game Dev Challenge was to submit a game design document. It was fun to think and write about how an iconic world like Voltron would work from a perspective of game mechanics – to make sure the game is fun and and incorporates the rich Voltron universe. After sending all of the required materials, we waited, happy to have submitted what we thought was an appealing and unconventional way of creating a game for a known brand.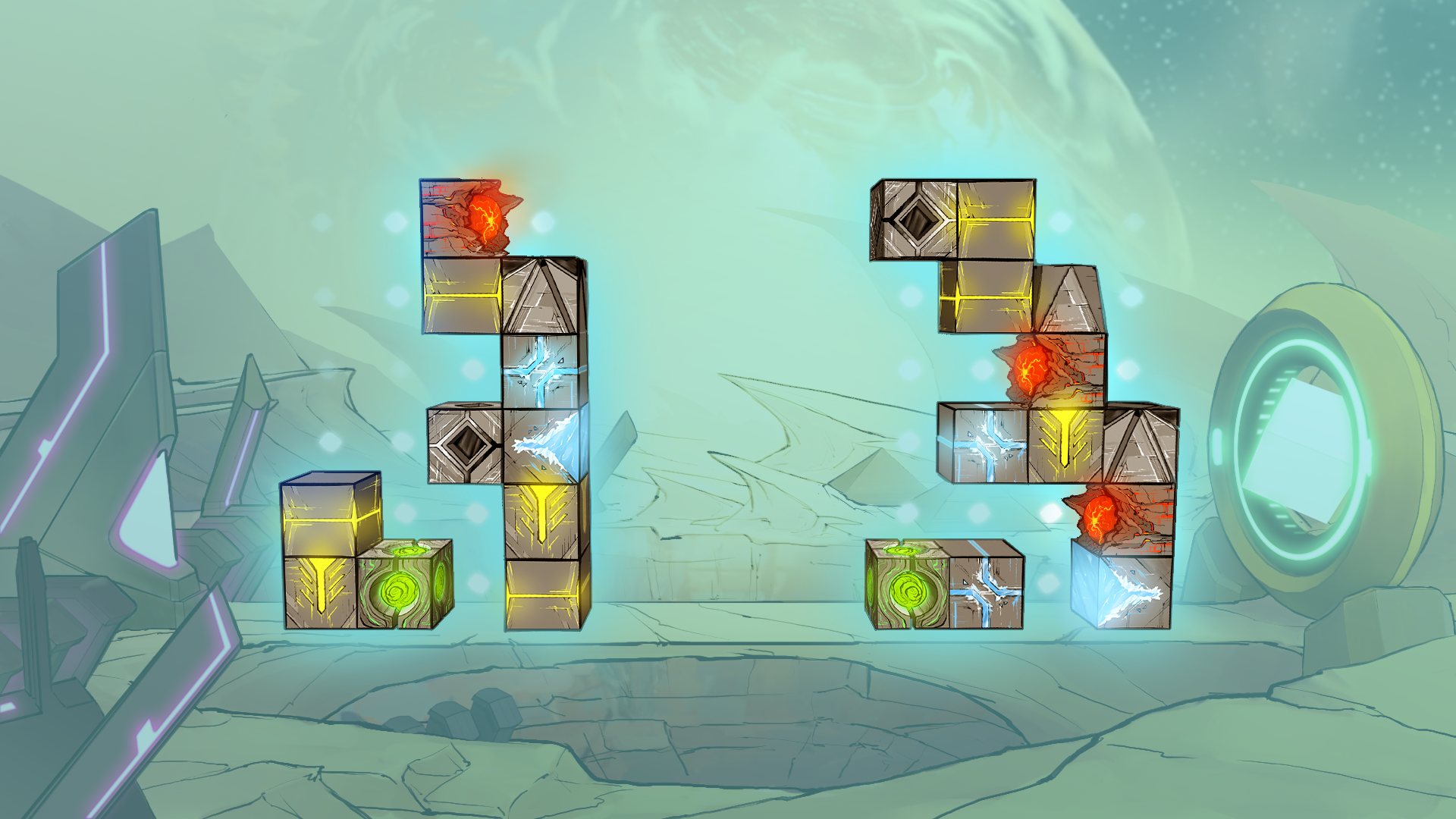 Image of the Game Design Document submitted to the Universal Game Dev Challenge in 2018: Competing players build single Olkari Cubes with various attack and defense capabilities and stack them to towers in the middle.
After some weeks the message finally arrived: we were among the six finalists chosen from more than 500 submissions worldwide! We were excited to say the least. But we were also laser-focused and ready to deliver because we knew we had to start working on a vertical slice over the summer months of 2018.
And that's what we did. As a team of 15, we all had our battle stations: creating a cube wars storyline, recreating the wonderful world of the Olkari planet from the series in a game, creating cubes with various capabilities that allow strategic depth. The result was a vertical slice in which you could experience battles in local 2-player mode. And it was fun! After three months of work we delivered a game on time to be reviewed by a jury.
Again, after waiting some weeks, the message arrived. After the jury reviewed all six games, our submission Voltron: Cubes of Olkarion was the winner of the challenge! It was an unreal moment, filled with excitement and also moments where we had to reassure each other that we actually did it. An eventful time followed with Andreas and Yury appearing on stage to receive the trophy at Unite Los Angeles and Matthias and Robin participating in a workshop with Universal, the judges, and brand experts to get feedback on how to plan next steps.
Flash forward to today, August 29, 2019. After nine months of creating a scaling online multiplayer mode, polishing the world to get the Voltron feel right, and pushing the game forward in close partnership with Universal, the game is now available as Early Access on Steam.
To go for an Early Access title is an important choice: we want to hear from the fans and the game community alike what you love about the current state and what you would love to see in the future. We have created a roadmap and FAQs as a starting point and hope you have as much fun with the game as we have!

See you in the game, Paladins!