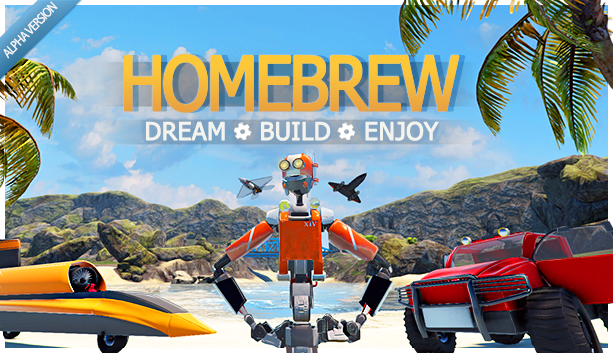 Today marks the transition from pre-alpha to alpha and it's also the first version of Homebrew where the community had this much input on the direction that we were heading in.
Whereas V13 was designed for our personal amusement this version is different and the result of constructive feedback from the community. It helped us shape the game and without you guys we wouldn't have this build on our hands today. Thanks a lot to everyone who made suggestions, reported bugs and supported us on this exciting journey.
HOMEBREW V14 is an entire rework of the game and the new core systems are redesigned to build bigger/more advanced in less time.
These new systems will also allow us to implement new content faster which results in more frequent updates. The changes we're talking about are huge in comparison to the previous updates and it's impossible to mention them all.
A year of feedback and a lot of work goes a long way, now let's check out what HOMEBREW V14 has to offer:
A brief summary of the changes:
Graphics
Graphics overhaul with optimization in mind
All levels have been reworked
New LOD systems
Added a lot of screen effects
New water has been implemented
Dynamic skybox with day and night cycle
New tools have been implemented to improve overall look
Physics
PhysX 3 integration
Aerodynamics rework
Water dynamics with wave physics added
Wheel physics rework
Realistic driveshaft physics
Physical based electric system
All other physics systems have been reworked or modified
...
Building
Undo/redo
You can hold down SHIFT to keep welding a given part
You can hold down ALT to have see through the vehicle: comes in handy with rotation discs
Not confined to hanger any longer, you build in the world
Total UI overhaul
Highly optimized baking system for vehicles
No part or size limit for vehicles
No polygon limit
It is now possible to save whatever you build as a part and weld it to something else
Merged the frame builder, the vehicle builder and the tuning area into 1
Multiple construction zones
Improved pipe builder (more variation)
Sound rework
Camera doesn't collide with the vehicle any longer
Adjustable plating system
Adjustable pipe system
New linking system
Less properties, more possibilities
Finally we can "program" by using logic boxes and linking them together
Your vehicle can be a whole system on its own
Sensors can be used to improve vehicle behaviour
No more global key binds needed, they can be added directly on the seat and named appropriately
Holding SHIFT when linking allows you to link to multiple points
You can see the values in real-time, this gives a better understanding of what's going on
Player
Sound rework
Can swim and dive
Respawn button
The player is a robot which will be customizable later on
Behaviour rework
Continuous jumping doesn't work any longer
Some part changes
Adjustable plates (glass and regular)
Part rework: more detailed and in colour
Sounds rework
Scalable wheels, fuel tanks, propellers, ...
A bunch of "programmable" parts that allow you to build robot arms, autopilot planes,...