First off, thanks for narrowing us down to Mod of the Year's second round! If you'd be so inclined to vote for us again, have a drink or two in our honor, or play some Warlord, well, we'll blush and say thank you - it'd be awesome!

CONCEPT ART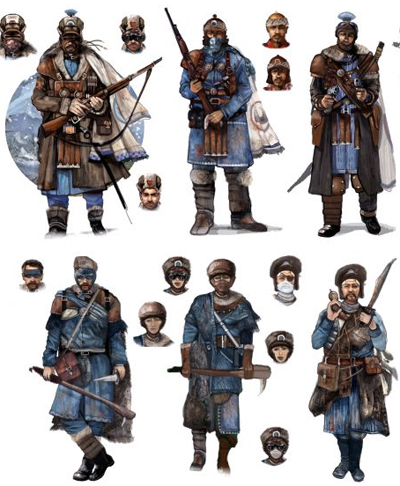 The Atelian Militia didn't always look like it did in our renders and screenshots. Above is early concept artwork for the militia - click here to see more and in greater detail. The blues and attire lead to a less bleak group of people, and to me, they look less desperate. Less like warriors, more like civillians, even. It's amazing what simple coloring or dressing choices can do for the emotion and feelings of a video game.
In the final version of the game, they became darker clad, though they did retain much of their traditional stitching and packs as well as weaponry.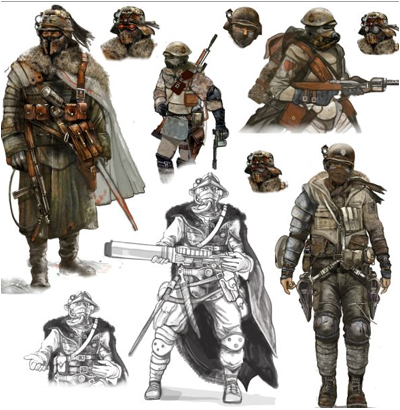 This is some old Confederate concept art we've never released. They look rather similar, but still have striking differences. Click here to see it in larger detail. Something I like, as with the first one, is looking at the heads and seeing the different styles of armor and plans that were experimented with.
ANOTHER NEW UNIT
Here's another guy we've been keeping under wraps. He's not officially developed yet, but he is in the works, so look out for him someday in a patch for Warlord.
This time it's all about the Confederate Spy.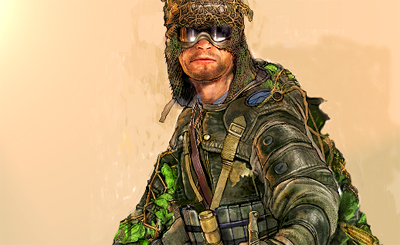 Designed to roam the map cloaked, this guy is liable to sneak up on you. Like any good spy, he uses tricks and disguises, like camouflaging himself as a helpless civilian, until you get too close -- and then bam; you're dead! Players will have to keep their eyes peeled and make an active effort to pay attention to those civilians when playing, because one of them just might be working for the other side.
UNTIL NEXT WEEK
Thanks again for the votes, and I hope you enjoyed the concept art! Next week we'll have even more!