The Pristine Resort Update is Coming!New Area Extension to Demo, plus new game play features and story tease coming soon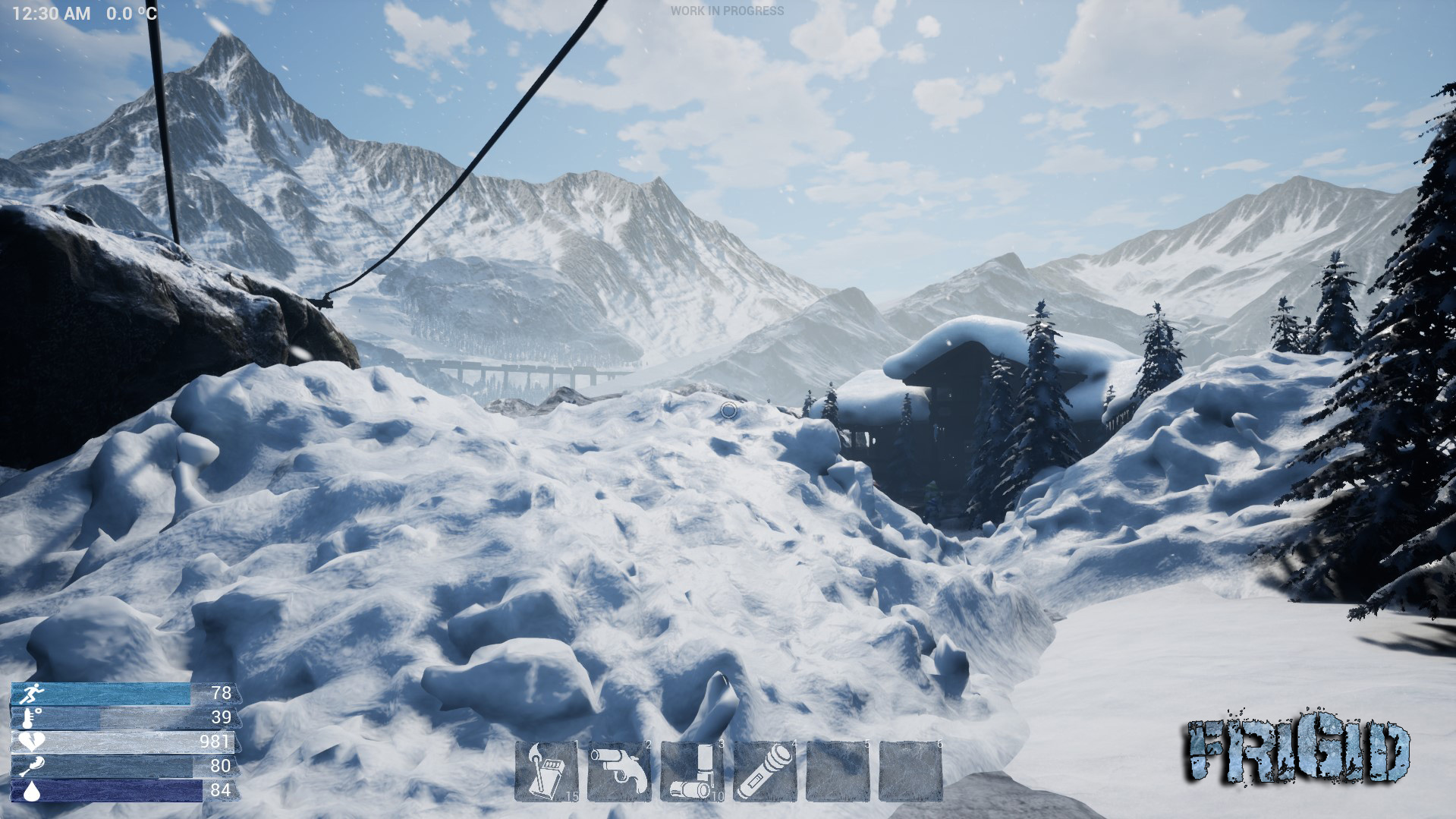 We have been updating the demo with an extended play-through to reveal more game play and features including some background story, so you can experience a deeper Frigid environment.
In the extended demo, you will wake up the next day, and move deeper into town looking for any help as events unfold to reveal clues about what has happened to this once beautiful lake resort.
With this update hopefully, you will have a better idea of our vision for the game.
We are looking for feedback, So let us know what you think!
THE BASIC GAME FEATURE UPDATES WILL INCLUDE

TIME OF DAY LIGHTING
If you move fast or take things slow, you will experience different lighting in the environment.
This will add an additional visual enhancement to the game.
SNOW FOOTSTEPS TESSELLATION
To give frigid a more realistic feeling we have added a well-known visual graphics footstep displacement feature.

NEW FLARE GUN TOOL REVEAL
We have added a new tool, the flare gun, this will come in handy against wild animals and help light up dark areas at night.
PRISTINE LAKE STORY BACKGROUND We reveal a piece of the story and many clues behind the events unfolding in the pristine lake area.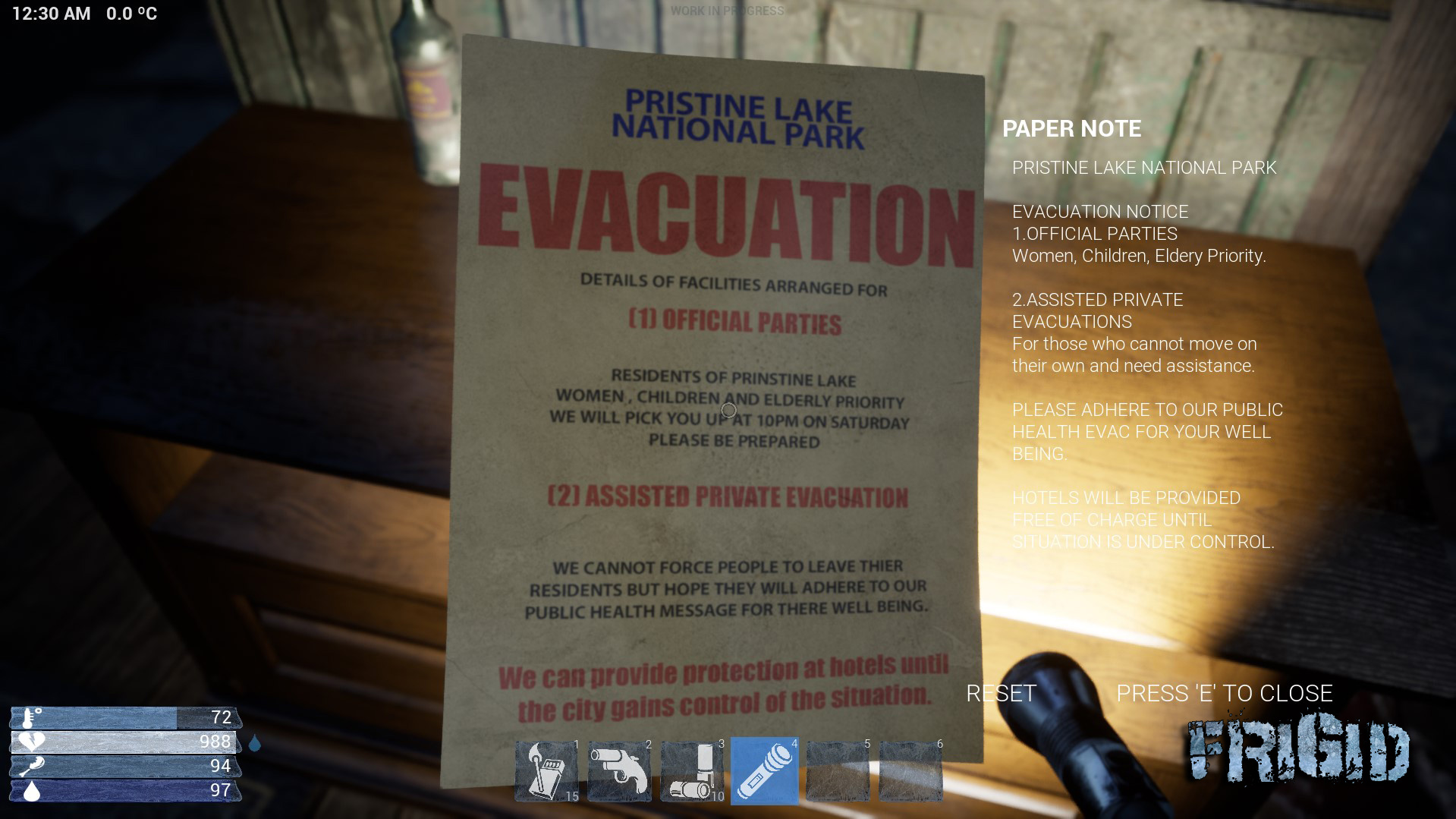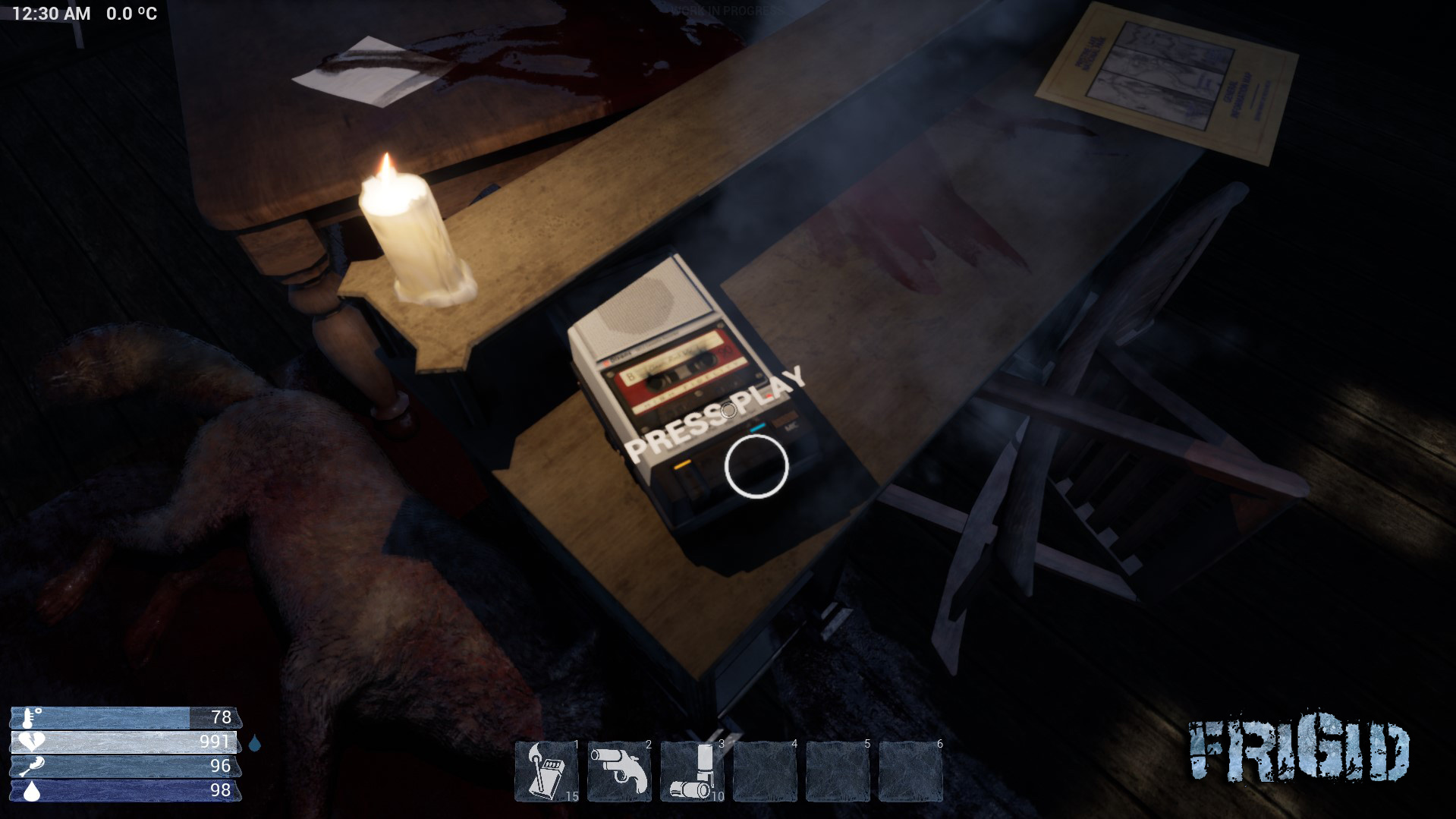 WOLVES COULD BE PRESENT!
If we can fine-tune some AI Bugs, we will have added some hungry wolves into the mix. Specifically to illustrate how to avoid them. This is important! Since a pack of wolves will kill you quickly.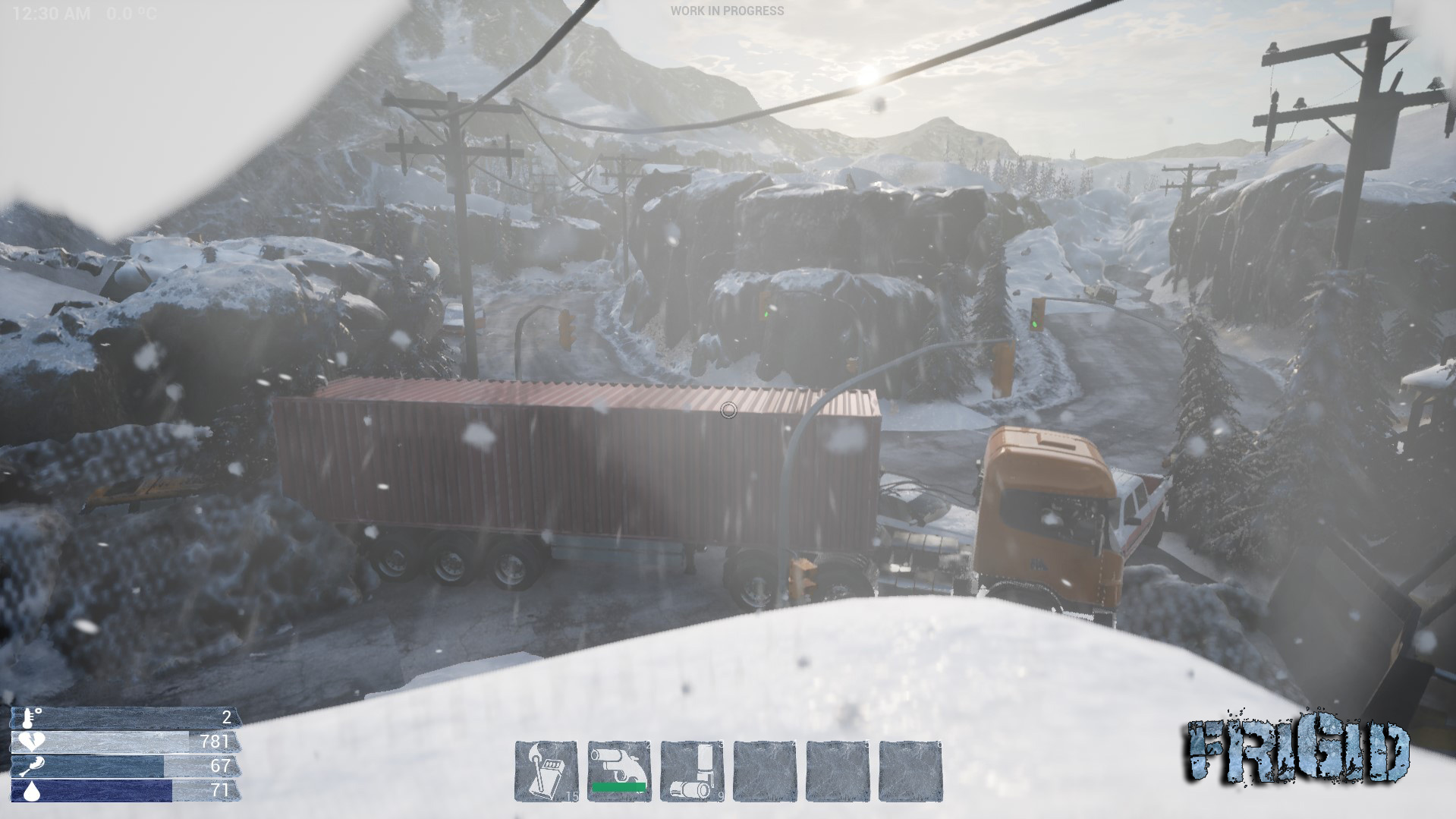 PLENTY OF UPDATED FEATURES AND BUGS
We have been polishing the game and adding new features. A full list will come in the demo update release. So jump back in again and surprise yourself and see what has changed.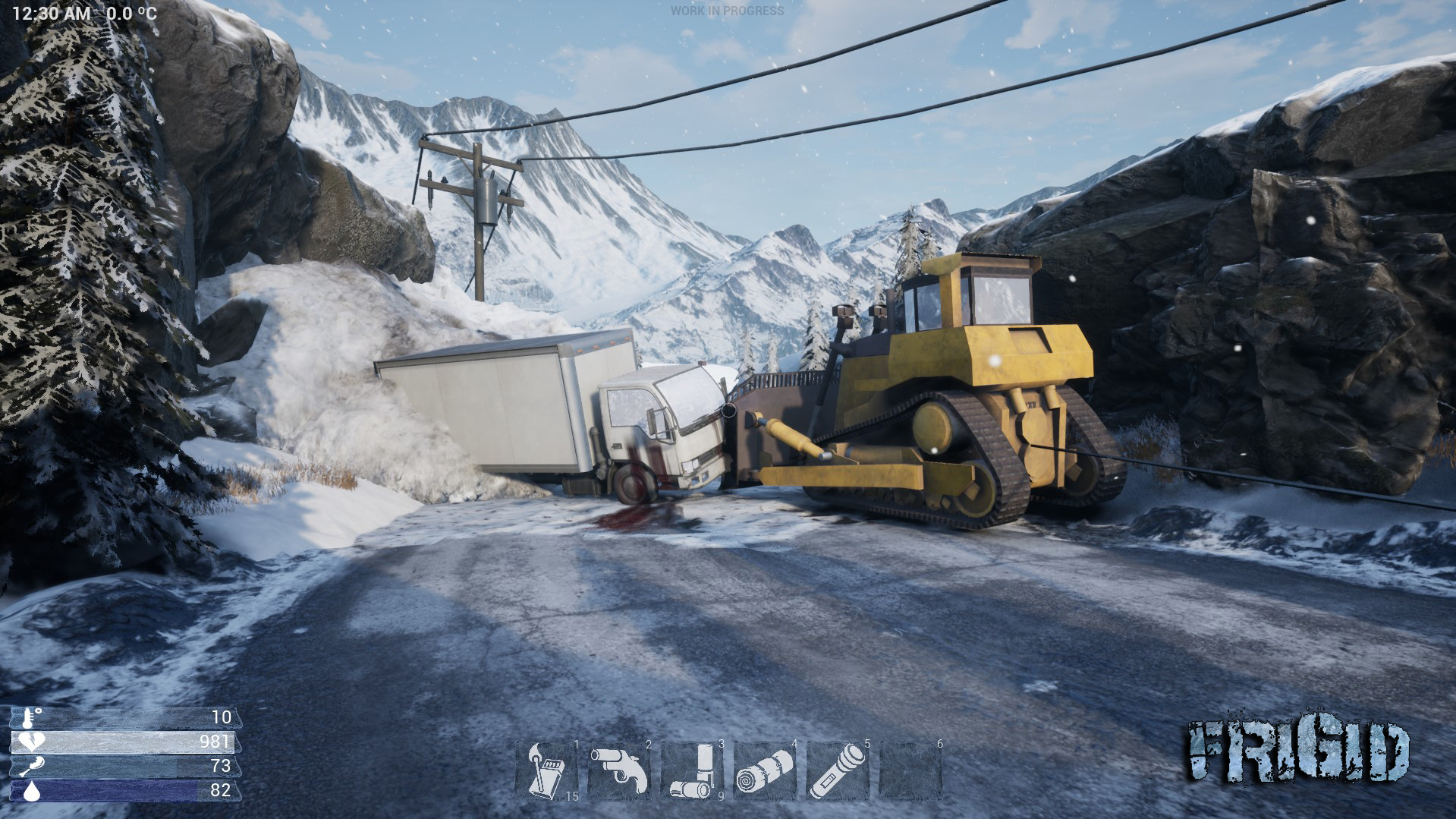 YOUR FEEDBACK! We would love to hear your feedback, If you have played the demo and enjoyed the game or not, Please fill out our Questionnaire with the link provided or leave a comment in the DISCORD.
This will help us a lot with the decision going forward in Frigid.
FRIGID SURVEY
FRIGID DISCORD

DEV STREAM COMING THIS WEEKEND!JOIN US! BE A PART OF THIS EXPERIENCE AND SHARE YOUR IDEAS, BE CURIOUS ASK QUESTIONS, HELP US MAKE THE MOST ATMOSPHERIC WINTER GAME OUT THERE!
Look forward to hearing from all of you this weekend. Thank you and see you soon.