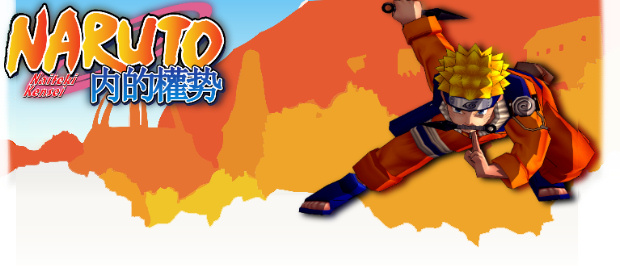 Welcome to Friday update #9!
Even though posted on a Sunday...
This weeks topics, using map models and 24 bit textures plus our interview with TryForce!
We wanted to make sure that gamers really feel like they are immersed in the Naruto universe. Locations in the series are heavily detailed so in order to capture the feel of Naruto on the half-life engine we model map locations and landmarks. They can either be used as the map itself or used to simply enhance it.
One of our most ambitious maps we want to reveal is Konoha designed by DJ Ready with the help from Tryforce who helped create the environment models for the map.
---
---
Konoha is fully modelled out and will be intricately detailed down to the last texture for you to battle your foes in, or just hang out beside the ramen shop!
Of course we couldn't just settle for having complicated maps, we needed to make sure that you could get the most out of them graphically as well! We implement 24-bit textures in Naiteki Kensei to bring the sharpest and richest textures ever seen on half-life.
Below you'll be able to see some of the differences between regular half-life, and our 24-bit textures show on both map and model textures.
---
---
And this week's interview, TryForce!
Ok, so tell us about yourself?
Hey there, I'm Dmitri Zyganow and I'm 17 Years old turning 18. I'm still at school working off my A-Level to go to University in the major of game design. I currently live on the outskirts of Germany. My bloodline is Russian though, and I've been raised learning two languages at once.
How long have you been following Naruto and do you only read the manga, watch the anime or both?
The first time I read the Naruto manga was when I was 12. I grabbed in a comic shop a multi-manga magazine called "BANZAI!" where manga's like DNA?, Hunter X Hunter, One Piece, Shaman King and more till Naruto have been shown chapter by chapter. Of course my main interest were Naruto and DNA?.
However, I quit buying them and tried to forget Naruto because I though it would have a generic story. But then I heard Naruto started a new time line and that interested me. So I read the rest of the series within three days and started reading the Shippuuden manga.
That's how I got caught up with Naruto. Though I prefer manga more then anime.
Are there any other animes you watch or mangas you read?
I've been reading lately Air Gear which really caught my attention - it's a lovely manga.
Besides Naruto I'm not reading or watching any other manga or anime. Sometimes I'll watch Bleach if I'm bored, though I'm not really interested in it.
I've completed Dragonball and Full Metal Alchemist to the end.
So how did you get into modding anyways?
First I started with ESF (a Dragonball Z Half-Life Mod) when it shortly announced a Beta release that included transformations, which everyone wanted to try out. So with the release many was creating and releasing custom models, maps, sounds or sprites to make the game nicer, from their perspective.
I then became interested in making my own custom Goku. First I figured out how to decompile and compile models, and how to edit them. I started modeling with Milkshape 3d. My very first completed model was a Krillin, but to be honest, I used the head and hands of the ESF model without giving credit - I simply don't know why anymore. Might be because I partly redid the mesh and the texture was done by SV. It was the very first model I compiled with work of my own. After that I got involved myself in different areas of modding, but my specialty ended up in modeling and texturing, which I'm happy doing.
And how did you end up at NNK and what exactly do you do on the team?
Well, I had a "Naruto Shippuuden Craze" and I immediately wanted to do, see, and read something new, amazing, and great about Naruto. I didn't want to model a character because i felt it was getting old for me. I wanted to create a level from Naruto. I messaged DJ-Ready and asked him if he liked Naruto and if he could team up with me or tell me what he would like to see from Naruto.
He was friendly and told me that he actually could use help in his mapping because he was part of an underground Naruto mod for HL1 and so they had only modelers for character but not for map props. It wasn't my area of expertise, but I agreed to work with him on the map props for NNK. I got accepted and, since then, I have the environmental modeler position.
Are there any other projects you worked on in the past or that you are currently working on you would like to mention?
Well, I worked on many projects, but recently I'm only active with NNK. I had an Indie project with two guys, though it's not working well now. The name is "Final Dreams." It was a game with an advanced sword fighting design. It started well but ended up dead as many other project's fate.
Anyways please check my Portfolio/Blog: www.tryforce.de.vu . It's hardly updated but I'll try to post my best and latest works.
Any last words you want to add to this before we bring this to an end?
Put the tomatoes in the sauce to get tomato Sauce! Nah, I just want to say thanks for the time you spent reading my interview. It means a lot to me, so thanks.
Make sure to check back next week!
- The NNK Team