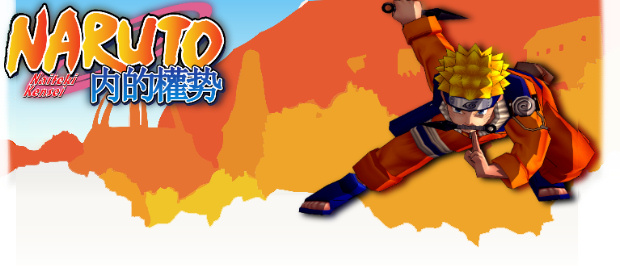 Welcome to Friday update #4!
This weeks topic, NNK Chuninfinals map preview.
"It is a huge arena used to host the Konoha Chunin exams. Spectators have traveled from far away to see the tournament."
The map is a recreation of the said arena where we tried to accurately portray but at the same time run well on the gold source engine (which isn't as easy as it may sound). But we are pleased with the results.
The map is about 80% done right now. The surrounding 3D environment is only halfway done as well as missing some more details such as light sources and such.
All parts of the map are accessible: outside the arena, the inside the building, the stands, and even the rooftops. Anyways, a picture can say more then a thousand words, so here are a few screen shots for you to gaze on.
---
---
And for this weeks interview, DJ-Ready, our mapping veteran, the creator of NNK Chuninfinals.
Ok, so tell us about yourself?
I'm Michael from Germany and am 24 years old. (One more month and I'll be a quarter century old, sheesh.). I studied Computer Science, where I have not finished a degree as of yet, and am unemployed at the moment. I, however, do take part in various mod projects when people break stuff again. Soon I'll start my major as Masters of Science in Business Administration.
How long have you been following Naruto and do you only read the manga, watch the anime or both?
I have been watching the show since episode 40 or so when harSens from Earth's Special Forces (www.esforces.com) somewhat "forced" me to watch it; I've been watching it ever since. I do not read the manga though - I prefer to sit back and watch instead of reading (as I read enough text all day long).
Are there any other animes you watch or mangas you read?
There are many anime I've watched over the years. My favorite ones are Saikano and NGE. Right now I'm watching Naruto and Bleach every week and I want to start watching Toppa Tengen Gurren Lagann sometime soon.
So how did you get into modding anyways?
Hmmm.... Around 1994 or so I started making maps for C&C and later then for C&C:RA. After that I got a little bit into modeling and programming. in 1999 I started mapping for Goldsource (Half-Life) and I'm still doing it. I also worked with various Independent and open source engines.
And how did you end up at NNK and what exactly do you do on the team?
A couple of months before NNK started, Kong and I were talking about how much fun a Naruto mod could be and created a basic design for a mod. At that time, I didn't want to do any more HL modding so it never started. Later he started NNK and convinced me to do one more HL mod before I retire from HL modding. Now here I am, telling people what to do, planning things with my trusty whip against the team, demanding new mapping-related features from Ryokeen to be coded into the mod (hah!), and last but not least, creating superb maps.
Are there any other projects you worked on in the past or that you are currently working on you would like to mention?
Well there are too many projects I have been involved with to mention them here. The one I do want to mention is Earth's Special Forces, a really huge TC for Half-Life based on DragonballZ (I'm sure most of you know ESF already).
I also used to be a mentor to some other mappers who then later ended up successfully working on mods like The Trenches or The Specialists.
Any last words you want to add to this before we bring this to an end?
Lets see.... Hip-Hop is gay and Hardstyle owns, Qlimax 08 here I come!
Haha no really. Join our forums and have some fun with us and keep an eye on NNK in the next few weeks and months. We've got a few really awesome features coming up. But take my word for it, I am not easily impress.

---
That's it for this week's update.
- The NNK Team