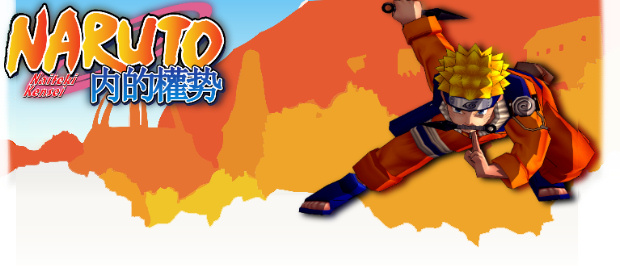 Welcome to Friday update #12!
Even though posted on a Saturday...
This week we finally take a look at our Kawamiri system followed by our Shading system plus a interview with Enix!
When we set out to make a Naruto mod we decided that it had to be fast action oriented gameplay. It's not easy to pull off a skill like Kawamiri in that kind of environment. We went through a couple of rough builds but it didn't feel right. Finally we took some time to look over the system and completely revamp it. We finally came to what we have now and we believe it is the perfect way to pull it off in our game. We are excited to share it with you!
Kawamiri isn't used as a jutsu in NNK. That is to say it isn't used by entering jutsu mode and inputting seals. We decided that having to stop mid-fight to enter seals to dodge an attack slows down the gameplay too much. When blocking normally if you take a hit it drains your stamina. However if you are blocking and at the same time hold down the 'move backwards' key, you enter Kawamiri-block mode.
On the outside there is no visible change to the block so opponents will not know what is about to occur. While in kawamiri-block mode if you block an attack from the front you will enter 'Kawamiri-ghost mode'. While in this mode, you are invisible to every player except yourself. You have a short amount of time to run, jump, or crawl to a destination of your choice before you reappear!
We realised we needed Kawamiri not only to work fast in tight spots, but also to give the player a good amount of control over where they appear afterwards so enemies couldn't always predict their landing spot.
Don't worry though guys, you are unable to attack or cast jutsus while in ghost-mode so there will be no cheap shots. However you can use the time to either run to a good distance to start casting a jutsu, or use it to pop up right beside them and try to get in a good melee combo if they aren't quick enough!
Be careful though, using kawamiri takes a good amount of chakra and you don't want to be caught off guard with a low chakra pool!
---
---
You've seen it in our screenshots, but we havn't really taken the time to introduce you to our Shading system.
You all know that we are the first HL mod to truly cellshade our models. Now we're going to tell you a bit about what's possible with this system. Each map can have an .lgt file. What is that you say? It's a simple text file which stores some overwrite values for the shading of the models. In it you can specify the ambient and shade strength, as well as the lightcolor and which shademap to use. A shademap is a simple 1-D bitmap which stores the solid shades that are used to create the cellshading effect.
But that isn't the only use it has. We can also change the style of the shading for special attacks and cinematic effects. It's also a really useful tool for mappers. Using it they can tweak the shading of their maps within seconds to change the mood entirely.
And the best part is anyone can learn to do it easily.
Another feature we want to introduce are the player shadows. You may have noticed on a few of our screens there are shadows. They work by using the principle of shadowmapping and are using the same lightsource that illuminates the map. This way it works on all maps. They are also influenced by the overwrite settings of our celshading shader so everything fits nicely.
There are two modes for the shadows depending on your system performance. You can let them cast on solid geometry or solid geometry including selfshadowing such as the players arm casting a shadow on the body..
---
---
And this week's interview, Enix!
Ok, so tell us about yourself?
My name is Brent Crockett, I am 18 years old and currently live in Ohio. I have been doing mod related work for about 4 years now.
How long have you been following Naruto and do you only read the manga, watch the anime or both?
I started watching naruto right after I heard about it in 2004 and just couldn't stop watching it. I did stop watching for a bit when I heard about the horrible and disgusting things we know as fillers. I only read the manga now.
Are there any other animes you watch or mangas you read?
I love anime and I have seen so much of it, but to name a few of my favorites: Full Metal Alchemist, Ghost in the Shell, Neon Genesis Evangelion, Cowboy Bebop, Samurai Champloo, Death Note, Higurashi no Naku Koro ni, Mushishi and Bleach.
So how did you get into modding anyways?
I was really into DBZ when I was about 12 and I came across a screenshot of a 3d dbz game online and I went crazy trying to find out what it was and how I could play it. After awhile I came across ESF and I begged and pleaded on the ESF forums for info on how to play it. So after I found out it was free and I just needed a copy of Half-Life to play I went nuts. I saw people on the forum making new models and maps and I got really curious. I started editing textures and replacing models and eventually tried to make my own. So ESF was were it all started for me. I got into photoshop and 3d modeling because of ESF and after about 3 years of practice I joined the ESF team.
And how did you end up at NNK and what exactly do you do on the team?
Most of the ESF team is working on NNK, so I was asked to join. I turned it down at first because I had already been on so many failed naruto projects I just wanted to take the wait and see approach this time because I didn't want to get my hopes up. But after watching the progress and seeing even more people from ESF join I just had to join too. I currently do character models and textures for NNK.
Are there any other projects you worked on in the past or that you are currently working on you would like to mention?
I have worked on Pokemod, Nine-Tails Power, Resident Evil: To Serve and Protect, Resident Evil: Cold Blood, and Earth's Special Forces.
Any last words you want to add to this before we bring this to an end?
I just love the NNK team. Everyone on the team is epic and I am very happy to be working with all these sexy people. <3<3<3
---
Come back next week guys for another update!
- The NNK Team